NHL Award Races: Breaking down Hart, Vezina races at midseason
The NHL Award Races are back. We kick them off this season with a look at the Hart and Vezina races at the midseason mark.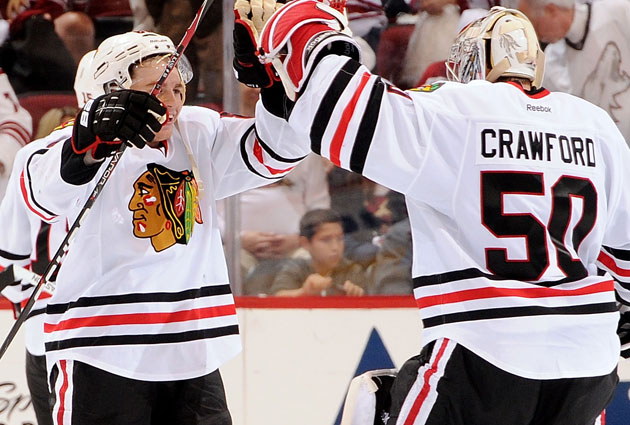 Welcome back to Award Races. For every week during the remainder of the season, we will break down two of the awards races at a time and see how they are stacking up as the NHL season hits the home stretch. This year it will be done with a panel of voters, that panel being me (Brian Stubits), Adam Gretz and Chris Peters.
Since we're just about halfway through this season already (that's just crazy), it's time to start thinking about the awards once again. That's why the CBSSports.com Award Races make their triumphant return with a look at the Hart Trophy (MVP) and Vezina Trophy (top goaltender).
The amazing thing about this season's Vezina race is that it's completely different than a year ago. Last season, it was pretty much a runaway with Henrik Lundqvist and Jonathan Quick well ahead of the rest of the pack. Pekka Rinne from Nashville was next in line.
None of those names are in the conversation this year, nor are the winners from the previous two seasons (Tim Thomas, for obvious reasons, and Ryan Miller). This is a whole new cast of characters at this point, a testament to the crazy world of goaltending in hockey. It's little things like that that make you marvel even more at the longevity and sustained excellence of Martin Brodeur.
We actually have a tie at the top for the Vezina in the initial rankings --  Craig Anderson and Corey Crawford split the votes. As we all know, the Chicago Blackhawks have been insanely good this season and Crawford is no small reason as to why.
But as good as Crawford has been, Anderson has been better. What's holding Anderson back from running away with this race is the fact that he has been injured since late February. The last time he was in net for the Ottawa Senators was Feb. 21. In a shortened season especially, missing a chunk of games is going to hurt.
At the same time, it can help a candidate in an odd way. You can see the difference in a team with a player vs. without a player when they're out for so long. It's a bit tougher in the case of Ottawa with Anderson because they have had so many other injuries as well, like the one to Erik Karlsson, but the Sens have lost four games in a row without Anderson. In the eyes of some, that will count for something. In fact, it was enough to also garner Anderson a spot in the Hart conversation this week.
On the Hart side, as you'll see below, it is looking like a two-man race. Of course, there's a Blackhawk in the conversation. Sidney Crosby might win the points title this season, but that doesn't mean he's a lock for the Hart by any stretch. Patrick Kane is making a pretty compelling case as he becomes the player that everybody thought he could be.
So, without further ado, here are the Hart and Vezina race breakdowns. Next week, we'll go in-depth on the Norris and Calder races.
(Point totals are in parenthesis. Points are awarded as follows: 5 points for a first-place vote, 4 for a second-place vote and so on down to 1 for a fifth-place vote.)
Award watch
Hart
Vezina
Sidney Crosby (14)
There's not much doubt that Crosby is the best player in the NHL. But he's once again showing it by leading the league in points with 36. Will the fact that he has another Hart Trophy winner on his team -- Evgeni Malkin, last season -- hurt his case? The answer is most likely not at all.
Craig Anderson (12)
Despite the fact that Anderson hasn't played in a few weeks due to injury, he gets the top spot (he breaks the tie with Crawford by virtue of a first-place vote). And why not? He has been absolutely spectacular for the Sens this season with a 1.49 GAA and .952 save percentage, both best in the league.
Patrick Kane (13)
It's not that Kane is way up there in the scoring race -- he's nine points behind Crosby -- but he has been the best skater on the best team, with all due respect to Jonathan Toews and Marian Hossa. What's more is that he has been so good "in the clutch" and that helps. A lot.
Corey Crawford (12)
 Is this the same guy whom we've seen in the Chicago nets for a few years now? Yes, yes it is, just much better. His 1.53 GAA and .940 save percentage are second to Anderson, and he's 11-0-0. One knock is that he splits time with another goalie having a great season, Ray Emery.
Steven Stamkos (7)
 There is no better goal-scorer in the NHL than

Steven Stamkos

, but the biggest problem that he has is one that he had last season as well; his team isn't very good. The Hart goes to the MVP of the league, and it's hard not to ask the question: Where would the

Tampa Bay Lightning

be without Stamkos? The answer is probably right about where they are, near the bottom of the East.
Antti Niemi (8)
 Somehow nobody is talking about

Antti Niemi

, but he is the reason why the

San Jose Sharks

have managed to stay afloat in the West playoff race as their offense has gone MIA. Oh, and his numbers aren't bad, either; 1.83 GAA and .935 save percentage. He'll gain more steam as the season goes along if the Sharks hang around.
Eric Staal (6)
The captain in

Carolina Hurricanes

is quietly having another excellent season, starting this one much better than his down one a year ago.

Eric Staal

is a large reason why the Hurricanes are starting to separate themselves from the Southeast Division; he's tied for fourth in the NHL in points with 28.
Tuukka Rask (7)
There has been no drop in the

Boston Bruins

' goaltending this season without Tim Thomas, and

Tuukka Rask

is the reason why. He has started 16 of the 20 games this season and has a 2.09 GAA with a .923 save percentage, both very solid and sustainable numbers.
Craig Anderson (3)
Anderson makes the rare goalie appearance in the Hart discussion on the strength of one third-place vote. There's no denying that he has been exceptional and the Sens have struggled since he's been injured. He needs to come back soon and keep putting up these crazy numbers to stand a chance.
Kari Lehtonen (3)

Kari Lehtonen

deserves credit for the

Dallas Stars

being in playoff position because the Stars give up a lot of shots every night. Consider that Lehtonen is fourth in the NHL in save percentage at .930 but is 10th in goals against at 2.26.
Not quite making the top five in the Hart vote were Nazem Kadri and John Tavares, each picking up one points. In the Vezina discussion Ben Scrivens and Viktor Fasth each had two points while Ray Emery picked up a single vote.
And for a quick look at the rest of the races that we'll be checking in on every week.
Calder: Cory Conacher (14), Jonathan Huberdeau (13), Vladimir Tarasenko (5)
Norris: Oliver Ekman-Larsson (11), Kris Letang (10), Alex Pietrangelo (7)
Jack Adams: Joel Quenneville (14), Michel Therrien (11), Bruce Boudreau (9)
Top GM: Jim Rutherford (14), Stan Bowman (9), Marc Bergevin (6)
For more hockey news, rumors and analysis, follow @EyeOnHockey and @BrianStubitsNHL on Twitter.
Pittsburgh sits atop them all as the repeat champs, while Nashville rises up after its big...

Islanders could also be loading up for scoring talent, and Vegas has plenty of D-men to se...

Fired by Dallas this offseason, Ruff is expected to replace Jeff Beukeboom
Even without a can't-miss prospect, the first round features a handful of solid center pic...

Casey Mittelstadt goes off the board in the top 10 picks of the 2017 NHL Entry Draft

New Jersey makes the Halifax Mooseheads star the first overall selection in this year's dr...