NHL Awards: Bergeron, Kopitar, Toews finalists for Selke Trophy
Reigning Selke Trophy winner Jonathan Toews is one of three finalists for the award again this season joining Patrice Bergeron and Anze Kopitar.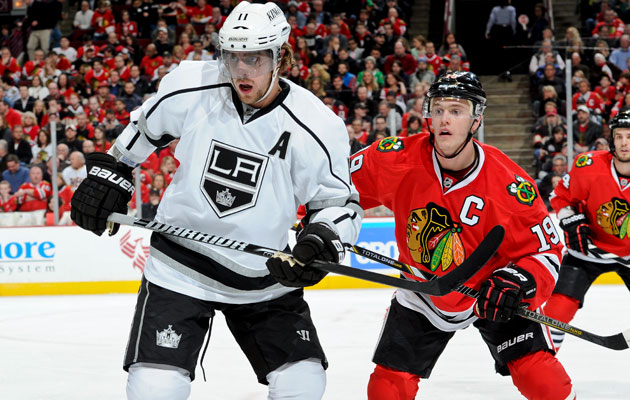 More Playoffs: Schedule, TV listings | Expert Picks | Bracket | Scores | Odds
On Thursday three more finalists for NHL awards were announced, the top three vote-getters for the Selke Trophy.
They are Patrice Bergeron of the Bruins, Anze Kopitar of the Kings and reigning winner Jonathan Toews of the Blackhawks. The Selke Trophy is awarded "to the forward who best excels in the defensive aspects of the game." It has pretty much become an award for centermen, which all three of this season's finalists are.
Bergeron is a finalist for this award for a third straight season and at this point there's no reason to think he won't remain a staple for many years to come. He is the NHL's premier faceoff guru as this season he won 1,015 alone, more than any player has had in a season in seven years. The Bruins are a beat defensively and he's a large reason why. Bergeron draws the toughest defensive assignments for the Bruins, is there for any critical defensive-zone faceoff and plays more short-handed minutes than any other Bruin. And while it shouldn't matter (it does though), he had 30 goals and 32 assists this season to go with his plus-38.
Kopitar is a new finalist for the Selke but it's an achievement that's long overdue. Not only is Kopitar the offensive leader for the Kings and has been now for years but he is also as critical to them as Bergeron is to the Bruins. He averaged nearly 22 minutes per game this season while playing all 82 games (giving him the second most ice time among forwards in the league), an amount of time that included a lot of minutes on the penalty kill. He's not the faceoff ace that Bergeron is but he still won 53.3 percent. Kopitar is the first Kings player to ever be a finalist for the Selke.
Toews won the Selke last season after a great campaign for the Stanley Cup champs. This season there was very little dropoff. Like Bergeron, if there is any big faceoff for the Blackhawks, Toews is going to take it as he had nearly twice as many draws as any other Blackhawk, winning 57.2 percent of them. It's typically hit duty to play the best competition the opponents throw on the ice and given that he was a plus-26 this season and had 51 takeaways, you can see he handles it pretty well.
Especially given how rare it's been for players in the West to win the award, you have to think this should be a pretty comfortable win for Bergeron.
The winner of the Selke Trophy will be announced on June 24 with all the other award winners at the NHL's Awards Show from Last Vegas. The finalists for the Vezina Trophy will be announced on Friday.
Show Comments
Hide Comments
With the playoff field cut in half, the stakes keep getting raised

Green has led Vancouver's AHL affiliate since 2013

Series schedules, results and updates from the second round of the Stanley Cup race
Here's how to stay on top of all of the NHL's second-round playoff series, which begin Wed...

Series schedules, results and updates from the first round of the Stanley Cup race

Ottawa took a 3-2 decision to send Boston home, and Washington outlasted Toronto, 2-1