NHL Free Agency: Some of the top players remaining
Even though all of the big names are already signed, there are still some productive players available, including Jaromir Jagr.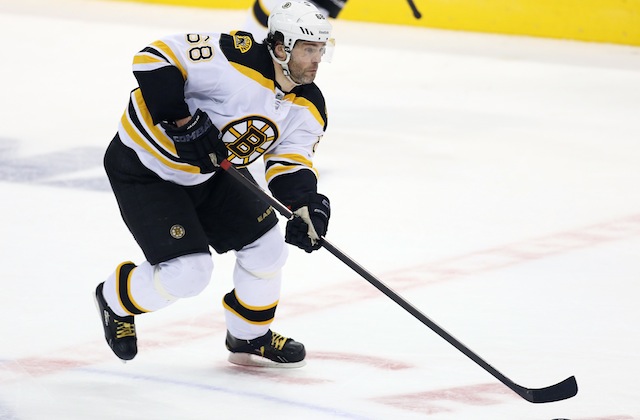 More NHL offseason: Rumors | Top 50 Free Agents | Buyout Tracker | Trade Tracker
NHL teams spent a lot of money on Friday (some of them spent it poorly) and took most of the top players available off of the market.
That doesn't mean you still can't find value heading into the second day of the signing period. And quite honestly, the teams that sat back and allowed their competitors to get into silly bidding wars might be the ones that come out ahead on the ice this season.
Let's take a quick look at some of the best players still remaining:
1. Mikhail Grabovski, F: I'm going to keep beating this drum until he signs somewhere, but Grabovski should be getting more attention than he is. And when he isn't being completely misused by his coaching staff (like he was this past season) he's perfectly capable of putting the puck in the net and helping his team rack up points. He has scored at a 50-point rate (per 82 games) in four of the past five seasons, with only last year's pace falling short when he was relegated to third- and fourth-line duty and carrying around bad linemates in a checking-line role.
Fifty-point averages don't make him a star, but it's nothing to just casually toss aside. Especially when compared with his defensive game, which doesn't get anywhere near enough attention.
2. Jaromir Jagr, F: If 40-year-old Daniel Alfredsson can find a team to pay him a few million dollars for one year, there's no reason Jagr shouldn't be able to as well.
Especially since Jagr is still the better player. Don't put too much weight on the zero goals this postseason because it's not an accurate representation of the way he played. He was creating chances, constantly around the puck, and seemed to be at the center of a lot of things that happened for the Bruins offensively. He just couldn't catch a break.
3. Damien Brunner, F: As I wrote last week, Brunner is still a bit of a mystery given how little he has played in the NHL but the talent is there. He might give somebody a second-or third-line winger for a very fair price. His point production in 2012-13 would have resulted in close to 20 goals and 50 points over an 82-game season.
4. Tim Thomas, G: Yeah, I'm including Thomas simply because he is a free agent and he told his agent to start looking for opportunities. He sat out the 2012-13 season, is 39 years old and has really started to march to the beat of his own drum the past two years ... but did you see him play before he left the NHL? He was the best goalie in the league between 2007 and 2012 and if he still has even a fraction of that left in the tank he could still help somebody in 2013-14.
5. Derek Roy, F: After being traded to Vancouver at the trade deadline, Roy was pretty much a flop with but that one-month sampling of games shouldn't overshadow what has been a pretty strong career. He just turned 30, so he's probably just starting to hit the downside of his career, but he could still be a useful center for a team that needs some skill and a playmaker up front. (Update: Roy signed a one-year, $4 million contract with the St. Louis Blues on Saturday evening).
Show Comments
Hide Comments
Our Latest Stories
2017 SAHP NHL Global Series will pit Ottawa and Colorado against each other in Stockholm

Finland has churned out some winners in a league filled to the brim with diverse players

From the Caps' goaltender to the star-studded headlining duo of Chicago's offense, these guys...
Scoring his 41st goal of the year in a 3-1 win over the Buffalo Sabres, the Pittsburgh Penguins...

A nightmare comes to life with Gary Bettman downplaying the idea of sending NHL stars to South...

The resurgent Lightning are primed to sneak into contention, while the once-hot Islanders are...