NHL lockout: 18 players to attend meeting with owners
The NHLPA will be represented by 18 players at Tuesday's meeting between owners and players.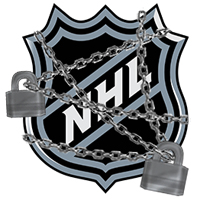 NHL owners and players will meet Tuesday afternoon in New York City without commissioner Gary Bettman and NHLPA leader Donald Fehr in the room.
The meeting is just the next step as the two sides continue to throw whatever they can at the wall in the hope that something sticks after last week's talks with federal mediators resulted in little progress.
Eighteen players will be at the meeting, according to the NHLPA. Craig Adams, David Backes, Michael Cammalleri, Sidney Crosby, B.J. Crombeen, Mathieu Darche, Shane Doan, Ron Hainsey, Shawn Horcoff, Jamal Mayers, Manny Malhotra, Andy McDonald, Ryan Miller, George Parros, Brad Richards, Martin St. Louis, Jonathan Toews and Kevin Westgarth will attend.
The NHL will be represented by Pittsburgh Penguins co-owner Ron Burkle, Winnipeg's Mark Chipman, Tampa Bay's Jeff Vinik, Calgary's Murray Edwards, Toronto's Larry Tannenbaum and Boston's Jeremy Jacobs.
Jacobs has been a constant target of criticism in the negotiations due to his hard-line stance, and several players have been unhappy with his presence at the talks. As Frank Seravalli of the Philadelphia Daily News points out, every owner on the panel has at least one of his players present on the other side with one exception -- Jacobs and the Bruins.
The inclusion of Burkle, who obviously has a relationship with players Crosby and Adams and has a history of working with labor unions, has produced some faint optimism that Tuesday's meeting might not be a complete waste of time.
Deputy commissioner Bill Daly and NHLPA special counsel Steve Fehr will attend the meeting, which is scheduled to start at 2 P.M. ET in New York.
For more hockey news, rumors and analysis, follow @EyeOnHockey and @agretz on Twitter and like us on Facebook.
The league shoots down a report that NHL players could still be permitted to go to the Oly...

The 45-year-old forward remains unsigned but has shown little desire to hang up the skates

Pittsburgh also has been linked to Matt Duchene and could be in the mix for Tyler Bozak
Nashville extends its 24-year-old restricted free agent with what could be bargain numbers

Calgary forward is all for playing for the Flames, but he also likes the idea of going to...

Plans for renovating KeyArena are now also being overseen by NHL-to-Seattle hopefuls