NHL lockout: Checking in on NHL's top players in Europe and ugly uniforms they must wear
With the number of professional leagues in Europe, including the KHL in Russia, there are many other options out there allowing the NHL's best players to continue playing hockey and collecting paychecks. Here is a quick look at how some of them are doing so far.
If you're one of the NHL's best players, or even a very good one, the lockout probably isn't impacting you as much as a fourth-liner or a bottom-pairing defenseman.
With the number of professional leagues that exist throughout Europe, including the KHL in Russia, there are many other options allowing them to continue playing hockey at a high level and collect a paycheck (in some cases a significant one) while the NHL and NHLPA continue to fight over how to split up the league's hockey related revenue.
It's definitely not the same as the NHL in terms of the competition and quality of teammates, or even the salary, but it's still better than nothing.
Several of the NHL's top players have already suited up for their new teams, so let's take an early look at how they have been doing. Also: what they've had to wear.
Let's also keep in mind, of course, that these guys are going up against lesser competition and are usually (by a wide margin) the best players on the ice every time that they step on it.
Look at what Rick Nash and Joe Thornton have to wear in Switzerland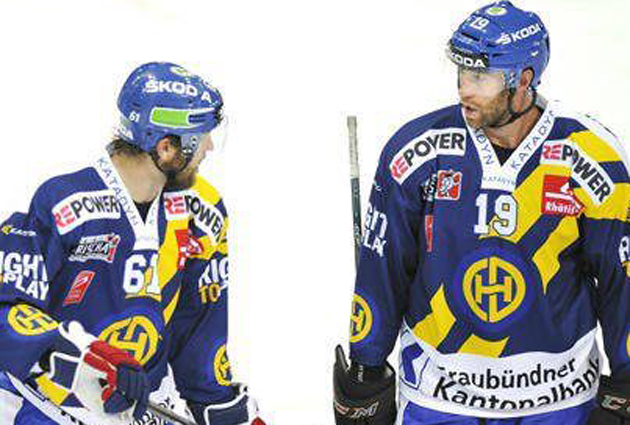 (Let's ask McBain what he thinks of those uniforms...)
During the 2004-05 lockout, the one that resulted in the NHL losing an entire season, Rick Nash and Joe Thornton joined Swiss team HC Davos and absolutely tore up the league. They apparently enjoyed the experience so much (who wouldn't enjoy a year in Switzerland being paid to play hockey?) that they decided to return during this lockout. Their reward for it is having to put those things shown above on every night. It's like some sort of combination of the Oregon Ducks football uniforms (loud colors going in every direction) and a NASCAR outfit (a lot of advertisements).
As it should be expected, these guys are going to crush that league and it didn't take them long to start doing it.
In their debut last week, a 9-2 win over Rapperswil-Jona, they both recorded four points, including a hat trick for Nash, which you can watch below.
During the 2004-05 season with Davos the two combined for 37 goals and 64 assists in 44 regular season games, and then 36 points in 15 playoff games. If given the opportunity due to an extended lockout they will probably do the exact same thing this year.
These guys on their own are among the best players in the NHL. Putting them together and combining Thornton's playmaking and Nash's finishing ability in Switzerland is like men going up against boys.
And that's kind of what that highlight package looked like.
Alex Ovechkin is currently playing for Dynamo Moscow, his team in the old Russian Superleague before joining the Washington Capitals. In three games, Ovechkin has a goal and two assists, and played a big role in Dynamo's 3-2 shootout win on Thursday, assisting on the game-tying goal and scoring in the shootout.
The NHL's reigning MVP and scoring champion has yet to find the back of the net for his hometown team of Metallurg Magnitogorsk through his first three games. He does have four assists, including this nifty behind-the-back set up for Nikolai Kulemin (Toronto Maple Leafs).
Pavel Datsyuk

is always the most creative player on the ice

Our Brian Stubits already passed this along to you earlier in the week, but it's still worth another look because it's Pavel Datsyuk in all of his creative glory.

Few players in the NHL are more talented and creative than the Red Wings star (this is a guy who once tried to set up a teammate by flipping the puck over the net in a playoff game) and he displayed all of that in his first game with CSKA Moscow when he tried to score a goal with his head. Intentionally.

Unfortunately it was waived off. But it's still awesome.
Anze Kopitar joined his brother in Sweden
An impressive postseason performance for the Los Angeles Kings during their Stanley Cup run helped Anze Kopitar get some of the recognition he deserved (and was never able to get) as one of the NHL's best all-around players.
Since he can't play for the Kings now, he decided to join his brother, Gasper, and play for Mora-IK, a second-tier team in Sweden, which seems to be a little too easy for him. Based on the clips of his first game, it was almost as if he was playing a different sport than everybody else on the ice. Take, for example, the first goal at the four-second mark as all four penalty killers converge on him, and he's still able to snap a quick wrist shot through the goalie.
As the lockout continues and more players decide to head overseas to keep playing hockey, we'll check in from time to time to update you on their performances.
For more hockey news, rumors and analysis, follow @EyeOnHockey and @agretz on Twitter and like us on Facebook.
Show Comments
Hide Comments
Series schedules, results and updates from the second round of the Stanley Cup race

Here's how to stay on top of all of the NHL's second-round playoff series, which begin Wed...

Series schedules, results and updates from the first round of the Stanley Cup race
Ottawa took a 3-2 decision to send Boston home, and Washington outlasted Toronto, 2-1

Stevens was L.A.'s interim coach for four games in the 2011-12 season

St. Louis, New York and Edmonton eked out victories that eliminated Minnesota, Montreal and...