NHL lockout: League says delay past Oct. 25 would require cancellation of signature events
The NHL says that any delay beyond Oct. 25 would require the cancellation of signature league events.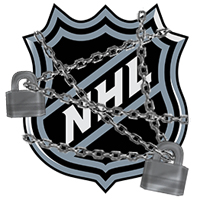 Along with releasing every detail of its latest proposal to the NHLPA, the NHL also offered an explanation on Wednesday morning as to what it all means, where the talks are, where they need to go and what needs to happen to preserve a full 82-game schedule.
Within that explanation, there's an ominous statement that any delay beyond Oct. 25 would result in the cancellation of "signature NHL events."
The league states that, as a practical matter, a new deal must be completed by the 25th and seven-day training camps must open on the 26th to preserve a full schedule of regular and postseason games.
And then this:
Delay (beyond October 25) will necessarily leave us with an abbreviated season and will require the cancellation of signature NHL events. Failure to reach a prompt agreement will also have other significant and detrimental impacts on our fans, the game, our Clubs, our business and the communities in which we play. All of this will obviously necessitate changes to this offer in the event we are unsuccessful in saving a full season.
It's not hard to speculate as to what "signature NHL events" means.
The signature event of the NHL regular season, of course, is the Winter Classic on Jan. 1, with this year's game scheduled to take place in Ann Arbor, Mich., between the Detroit Red Wings and Toronto Maple Leafs.
It was previously reported that the NHL could cancel the Winter Classic as easly as November if no deal was reached by that point.
There's also the NHL All-Star Game, scheduled for Jan. 27 in Columbus.
But this is what you probably have to look forward to over the next few days now that another proposal is out there. There will be a lot of rhetoric like this (and this), and both sides will make their threats and display their outrage with the other side.
They have a week to make something work before the NHL has to follow through with this threat.
For more hockey news, rumors and analysis, follow @EyeOnHockey and @agretz on Twitter and like us on Facebook.
Show Comments
Hide Comments
Replicating its Game 6 dominance -- everywhere but the scoreboard -- might not be easy for...

Ottawa recovers from a 7-0 loss in Game 5 to quiet Pittsburgh's offense

Series schedules, results and updates from the Eastern and Western conference finals
Out for the remainder of the postseason, Johansen is still part of the Predators' playoff...

Nashville refuses to back down despite taking fewer than 20 shots against fill-in goalie Jonathan...

Anaheim will be without two key forwards and possibly its No. 1 goalie in Nashville on Mon...