NHL Lockout: NHL responds to NHLPA with offer that comes 'off the table' by expiration of CBA
The NHL and NHLPA exchanged CBA proposals on Wednesday with the league making a take-it-or-leave-it offer.
by

Eye on Hockey staff

• 3 min read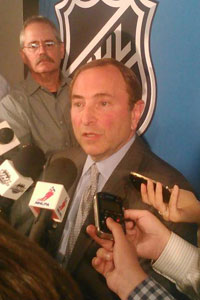 Bettman talks to reporters after Wednesday's meetings. (Courtesy Chris Kuc)
The NHL and NHLPA met for the first time in over a week Wednesday afternoon in New York, talking for nearly three hours in one of the longer CBA sessions they have had thus far.
It was fruitful at least in the regard that it had plenty of dialogue, including both sides presenting new offers.
Unlike in previous meetings with the media, NHLPA head Donald Fehr didn't divulge much information about the contents of the union's offer.
"We did not make a proposal which mirrored the owners' proposal," Fehr said during his second meeting of the day with the media. "We did not say let's go back to when we didn't have a salary cap. We said, Look, there is a meaningful disparity in revenue between the teams, and in recognition of that, there is a way we think we can fix the system so we don't end up in the same problem all over again.
"If you look at what happened in all the cap sports, it doesn't matter what the sport is, and it doesn't matter what the claimed economics are, the proposal is always the same: it is always players will take a lot less money, and if not we will lock you out. It's regrettable, but that is the world we seem to live in."
Perhaps the most meaningful thing to come out of Fehr's press conferences was his claim that even though the players will not accept absolute salary cuts at the present time, they are willing to accept a lower percentage of the hockey-related revenue split over time as league revenues continue to grow.
That seems like it might be a rather large concession on the part of the players. Whether it's enough for the league remains to be seen (and at this point it more than likely will not be).
Based on what commissioner Gary Bettman had to say in his session with the media, the answer is pretty obvious. He criticized the NHLPA's offer, noting the lack of movement from previous offers.
"The players' proposal was not much different and was not acceptable," Bettman said.
So instead, the NHL countered with an ultimatum.
"What we did do today will be off the table if we don't have a deal by the expiration of the CBA," Bettman said.
Oh great, now we've hit the ultimatum stage. With the lockout ready to take effect in a matter of days, the NHL is taking a hard-line stance. It's an easy assumption to make that the NHL offers won't be getting better than this anytime soon, hence the take-it-or-leave-it mentality.
What exactly is in this offer from the NHL that makes it so good? Well it does appear to have some pretty serious movement by the league.
Bettman said that his offer Wednesday asks for a reduction of 9 percent of players salaries. NHL asked for 24 percent in July.

— Renaud P Lavoie (@RenLavoieRDS) September 12, 2012
Bettman says NHL is not changing definition of HRR (hockey-related revenue) in its latest proposal.

— Ian Mendes (@ian_mendes) September 12, 2012
Bettman says NHL's new offer includes $250 million to $300 million more going to players from last one.

— Chris Johnston (@reporterchris) September 12, 2012
The new CBA offer is for six years.
Undoubtedly, the NHLPA probably would find those numbers to not be as good as they appear to be, but it is admittedly a pretty big step for the owners, at least from where they started. The rollback of less than 10 percent is a strong move from their original starting point of a 24-percent rollback for the players.
But we all know the players won't be accepting this deal. Nor will the NHL be taking the NHLPA up on its offer. So was Wednesday pointless? Maybe, maybe not. Fehr admitted that it's too early to tell if Wednesday's talks will lead to anything or if any real progress was made, but was hopeful that it will turn out to be a meaningful day.
It might have been the start of better things down the road but that doesn't change the fact that a lockout is coming very soon. Perhaps the announcement will be made from the NHL on Thursday what its intentions are for the weekend when the current deal officially expires.
With the NHL presenting an offer with an ultimatum and with the assumption that the NHLPA will decline -- or at least not improve soon -- things are now going to get worse before they get better.
For more hockey news, rumors and analysis, follow @EyeOnHockey and @StubitsCBS on Twitter and like us on Facebook.
Show Comments
Hide Comments
Out for the remainder of the postseason, Johansen is still part of the Predators' playoff...

Series schedules, results and updates from the Eastern and Western conference finals

Nashville refuses to back down despite taking fewer than 20 shots against fill-in goalie Jonathan...
Anaheim will be without two key forwards and possibly its No. 1 goalie in Nashville on Mon...

Pittsburgh makes a fool of Ottawa's top-line defense with four goals in the first period a...

"Hank" then gets tackled by teammate William Nylander in a celebration for Team Sweden