NHL lockout: Opening of free agency could be moved up in new CBA
The opening of the NHL free agency signing period could be moved up in new CBA/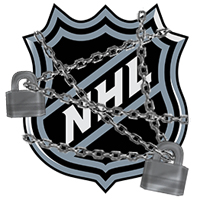 It's possible that you won't have to wait until July 1 to see your favorite team overpay for a declining player in free agency.
The NHL and NHLPA are getting back to the bargaining table on Wednesday, and on the eve of that meeting some interesting information is starting to leak out.
According to Kevin McGran of the Toronto Star, the two sides have a number of areas that are "more or less agreed to." One of those areas is reportedly the start of the unrestricted free agency signing period.
For years the signing period opened on July 1, a few weeks after the completion of the Stanley Cup playoffs. According to McGran, the opening of the signing period could now be moved up to June 15, or 48 hours after the Stanley Cup has been handed out. The NHLPA reportedly wants whichever date would be later on the calendar. Either way it would certainly be a hectic time for NHL general managers whose teams are still playing at that point in the season.
Just for reference: The Stanley Cup was handed out on June 11 this past season when the Los Angeles Kings defeated the New Jersey Devils in Game 6. Under such an agreement the free agent period would have started on the 15th. The previous year when the Boston Bruins won the Cup it was issued on the 15th, which means the signing period would have started on June 17.
McGran also writes that the ability to trade salary cap space, the elimination of re-entry waivers, and a mininum roster requirement so teams wouldn't be able to dress fewer than 18 skaters to save cap space are among the areas that are more or less agreed to.
That's all well and good, but it still leaves the major hurdles that don't seem to be getting any closer to being agreed upon. Those hurdles include the split of hockey related revenue and contractual issues like term limit and arbitration.
For more hockey news, rumors and analysis, follow @EyeOnHockey and @agretz on Twitter and like us on Facebook.
Show Comments
Hide Comments
With the playoff field cut in half, the stakes keep getting raised

Green has led Vancouver's AHL affiliate since 2013

Series schedules, results and updates from the second round of the Stanley Cup race
Here's how to stay on top of all of the NHL's second-round playoff series, which begin Wed...

Series schedules, results and updates from the first round of the Stanley Cup race

Ottawa took a 3-2 decision to send Boston home, and Washington outlasted Toronto, 2-1