NHL lockout: Senators poll fans about ideas to entice them to return
The Ottawa Senators have heard the fan threats and are trying to do something about it. They're asking fans what they can do to attract them back.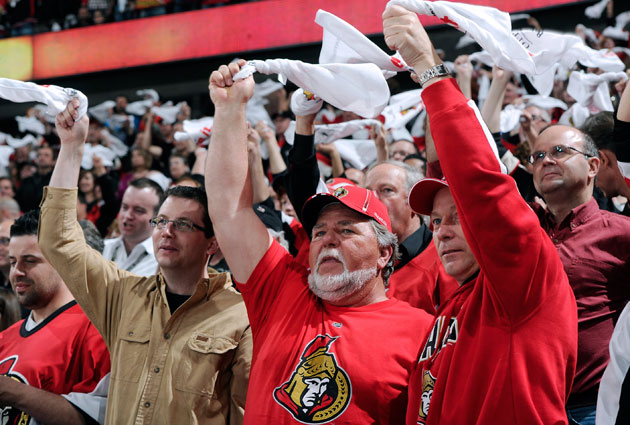 The Sens want to see all their fans come back after the lockout. (Getty Images)
During this lockout, the fans have made numerous threats that they won't be so willing to flock back to a league that has burned them repeatedly for two decades. Most people seem to simply dismiss that as an empty threat; the fans always come back.
However, the Ottawa Senators don't seem to want to calll the fans' bluff. They are taking steps to figure out what they can do to make sure fans come back to Scotiabank Place whenever the season actually starts. The hope is to negate any of the residual damage.
That's why the Senators are polling fans, asking for their opinions on incentives they could employ as a way to give the fans a break.
From James Gordon of Senators Extra.
The team offers increased availability Metro Family 4 Packs, two-for-one tickets, 30 percent of all concessions on game day and free parking vouchers.

Perhaps sensing some early backlash, the team also asks respondents how likely they would be to take advantage of free parking in addition to one of the other incentives for the first five games of the season.

The poll also tries to gauge how quickly fans will return to the rink, asking in which month they're most likely to attend a game if a new season starts in December.
Basically, it's akin to a guy showing up at his ex-girlfriend's door with a bouquet of roses, a box of chocolates and a necklace for her if she'll take him back after he broke her heart. Some will take it and fall back into love, others will be too proud and pass.
That said, it's a solid idea from the Senators and it won't surprise me in the least to see similar types of initiatives all across the league. The fans are angry and many are going to stay away. Extending an olive branch of sorts to keep fans around or bring them back is a good move for business, even if it will take away a little more (really though, hardly a dent) from a bottom line that will already be smaller.
Ottawa isn't exactly like Toronto or Montreal in that those cities have thousands on a waiting list to buy tickets, but the Senators certainly draw fans. They're located in Canada, for Pete's sake. The point is that it might be tough to notice how much of an actual impact these initiatives will have. Ottawa is likely one of those cities that won't see a drop in fan fervor when the sport returns.
Perhaps they could offer other, cooler initiatives. Perhaps fans can have a chance at a free suite for a game with the purchase of two tickets or more. Or they can have a similar lucky seat move to the front row right on the ice. Perhaps they could offer something with the players, who have apologized repeatedly to fans, mostly via Twitter, through this whole process.
This post-lockout world is going to test the minds of the great public relations and marketing people across the league. The Senators are just getting a head start.
For more hockey news, rumors and analysis, follow @EyeOnHockey and @StubitsCBS on Twitter and like us on Facebook.
Show Comments
Hide Comments
Series schedules, results and updates from the second round of the Stanley Cup race

Subban had three points in Nashville's 4-3 win over St. Louis in Game 1, while Edmonton dropped...

Washington and Pittsburgh figure to go neck and neck, as do Anaheim and Edmonton
Cassidy went 18-8-1 after replacing Claude Julien in 2016-17

With the playoff field cut in half, the stakes keep getting raised

Green has led Vancouver's AHL affiliate since 2013