NHL lockout: Steve Fehr thinks deal will get done quickly when 'moment is right'
Though it doesn't always feel that way, there is apparently progress being made in the labor talks, enough for the NHLPA's Steve Fehr to say he thinks a deal can get done quickly when the moment is right.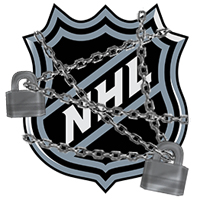 Are they closer to a deal to end the NHL lockout, or aren't they? We can't tell. Things go back and forth more often than eyeballs at a tennis match. One moment things seem like they're progressing well; the next, they are breaking up a meeting after a short day and having a relatively nasty exchange in the media.
The latter was the case after Sunday's meeting in New York produced "no progress" as they discussed contractual rights, the latest sticking point in these conversations. It led Donald Fehr to say he doesn't see a path to a resolution right now.
All along, though, Bill Daly and Steve Fehr have seemed to get along a little better and produce some reason for optmism. That's exactly what Steve did on Monday while in Toronto for the Hockey Hall of Fame festivities (via Elliotte Friedman).
"One thing Bill Daly and I agree on; when the moment is right [a] deal will be done very quickly."
Well, that's awfully intriguing. The obvious question that begs for an answer is why isn't the moment right now? We've already seen the dream of an 82-game season disappear, and the Winter Classic has been sacrificed. Why wait if it's that simple?
In response to Fehr's comment, Daly read the mind of every hockey fan out there. "I hope he's right," Daly said.
The choice of words from Fehr makes it seem like they are very close to having this done and they could settle at any moment. While that's an inferrence, it's likely not that simple -- not with these pesky players' rights issues to sort through first.
It's bound to be very contentious as both sides have made it clear that the contractual rights issues are very important to both. In the players' case, they want to keep their rights whereas the owners want to change things such as putting a limit on the length of contracts and reducing the length of entry-level deals from three years to two. Neither side shows signs of budging, and it could get just as ugly as the economic differences were a few weeks ago.
"It's hard to believe you're going to drive an industry's bus over the cliff for that," Fehr said regarding the league's stance on changing the contract rules.
There is some good news. Steve Fehr indicated they are close on the economic issues. It's a bit different of a tune than his brother Donald or the NHL has been singing. But from all reports, it doesn't seem too far from the truth. That's why Steve can say things about a deal getting done very quickly when the time is right.
Perhaps all it will take is one or two good days, which Fehr admitted do come.
"Some days are diamonds; some days are stones," Steve said.
I say more diamonds, fewer stones, please.
For more hockey news, rumors and analysis, follow @EyeOnHockey and @StubitsCBS on Twitter and like us on Facebook.
Show Comments
Hide Comments
Casey Mittelstadt goes off the board in the top 10 picks of the 2017 NHL Entry Draft

New Jersey makes the Halifax Mooseheads star the first overall selection in this year's dr...

Washington saves a key piece from hitting free agency but probably hurts itself in the long...
Pens open season on Oct. 4, while the Golden Knights begin play Oct. 6 on the road

With the NHL trade market heating up, the Blackhawks shed one scorer for another

Edmonton gets forward Ryan Strome in return for their seven-year veteran