NHL lockout: Your daily hockey fix for Day 14
This is Day 14 of the NHL lockout, 2012 edition. Every day, we'll serve up some CBA talk and help you get your hockey fix.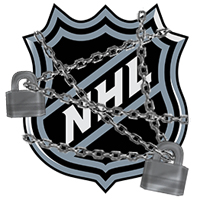 This is Day 14 of the NHL lockout, 2012 edition. Every day, we'll serve up some CBA talk and help you get your hockey fix. Let's begin, shall we?
CBA roundup
•  The games missed to this point remains the entire exhibition schedule (97 games). If more progress isn't made over the next two days in New York, it won't be long before regular-season games start to be missed.
•  While the two sides made what can be described as "baby steps" on Friday, they still haven't discussed the big financial issues and might not do so this weekend. NHL deputy commissioner Bill Daly seemed to be a little frustrated by that on Friday, though he admitted what they did talk about (drug testing, player safety and discipline, etc.) is important.
"I wish we spent today on what we consider to be the more meaningful issues, but it is what it is," said Daly.
"We can't make them talk about what they don't want to talk about. In fairness, we do have to cover off these issues if we're going to reach an agreement. So, what we're doing today is important; it's just not the most important things we can be doing." [NHL.com]
•  "None of what has been discussed will lead to the end of the lockout." Those are the words of TSN's Darren Dreger.
•  Steve Fehr said on Friday the NHLPA has no plans at this time to bring forth a new proposal. [Michael Grange on Twitter]
Hockey fix
It's quite possible no player had a bigger impact on the way that hockey is played today than Boston Bruins defenseman Bobby Orr. His career included six 100-point seasons, eight Norris Trophies as the NHL's best defenseman, two MVP awards, and two Art Ross Trophies as the league's leading scorer (again ... as a defenseman). So here are seven minutes of him at his very best.
For more hockey news, rumors and analysis, follow @EyeOnHockey and @agretz on Twitter and like us on Facebook.
Show Comments
Hide Comments
Series schedules, results and updates from the second round of the Stanley Cup race

New Jersey claims No. 1 draft pick after having an 8.5 percent chance of earning the top s...

Ottawa takes a 2-0 lead over New York, and Pittsburgh does the same against Washington
St. Louis connected on one of five power plays to tie the series while Anaheim loses again...

Ottawa's defense came up big in Game 1 to beat New York, and the Penguins beat the Capitals...

Subban had three points in Nashville's 4-3 win over St. Louis in Game 1, while Edmonton dropped...