NHL lockout: Your daily hockey fix for Day 75
This is Day 75 of the NHL lockout, 2012 edition. What's going on in mediation, Evgeni Malkin is happy and Caps season-ticket holders aren't.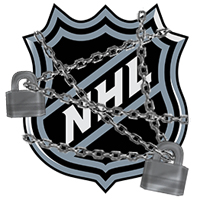 This is Day 75 of the NHL lockout, 2012 edition. Every day, we'll serve up some CBA talk and help you get your hockey fix. Let's begin, shall we?
CBA roundup
•  The NHL has now canceled 422 regular-season games, lost the Winter Classic in Ann Arbor, Mich., and the All-Star weekend in Columbus.
•  Wondering how it's nearly Dec. 1 and the NHL is still locked out when the fight shouldn't be this tough? Chris Johnston spoke with sports management professor Aubrey Kent of Temple University.
"For me, the whole issue comes down to perspective," Kent said Wednesday in an interview. "Players feel as though they're being bullied and strong-armed and having things taken away -- I can see that that's a legitimate perspective. Owners feel from a dollar-value perspective that the next seven years they've offered would be far more lucrative than the previous seven years were, even as good as that was.

"And if you crunch the numbers, that's actually true as well."

No wonder the sides remain so entrenched in their positions.
When you put it that way it almost makes you think "oh, that makes sense" until you really snap back to your senses and remember what they're arguing over. This is hopefully where mediators can step in and help them see what's most critical to them in the labor dispute. (Canada.com)
•  Mediation is going to continue for the second straight day on Thursday and nobody has a ton of hope that it will yield any different results than what we've already seen. But what goes on in the mediation meetings, what do they actually try and say? Nick Cotsonika played mediator and came up with some middle-ground solutions. If only it were this easy ... (Yahoo!)
•  The way the players have gone off on Gary Bettman during the lockout has been a bit shameful at times, annoyingly too frequent all of the time. You know that's the case when even Ted Lindsay -- the Hall of Famer and more or less founder of the NHLPA -- is upset about it. Here's what he told James Murphy.
"One thing that really has bothered me when I'm reading the paper on all of this is the way they're talking about 'that idiot Bettman', or any of the other stupid adjectives they've used to describe him," said Lindsay, 87. "They and the fans and the media need to realize that Bettman is doing his job and fulfilling his responsibility to the owners, just like [NHLPA executive director] Don [Fehr] is to the players. The players need to respect and understand that. Don't go bad-mouthing Bettman like that."
Good to see he can still get the paper. But really, it would be nice if the players listened to him on this. (ESPN.com)
•  Life isn't bad for everybody in the lockout, some players are enjoying themselves abroad more than in the NHL. That includes Penguins star and one of the game's absolute best, Evgeni Malkin. In an interview with a Russian outlet, Malkin explained how he doesn't miss the NHL.
"I'm happy with everything in Magnitogorsk," he said. "We have a great team. We win a lot. I'm in good shape and get plenty of time on the ice."

Malkin has so far earned 33 points (11 goals and 22 assists) in his 24 games for Magnitogorsk, with Metallurg currently sitting fourth in KHL's Eastern Conference.

"It's nicer here as I can communicate in Russian with everybody ... It's only calmer in America," Malkin informed. "I live outside Pittsburgh and I can go for a walk without creating any hype or visit a café. And here everybody is running after me -- the World Championship has boosted my popularity. But I try not to deny anyone autographs or photos, especially the kids." (RT.com)
•  When the NHL returns it's going to have a real challenge bringing back the fans, even the loyal season-ticket holders. Katie Carrera communicated with many of them and the tone isn't terribly positive, like this email from a four-year season-ticket holder named Julian Brunner.
"In the past [Capitals owner Ted] Leonsis has spoken about how owning a team you should act like a steward for the city in caring for it, and he's also spoken previously about how rewarding your key players is an important element for getting their buy in and building a winning franchise. Those words seem like a joke now that he's willing to cost us fans a season of hockey (and a season the primes of our best 2-3 players) [to] put the screws to the players union and try to get them to not honor full deals that he himself signed. I'm strongly considering giving up my tickets because it makes sick to think that my money is supporting his behavior." (Washington Post)
Hockey fix
We're going to venture back a few years ago coming out of the previous lockout. You'll recall they introduced shootouts and ever since hockey fans have been watching intently while kvetching profusely. Regardless of how you feel, it gave us moments like this one from the Rangers' Marek Malik. Sick.
KHL update
Ilya Kovalchuk's SKA St. Petersburg team is in first place but just saw their head coach dismissed. They played their first game without him yesterday and, well, the move hasn't worked out thus far.
Simulated scores
•  Games have been canceled, and your favorite players are overseas, but you can still see how your team would be doing. PredictionMachine.com uses its play-by-play technology to simulate each game from the original schedule and predict the outcomes. Just because the NHL isn't playing on the ice doesn't mean we can't play the games. So, here are the "results" from the games that were scheduled for Thursday night.
Thursday night's schedule
Winner
Winner record
Loser
Loser record
Bruins 10
19-3-0
Hurricanes 2
9-16-4
Sabres 4
7-13-1
Canucks 3
18-6-0
Flyers 1
18-5-0
Islanders 0
3-19-5
Penguins 6
19-4-2
Sharks 0
9-12-4
Lightning 4
6-14-1
Senators 3
13-9-2
Panthers 1
9-12-4
Capitals 0 (overtime)
12-11-2
Red Wings 6
19-5-0
Kings 0
14-8-4
Jets 1
8-12-4
Maple Leafs 0 (overtime)
4-18-5
Blues 1
13-7-1
Blue Jackets 0
4-16-3
Predators 1
14-9-3
Rangers 0 (overtime)
14-8-5
Oilers 2
9-12-5
Stars 1 (overtime)
5-21-4
For more hockey news, rumors and analysis, follow @EyeOnHockey and @StubitsCBS on Twitter and like us on Facebook.
Show Comments
Hide Comments
Series schedules, results and updates from the second round of the Stanley Cup race

Subban had three points in Nashville's 4-3 win over St. Louis in Game 1, while Edmonton dropped...

Washington and Pittsburgh figure to go neck and neck, as do Anaheim and Edmonton
Cassidy went 18-8-1 after replacing Claude Julien in 2016-17

With the playoff field cut in half, the stakes keep getting raised

Green has led Vancouver's AHL affiliate since 2013