NHL lockout: Your daily hockey fix for Day 86
This is Day 86 of the NHL lockout. Could Ron Hainsey find himself blacklisted after these negotiations?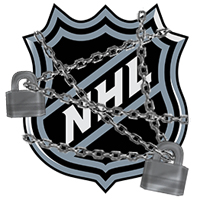 This is Day 86 of the NHL lockout, 2012 edition. Every day, we'll serve up some CBA talk and help you get your hockey fix. Let's begin, shall we?
CBA roundup
•  The NHL has now canceled 422 regular-season games, lost the Winter Classic in Ann Arbor, Mich., and the All-Star weekend in Columbus. It's expected that more games will be canceled Monday.
•  Ron Hainsey of the Winnipeg Jets is one of the more active and vocal members of the players association in these negotiations, referred to as "their bad cop" by one NHL negotiator. Hainsey is also a free agent in the summer of 2013. His role in these negotiations could get him blacklisted according to Elliotte Friedman.
I stress I've never heard it on- or off-the-record from any owner, general manager or negotiator -- but there is a rumbling going around that Hainsey will never again get an NHL contract. (He is an unrestricted free agent next summer.)

When I brought it up to him on Friday morning, he nodded in anticipation of the question. Clearly, he's heard the rumours.

"Do you worry that, after your contract is completed, you'll never play in the NHL again?"

"My wife and I have talked about it," he said. "If I play the way I'm capable of, everything will work out."
That's pretty cold. Talk about a chilling effect on players who ever consider being active in the future. (CBC)
•  These negotiations have at times felt more like a show off Broadway than actual labor talks. It has been one dramatic scene after another, none more so than Thursday's breaking up of talks and public grandstanding and the few days of talks that preceded it. Bruce Arthur sees right through it.
But it's all a charade, as much of this negotiation has been. Of course Fehr tried to negotiate off the proposal, because the NHL decided to render the proposal non-negotiable on the same night they told that bringing Fehr back into the room "could be a dealbreaker" after two long days of talks. If you were leading a union, what would be your response? Accept their terms?

Of course not. One reason Bettman and Daly were so angry, aside from the theatrical element, is that Fehr has spent this entire negotiation refusing to bargain on their terms. They offer a percentage split; he offers something based on guaranteed dollars. They try to stick; he tries to move. The owners ask what is important, and what is important keeps changing. They just want him to say yes, and he won't do it. Yet. (National Post)
•  Was the entire concept of having new owners enter the fray a good one or not? It did seem to produce progress even if there was some showy nature to it, but Kevin Westgarth, a very active member of the PA, told Jeff Z. Klein they weren't exactly up to speed.
"There are a half-dozen or more players who knew exactly where we were and could detail every aspect of where we were at," Westgarth said, referring to last week's talks. The league brought in four owners to join Jeremy Jacobs of Boston and Murray Edwards of Calgary in the negotiations.

"It became obvious that the guys they brought in had nowhere near a complete understanding of what the proposals were and where we were in the negotiations," Westgarth said. "I thought it was great that Ron Burkle, Larry Tanenbaum, Mark Chipman and Jeff Vinik got involved -- clearly they're passionate and care about the game -- but it shows how tightly controlled the league is." (New York Times)
•  The owners have been busy trying to do some other things in these negotiations besides negotiating, like trying to crack the union from the head down. So far it hasn't worked, and Jeff Blair wonders if the owners are out of cards to play.
Do not be misled by the two-month-old press releases run out by the so-called doves among the owners who met with that group of players; this is all playing out according to plan. Give the players a strong dose of Jeremy Jacobs, then bring in the kinder, gentler owners. Get the players to waste time that should have been spent decertifying by luring them into a meeting without their union chief. It might have worked, were it not for the idiot who suggested to players representative Ron Hainsey that they might want to come back without Fehr and get the deal done.

Really: who'd want their bad, old lawyers with them when they're negotiating a contract with a bunch of like-minded good guys -- Burkie and Tannie and Vinny and Chipper. Someone did inform the owners that -- much to their chagrin, it's to be sure -- Alan Eagleson doesn't run the union any more, right?

So that's where we are: ownership still testing the players' resolve, making behind-the-scenes approaches to orchestrate a rebellion against Fehr while doing things they swore they'd never do and make changes to their last-ever, final, not-to-be-tinkered-with, best offer; players well aware that they can keep the owners chestnuts roasting on an open fire for three more weeks or so before the doomsday clock really starts ticking. (Globe and Mail)
•  Mike Heika, long-time Stars beat writer for The Dallas Morning News, has pretty much steered clear of the lockout drama all this time. But his frustration boiled over and produced a pretty strong piece about the silliness that persists. (Dallas Morning News)
Hockey fix
Who doesn't love a good blooper reel? Some of the great follies of last season condensed into one minute of action:
KHL update
There were just two games on Sunday in the KHL, and they featured goals from NHL defensemen Zdeno Chara and Lubomir Visnovsky.
Simulated scores
•  Games have been canceled, and your favorite players are overseas, but you can still see how your team would be doing. PredictionMachine.com uses its play-by-play technology to simulate each game from the original schedule and predict the outcomes. Just because the NHL isn't playing on the ice doesn't mean we can't play the games. So, here are the "results" from the games that were scheduled for Monday night.
Monday night's schedule
Winner
Winner record
Loser
Loser record
Rangers 6
18-9-5
Lightning 5 (overtime)
8-16-2
Penguins 9
21-7-2
Jets 1
10-14-4
Hurricanes 7
13-17-6
Canadiens 6
12-15-4
Red Wings 1
20-7-2
Bruins 0 (overtime)
20-7-1
Oilers 2
12-15-5
Canucks 1
19-9-2
Stars 3
8-23-4
Kings 2 (overtime)
17-11-5
For more hockey news, rumors and analysis, follow @EyeOnHockey and @StubitsCBS on Twitter and like us on Facebook.
Pittsburgh sits atop them all as the repeat champs, while Nashville rises up after its big...

Islanders could also be loading up for scoring talent, and Vegas has plenty of D-men to se...

Fired by Dallas this offseason, Ruff is expected to replace Jeff Beukeboom
Even without a can't-miss prospect, the first round features a handful of solid center pic...

Casey Mittelstadt goes off the board in the top 10 picks of the 2017 NHL Entry Draft

New Jersey makes the Halifax Mooseheads star the first overall selection in this year's dr...