NHL odds: Laviolette on hottest seat, Seth Jones Calder favorite
Peter Laviolette enters the season as the 'betting favorite' to be the first coach fired while Seth Jones is the favorite to win the Calder.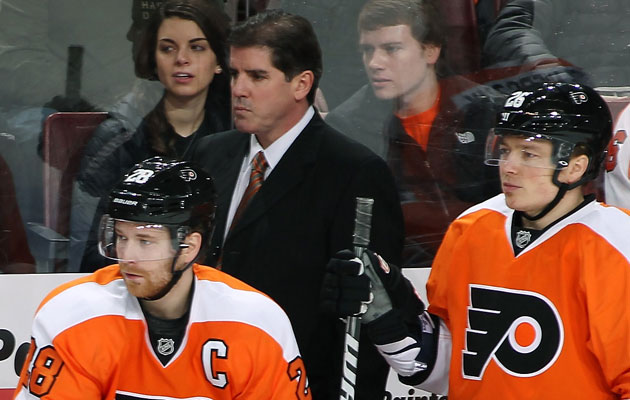 NHL previews: Atlantic Division | Metropolitan Division | Central Division | Pacific Division
Just before the puck drops on the 2013-14 season, there is one last round of betting odds for some of the superlatives this season from Bovada. The questions are simple: What coach will be fired first and who will be the top rookie?
First in line for the coaches on the hot seat seems to be the same everywhere you look; Peter Laviolette better get those Flyers winning soon or else.
Peter Laviolette (PHI) -- 2-1
Bob Hartley (CAL) -- 5-2
Kirk Muller (CAR) -- 3-1
Mike Yeo (MIN) -- 4-1
Claude Noel (WPG) -- 9-2
The pressure is on all of these guys in the early part of the seaosn, there's no telling how much patience the GMs will have. Muller in particular could be primed for a rough start with so many injuries on his team right now including the huge loss of Joni Pitkanen for the season. You can see our entire Hot Seat Ratings index here.
On a lighter note, there were also odds on who might do well, who will win the Calder Trophy as the top rookie.
Seth Jones (NAS) -- 3-2
Nathan MacKinnon (COL) -- 9-2
Valeri Nichushkin (DAL) -- 13-2
Aleksander Barkov (FLA) -- 9-1
Tomas Hertl (SJ) -- 9-1
Sven Baertschi (CAL) -- 9-1
Mark Scheifele (WPG) -- 9-1
Boone Jenner (CLB) -- 9-1
Torey Krug (BOS) -- 9-1
Filip Forsberg (NAS) -- 20-1
Ryan Murray (CLB) -- 25-1
Jones is a popular pick for a lot of people and it's pretty easy to see why. He's one heck of a talent and the Predators figure to insert him into serious minutes from the very beginning. Still, defensemen often have big learning curves so there is plenty of risk with Jones at 3-2. There are some really intriguing players at the 9-1 group including Hertl, who will get a chance to play with Joe Thornton in San Jose.
Show Comments
Hide Comments
Ottawa recovers from a 7-0 loss in Game 5 to quiet Pittsburgh's offense

Series schedules, results and updates from the Eastern and Western conference finals

Out for the remainder of the postseason, Johansen is still part of the Predators' playoff...
Nashville refuses to back down despite taking fewer than 20 shots against fill-in goalie Jonathan...

Anaheim will be without two key forwards and possibly its No. 1 goalie in Nashville on Mon...

Pittsburgh makes a fool of Ottawa's top-line defense with four goals in the first period a...