NHL odds: Over/under point totals have Pens first, Flames last
What's the over/under on points for the Penguins? Try 108.5, making them Presidents' Trophy favorites by Bodog. The Flames are last at 74.5.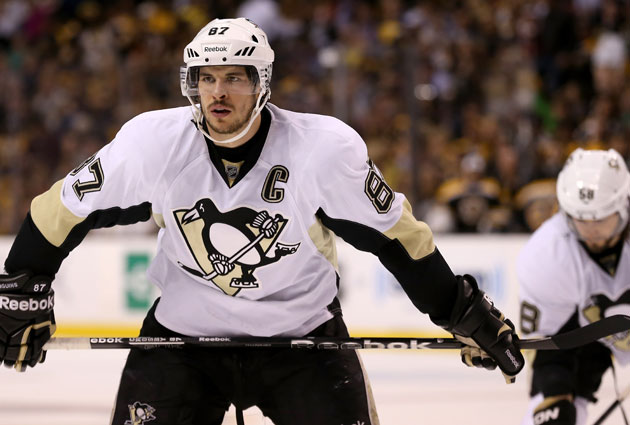 More NHL offseason: Rumors | Top 50 Free Agents | Buyout Tracker | Trades | Transactions
Recently Bovada released the odds on who would make the playoffs this season. Now the betting site has odds of a different sort: individual team over/unders on points.
As you can assume, this comes close to mirroring those playoff odds. The teams with the top odds also have the highest over/under marks but it's a little more interesting to see the point total projections to get an idea of where the oddsmakers really see the teams stand.
So here you go, the over/under odds on points broken down by division from highest to lowest.
Metropolitan Division
Pittsburgh Penguins -- 108.5
New York Rangers -- 98.5
Washington Capitals -- 93.5
Philadelphia Flyers -- 92.5
New York Islanders -- 89.5
Columbus Blue Jackets -- 85.5
Carolina Hurricanes -- 84.5
New Jersey Devils -- 79.5
Atlantic Division
Boston Bruins -- 102.5
Detroit Red Wings -- 97.5
Toronto Maple Leafs -- 96.5
Montreal Canadiens -- 94.5
Ottawa Senators -- 93.5
Tampa Bay Lightning -- 88.5
Buffalo Sabres -- 83.5
Florida Panthers -- 75.5
Central Division
Chicago Blackhawks -- 105.5
St. Louis Blues -- 99.5
Minnesota Wild -- 94.5
Colorado Avalanche -- 86.5
Dallas Stars -- 86.5
Nashville Predators -- 84.5
Winnipeg Jets -- 82.5
Pacific Division
Los Angeles Kings -- 98.5
Vancouver Canucks -- 95.5
San Jose Sharks -- 94.5
Anaheim Ducks -- 90.5
Edmonton Oilers -- 89.5
Arizona Coyotes -- 85.5
Calgary Flames -- 74.5
There are also simple Yes or No odds on whether each team will get into the playoffs but I won't list those here. You can find those online if you're curious.
So what do you think, even in that new division you feel like the Penguins will win the Presidents' Trophy? I think I would like the Blackhawks to win that again. Their new division is nowhere near as tough, or shouldn't be.
Meanwhile Calgary starts with the lowest over/under on the season. Welcome to town, Brian Burke!
Show Comments
Hide Comments
Series schedules, results and updates from the second round of the Stanley Cup race

New Jersey claims No. 1 draft pick after having an 8.5 percent chance of earning the top s...

Ottawa takes a 2-0 lead over New York, and Pittsburgh does the same against Washington
St. Louis connected on one of five power plays to tie the series while Anaheim loses again...

Ottawa's defense came up big in Game 1 to beat New York, and the Penguins beat the Capitals...

Subban had three points in Nashville's 4-3 win over St. Louis in Game 1, while Edmonton dropped...