NHL odds: Pittsburgh Penguins the favorite to win Stanley Cup
Updated odds now have the Penguins as the Stanley Cup favorite with the Blackhawks and Sharks close behind while Kevin Dineen jumps to the top of the hot seat list.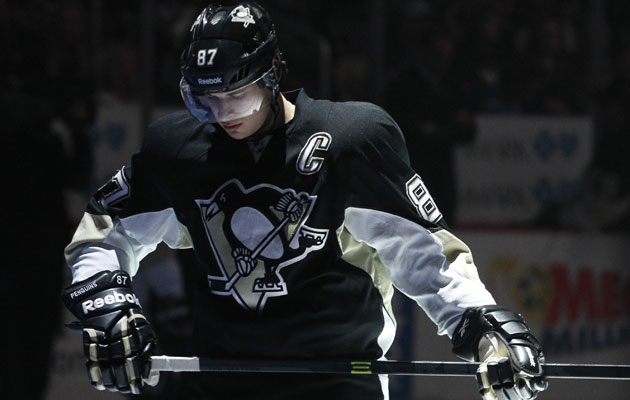 More NHL: Scores | Standings | League Leaders | Odds | Injuries | Power Rankings
While the season remains infantile with not even a quarter of it complete, enough has been seen to adjust expectations. We already know that a handful of teams have been all but eliminated already while a few others that everybody expected to be among that group have surprised.
With the altered expectations also come altered odds from the line makers at Bovada. You can understand why the Las Vegas types would like to alter the odds on a team like the Colorado Avalanche from where they were in the preseason, otherwise it could be the house being taken to the cleaners.
So here we have the latest, updated odds for the season. You'll recall that before the season the Chicago Blackhawks were instilled as the favorites to win the Stanley Cup but there's been a change at the top with the Pittsburgh Penguins .
Also just as a note, I am not a bettor; I've never laid a bet beyond a friendly wager in my life. My curiosity here is with seeing how the people who get paid to handicap sports see things shaping up.
Now, to the Cup odds.
Stanley Cup odds
Team
Current
Preseason
Penguins
6-1
15-2
Blackhawks
15-2
6-1

San Jose Sharks

15-2
18-1
Avalanche
10-1
50-1

St. Louis Blues

10-1
12-1

Boston Bruins

11-1
10-1

Detroit Red Wings

14-1
16-1

Toronto Maple Leafs

14-1
18-1

Los Angeles Kings

16-1
12-1

Anaheim Ducks

20-1
25-1

Vancouver Canucks

20-1
16-1

Minnesota Wild

25-1
22-1

Tampa Bay Lightning

25-1
33-1

Montreal Canadiens

28-1
28-1

New York Islanders

28-1
33-1

New York Rangers

33-1
20-1

Ottawa Senators

33-1
20-1

Arizona Coyotes

33-1
66-1

Washington Capitals

33-1
25-1

Carolina Hurricanes

40-1
40-1

Columbus Blue Jackets

50-1
40-1

Dallas Stars

66-1
40-1

Nashville Predators

66-1
50-1

New Jersey Devils

66-1
50-1

Philadelphia Flyers

66-1
22-1

Calgary Flames

100-1
100-1

Edmonton Oilers

100-1
20-1

Winnipeg Jets

100-1
66/1

Florida Panthers

200-1
150-1

Buffalo Sabres

250-1
100-1
There you have it, the Penguins are the new odds-on favorite to win the Cup this season and immediately people get queasy thinking about another playoff run for Marc-Andre Fleury . But the thing about the Penguins that does make them attractive as a favorite is that their playoff run should be much easier than the majority of the other Cup contenders who are pretty much all in the West right now.
It's been made abundantly clear that the West is the better conference this season meaning that the playoffs in that conference will likely be a gauntlet. The same can't be said for the East where the Penguins will have a lighter route (that's not to say it would be easy, the Bruins crushed the Pens last postseason remember). So while I'd certainly greatly favor the odds that a team in the West will hoist the Cup again, the Penguins are perhaps an outlier from the East. Fleury has been playing well this season, though we all know regular seasons haven't been the problem for him.
From there you get a slew of teams in the West and the Blackhawks are still right there, just behind Pittsburgh as the favorite. The thing about the Hawks is that so far they haven't been playing their best hockey yet they are still 9-2-4. Repeating is very tough to do but that hardly means the Blackhawks won't give it a go.
Down the way there are a couple of teams with pretty tempting odds at this point; the Blues at 10-1 and then the Ducks at 20-1. As long as St. Louis can avoid LA in the playoffs then perhaps this is the year they can make a deep run. They're a big, physical team that is scoring now too but can always rely on defense. They look like a team built for the postseason.
The Ducks meanwhile just can't get a ton of respect. Even with the most points in the Western Conference right now they still have odds at 20-1, not that much better than the 25-1 they had in the preseason. They did this last season too with a strong start and petered out and perhaps it will happen again as they are riding a very high shooting percentage but they are a top-10 possession team this season too giving some indication the winning ways could continue.
Meanwhile the Panthers' preseason worst odds have actually gotten longer and it's almost surprising the Sabres haven't been taken off the board yet. It doesn't need to be said but I will say it anyway; stay away from them.
Next up are the divisional odds.
Atlantic Division odds
Team
Current
Preseason
Bruins
9-4
11-5
Red Wings
7-2
7-2
Maple Leafs
7-2
9-2
Lightning
5-1
9-1
Canadiens
6-1
11-2
Senators
8-1
9-2
Panthers
50-1
50-1
Sabres
100-1
30-1
The Bruins remain a pretty strong favorite and I'd think for pretty good reason. They haven't been the best team thus far but I'm still of the belief they are the best team when it's all said and done. Their defense and goaltending remains superb.
The Lightning might still look attractive at 5-1 but I do have my doubts they'll be able to keep this up the entire season; Ben Bishop won't continue to stop just about everything he sees on the penalty kill. But we know they'll score so maybe a fade can be curtailed.
As for the Leafs I say take them at your own risk. Who knows what the heck that team is going to do, they're impossible to forecast.
Metropolitan Division odds
Team
Current
Preseason
Penguins
1-2
6-5
Islanders
7-1
17-2
Capitals
8-1
15-2
Rangers
10-1
6-1
Blue Jackets
12-1
16-1
Hurricanes
14-1
16-1
Devils
25-1
16-1
Flyers
25-1
7-1
Frankly, if you were to bet on anybody winning the Metro not named the Penguins you're just asking to lose. And with odds at 1-2, you're not going to get very much either with a bet on the Pens.
But we can all take a second to notice how the Flyers have fallen from third-best odds in the preseason to 25-1. I guess if Claude Giroux put his money where his mouth is, he could have a nice postseason bonus should they deliver on his promise.
Central Division odds
Team
Current
Preseason
Blackhawks
6-5
5-8
Avalanche
5-2
18-1
Blues
3-1
13-4
Wild
7-1
6-1
Predators
25-1
18-1
Stars
33-1
14-1
Jets
40-1
18-1
Just as their Stanley Cup odds did, the Avs' chances in the Central have taken a major jump but they're still behind the Blackhawks as the favorites to win the division and for good reason. The Blackhawks are proven, the Avs aren't yet.
The Wild might appear intriguing at 7-1 as they're just three points behind the Avs at this point but while they've been much better this season and are playing good hockey, I can't foresee them hanging with the Blackhawks and Blues all season.
Pacific Division odds
Team
Current
Preseason
Sharks
3-2
9-2
Kings
11-4
8-5
Ducks
7-2
11-2
Canucks
11-2
3-1
Coyotes
8-1
16-1
Flames
33-1
30-1
Oilers
33-1
11-2
You might as well remove the Alberta teams (poor Flames, they've vastly exceeded expectations yet their odds have grown longer) and then just pull a name out of a hat to pick a winner in the Pacific.
The Sharks are instilled as the favorites since they've looked like the second coming of the old Canadiens in the early going but both Anaheim and Phoenix look awfully intriguing with those odds. I'd put more faith in Anaheim to get there than the Coyotes but everybody always counts out Phoenix and the team, with the exception of last season, always delivers. Remember, they won the old Pacific Division two years ago.
About the only team whose odds I don't like are actually the Kings. They're still an excellent team that will be there all season long and should be in the playoffs but until Jonathan Quick rounds back into form they will be trailing a few of the divisional rivals.
Finally let's move on to a few individual odds.
Next coach fired odds
Coach
Current
Preseason
Kevin Dineen
7-2
Off the board
Peter DeBoer
4-1
Off the board
Ron Rolston
4-1
Off the board
Claude Noel
4-1
9-2
Bob Hartley
13-2
5-2
Craig Berube
7-1
N/A
Alain Vigneault
8-1
Off the board
Kirk Muller
17-2
3-1
Mike Yeo
17-2
4-1
That's quite a jump from Panthers coach Kevin Dineen from off the board to the top of the list. But the 7-2 line was posted before the Panthers brass had a late-night meeting where Dineen's future with the team was reportedly the discussion at hand. While he wasn't fired, it sure doesn't seem like his seat is cool at the moment one bit. It would seem he's a worthy favorite.
What's interesting is Craig Berube has already climbed up the list despite just replacing the already fired Peter Laviolette. Of course since the Flyers are still at the bottom of the bad Metro Division, it shouldn't be a surprise.
The most intrigue is at the bottom of the list, though. Why Yeo would still be on the list I'm not sure; the Wild are playing very strong hockey but I guess there's still a long way to go in the season so it has to be sustained. Muller meanwhile would sure seem to have a warmer seat than 17-2 odds might suggest. The Hurricanes just snapped a five-game skid with a come-from-behind win over the Flyers and are one of the lowest-scoring teams in the league while posting a minus-16 goal differential. Behind Dineen, perhaps Muller is a name that would be next.
Calder Trophy odds
Player
Current
Preseason

Tomas Hertl

3-2
9-1

Sean Monahan

5-2
Off the board

Seth Jones

3-1
3-2

Alex Chiasson

4-1
Off the board

Mark Arcobello

13-2
Off the board

Nathan MacKinnon

13-2
9-2
That's better, let's talk about the positives and look at the race for the best rookie. Hertl remains a favorite and you can see why as he plays with the monster that is the Sharks and on their top line no less. His pace has absolutely slowed down but remember he had his "moment" already with his flashy goal. That helps a lot.
Considering in the preseason my pick for the Calder was Chiasson, I do like his odds there as he has remained pretty consistent for the Stars. However the Calder is so tough to predict as you can assume by seeing how many players who were off the board to start the season now have odds. You just never know when rookies will either turn a corner or hit a wall.
Hart Trophy odds
Player
Current
Preseason

Sidney Crosby

1-1
3-1

Alex Ovechkin

3-1
6-1

Steven Stamkos

3-1
8-1

Henrik Sedin

17-2
16-1

Phil Kessel

17-2
30-1

Tuukka Rask

9-1
40-1

Antti Niemi

16-1
75-1

Alexander Steen

25-1
Off the board
Lastly, the Hart Trophy for the MVP of the league. Of course Sidney Crosby remains a strong favorite with even odds. He has a point in all but two games this season and leads the league with 23 overall. He remains on pace for 82 assists and around 40 goals. What's amazing is he only has one Hart in his trophy case so far.
Something to keep in mind when looking at a few of the candidates here: Five of the last seven played in the Eastern Conference. I don't buy a lot into the ideas of East Coast bias but in the voting process it does have a tendency to show up but maybe with every team visiting every arena this year it will be different.
Perhaps though that voting bias idea could make Phil Kessel a sneaky pick. He has been playing extremely well and is on pace for his highest goal total of his career. If he can lead the Maple Leafs back to the playoffs or even to a division title, there could be a lot of support for the Thrill.
Also on the goalies: It has been more than a decade since a goaltender won the Hart (Jose Theodore in 2001-02) and it has only happened three times since 1961-62. As good as Niemi and Rask are, their odds for the Hart should be a lot longer than that at this point.
Show Comments
Hide Comments
Ottawa's defense came up big in Game 1 to beat New York, and the Penguins beat the Capitals...

Series schedules, results and updates from the second round of the Stanley Cup race

Subban had three points in Nashville's 4-3 win over St. Louis in Game 1, while Edmonton dropped...
Washington and Pittsburgh figure to go neck and neck, as do Anaheim and Edmonton

Cassidy went 18-8-1 after replacing Claude Julien in 2016-17

With the playoff field cut in half, the stakes keep getting raised