NHL Playoffs: GIFs of the week from Jack Edwards to Mike Babcock
The best GIFs of the week in the NHL playoffs, including Jack Edwards going crazy, Mike Babcock asking for a dive and John Tortorella.
More NHL Playoffs: Scores | TV Schedule | Expert Picks | Odds | Mock Draft | Rumors
Because everybody likes a moving picture that repeats itself over and over again, here are some of our favorite GIFs from the past week of the NHL playoffs. Check back every Friday during the Stanley Cup Playoffs for more.
More Rangers, means more John Tortorella
The best thing about the New York Rangers advancing in the playoffs is that we're guaranteed more John Tortorella press conferences and more reactions like this on the bench. This one is during Game 1 of the Eastern Conference Semifinals against Boston, apparently asking "WHERE IS MUSKY?"
Where's the dive, ref?
Detroit Red Wings coach Mike Babcock wanted to know why Chicago's Marian Hossa wasn't called for a dive, and he had a funny way of asking.
Don't worry, Phil Kessel can be rebuilt
Toronto Maple Leafs forward Phil Kessel had a few screws loose in the first round against the Boston Bruins. The good news is that's an easy problem to fix.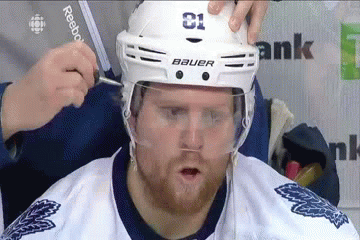 Joffrey Lupul ends up in the net, then gets punched. Twice.
If there is one goalie in the NHL who's going to punch you for taking up space in his crease, it's Tuukka Rask of the Boston Bruins. Maple Leafs forward Joffrey Lupul found that out the hard way this week, and then for good measure took another one from Zdeno Chara.
T.J. Galiardi just wants to get to the bench
In Game 1 of the Western Conference Semifinal between San Jose and Los Angeles, Sharks forward T.J. Galiardi had to go through an obstacle course made up of Kings players and referees just to get back to his bench.
Antti Niemi plays the role of bowling pin
Here we have the Los Angeles Kings -- and a few members of the San Jose Sharks -- crashing into Antti Niemi during the third period of Thursday's game.
That's using your head, Geno
Evgeni Malkin does whatever he has to do to get the puck up the ice, even if it means taking a move out of the soccer playbook and using his head.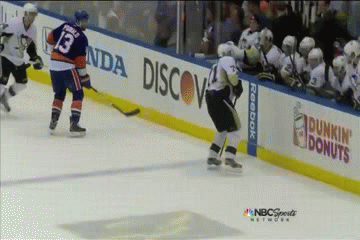 Jack Edwards is kind of scary
Nobody was more fired up for the Boston Bruins Game 7 comeback win than Jack Edwards, and it was a little terrifying. It's going to take a lot to beat this one in the upcoming weeks.
Show Comments
Hide Comments
Our Latest Stories
On day he signs entry-level deal with Canucks, Boeser scores Vancouver's third goal in 4-2...

The Penguins' leader in highlight reels has been extra feisty on some cringe-worthy cheap shots...

2017 SAHP NHL Global Series will pit Ottawa and Colorado against each other in Stockholm
Finland has churned out some winners in a league filled to the brim with diverse players

From the Caps' goaltender to the star-studded headlining duo of Chicago's offense, these guys...

Scoring his 41st goal of the year in a 3-1 win over the Buffalo Sabres, the Pittsburgh Penguins...