NHL Playoffs: Grades for Night 3
Handing out grades for night No. 3 of the NHL playoffs. Craig Anderson and Erik Karlsson get high marks.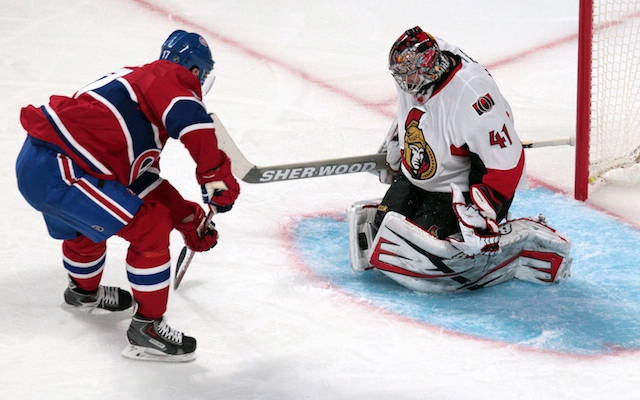 More NHL Playoffs: Scores | TV Schedule | Expert Picks | Odds | Mock Draft | Rumors
| Team | Grade | Analysis |
| --- | --- | --- |
| | A | Craig Anderson helped steal Game 1 for the Senators in Montreal on Thursday night with what has to be the best goaltending performance of the postseason to this point (all three days of it). He stopped 48 of 50 shots and had to face 27 shots in the second period alone. For some context on that, over the first two days of the postseason there were six teams that registered 27 shots or fewer during entire games. |
| | A | Watching him play, you would never know that Erik Karlsson is coming off of a brutal injury. Other than Anderson, he was Ottawa's best player on Thursday, scoring a goal and adding two assists. How important was Karlsson? During 5-on-5 play with Karlsson on the ice the Senators outshot Montreal 18-16 and outscored them 3-0. Without Karlsson on the ice they were outshot 28-10 and the score was even. Difference. Maker. |
| | C | Having said all of that, the rest of the Senators other than Anderson and Karlsson get a C. I know they won, but when you give up 50 shots in a regulation game that's probably a sign that you're not doing something right and are probably fortunate to get a win. They took advantage of some Montreal mistakes, and it's not easy to win on the road in the playoffs, but outside of Anderson and Karlsson they weren't great. |
| | C+ | There were some good things for Montreal and some bad things for Montreal. The good: They peppered Craig Anderson with shots all night and created a ton of chances. If they keep generating shots like that you have to think that eventually some will start finding the back of the net. That said, there were still some issues defensively that existed late in the season and Carey Price was not particularly good in net. Losing a home playoff game to start a season isn't ideal, but if Montreal plays like this the rest of the way I like its chances. |
| | A | Another year, another Capitals-Rangers playoff series. The Capitals came out flying on Thursday and registered the first 10 shots of the game, received great goaltending from Braden Holtby, got a goal from Alex Ovechkin, and even got a good bounce to go their way when Henrik Lundqvist let in a softy to put the game away. |
| | C- | When it takes you 10 minutes to record your first shot on goal it's probably not a good start to the playoffs. But sometimes that's how life is for the Rangers. They lean on Henrik Lundqvist and more often than not he bails them out. But tonight he wasn't enough and the Rangers dropped Game 1 in Washington. |
| | B | The Blues didn't look quite as impressive as they did in Game 1, but they were still very good as they came from behind and beat the Kings on Thursday. And they did so thanks to a pair of third period goals, including an unlikely winner from defenseman Barrett Jackman to take a 2-0 series lead over the defending Stanley Cup champs. |
| | C+ | The frustrating thing for the Kings is they weren't that bad on Thursday. They were certainly better than they were in Game 1 but it still wasn't enough and at this point in the season there are no moral victories. You need real victories, and their Western Conference Quarterfinal series heads back to Los Angeles with the Kings in a 2-0 series hole. Jonathan Quick, last year's playoff hero, has had a rough start to this postseason thanks to his overtime giveaway in Game 1 and surrending the game-winning goal late in the third period of Game 2. |
| | C | A great start to the game and then a third period collapse. You can't be giving up three-goal leads in the third period of playoff games, especially when you're already down in the series. They were fortunate Sheldon Souray bailed them out with a late penalty to set them up in overtime. |
| | C | On the other hand, while the Ducks had a great third period comeback it's not exactly a great recipe for success to put yourself in such a hole that you have to score three goals in 15 minutes just tie the game. The Ducks had a lot of come-from-behind wins this season but when you keep relying on that eventually you're going to start coming up short. |
Show Comments
Hide Comments
Series schedules, results and updates from the second round of the Stanley Cup race

Here's how to stay on top of all of the NHL's second-round playoff series, which begin Wed...

Series schedules, results and updates from the first round of the Stanley Cup race
Ottawa took a 3-2 decision to send Boston home, and Washington outlasted Toronto, 2-1

Stevens was L.A.'s interim coach for four games in the 2011-12 season

St. Louis, New York and Edmonton eked out victories that eliminated Minnesota, Montreal and...