NHL Playoffs: Grades for Night 38
Patrick Kane recorded a hat trick to help the Chicago Blackhawks move on to the Stanley Cup final.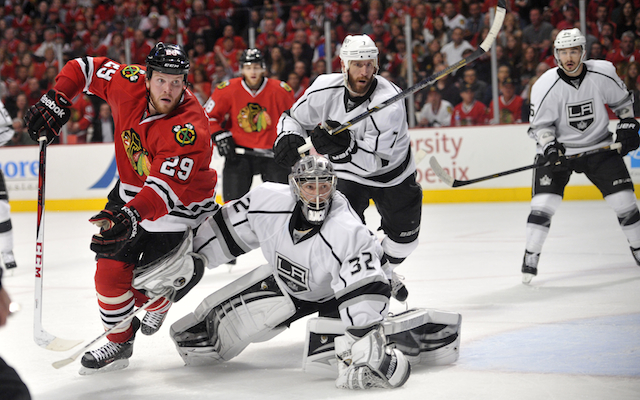 More NHL Playoffs: Scores | TV Schedule | Expert Picks | Odds | Mock Draft | Rumors
Team
Grade
Analysis
 A
 For the second time in four years the Chicago Blackhawks are going to the Stanley Cup final. They had Game 5 won in regulation (or so they thought) until

Mike Richards

tied it in the final seconds, but it wasn't enough to stop them from getting the win when Patrick Kane beat Jonathan Quick in double overtime on a two-on-one rush.
B+
Give the Kings credit, they didn't go down without a fight even with the series ending in five games. It's tough to play well enough and have everything go your way to get to the Stanley Cup final two years in a row, but something just didn't seem right with the Kings in this round. The offense wasn't there most of the postseason and Jonathan Quick had some rough moments, but it was still one heck of a title defense by the Kings.
 A
Hey, remember when everybody was criticizing Patrick Kane for not scoring enough goals? Well you can forget about that. Kane scored three goals including the game-winner in overtime to send his team to the Stanley Cup Final.
 C
Jonathan Quick had his moments on Saturday, but he was far from the Conn Smythe goalie he was a year ago and gave up another brutal goal early in the first period when he allowed an innocent looking slap shot from Duncan Keith get through him. You can't allow that goal in any situation, let alone early in an elimination game to put your team in a hole.
Show Comments
Hide Comments
Washington and Pittsburgh figure to go neck and neck, as do Anaheim and Edmonton

Cassidy went 18-8-1 after replacing Claude Julien in 2016-17

With the playoff field cut in half, the stakes keep getting raised
Green has led Vancouver's AHL affiliate since 2013

Series schedules, results and updates from the second round of the Stanley Cup race

Here's how to stay on top of all of the NHL's second-round playoff series, which begin Wed...