NHL Playoffs: Grades for Night 4
Handing out grades for the NHL playoffs on Night No. 4 of the postseason.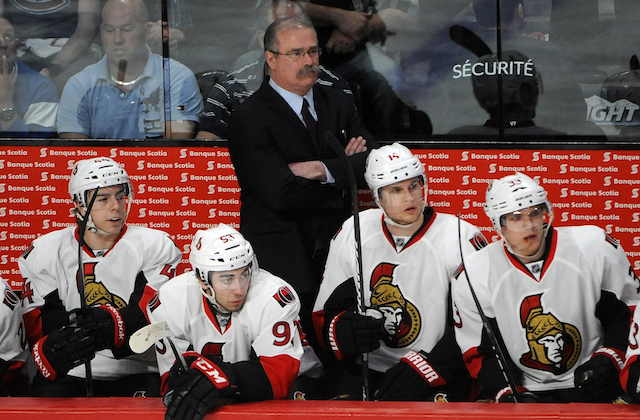 More NHL Playoffs: Scores | TV Schedule | Expert Picks | Odds | Mock Draft | Rumors
Team
Grade
Analysis
 D
Sidney Crosby was really good, but the rest of the Penguins were not. Some of the same problems that existed earlier this season and in last year's playoffs returned Friday night as the Penguins had poor puck management, took too many undisciplined penalties, and were simply outplayed by the Islanders -- Gretz
 A
Even when they were trailing 3-1 early in the game, the Islanders were playing much better than the score indicated. They kept getting pucks at the net and eventually broke through with some good bounces.

Evgeni Nabokov

was much better than he was in Game 1 and made some big saves while the Islanders as a team just looked to be the faster and more determined group. -- Gretz
 B+
The Habs came out with intensity in the first period and carried it through the entire game without getting carried away. Montreal dominated the first period, got the better of Ottawa in a more evenly-matched second and showed a commitment to defense that stifled the Sens in the third. It was the right kind of response after wanting to exact some revenge after Lars Eller's injury in Game 1. Carey Price held the fort in net with 29 saves, but also got help with 34 blocked shots in front of him.
 C+
Even though the Senators clearly expected a rough-and-tumble game, dressing tough guy

Matt Kassian

, it was tough for Ottawa to match Montreal's intensity. It took the Sens a while to get going, getting thoroughly outplayed in the first period and that set the tone for the rest of the game. Craig Anderson was mostly solid again in net, but miscues in front of him cost Ottawa in the back-and-forth second period. It wasn't necessarily a bad game, but it wasn't a complete effort out of Ottawa.
A-
Chicago imposed its will in Game 2 against Minnesota. Showing the offensive prowess that helped the Blackhawks earn the league's best record this year, all lines were buzzing. It wasn't a perfect effort, as Chicago's power play struggled at 0-for-4. However, outshooting Minnesota 48-28, getting an unlikely pair of goals from Michael Frolik, a more likely pair from Patrick Sharp and strong goaltending from Corey Crawford allowed Chicago to mostly cruise and give the Hawks control of the series 2-0.
 C
There wasn't much the Wild could do to slow down Chicago. That said, Minnesota showed signs of life on the power play and generated solid chances throughout the game. The Wild just couldn't seem to solve Corey Crawford or contain Chicago's potent offense. Josh Harding had a strong effort in net, but facing 47 shots from one of the league's best scoring teams is a tall order for any goaltender. Now Minnesota is left trying to figure out how to get back in this thing heading home.
C
Only 55 seconds separated the Canucks from tying the series 1-1 and heading to San Jose with some confidence and new life. Instead, Vancouver lost the late lead and later its sixth straight playoff game on home ice dating back to 2011. A bad first period and the inability to generate much at five-on-five only compounded Vancouver's struggles. Roberto Luongo played well mostly and Ryan Kesler seemed to have found another gear as the game wore on. It wasn't enough and now the Canucks are left to hope for another shot on home ice.
 B
Give San Jose credit for not going away. The Sharks kept clawing for that game-tying goal and eventually got it as Patrick Marleau drove to the net hard with just slightly over 55 seconds left on the clock. Antti Niemi turned in another solid performance and the Sharks defense was limiting the Canucks for much of the game. Even though the Canucks have struggled at home, winning two on the road is a tough thing to do. The Sharks earned every bit of its 2-0 advantage.
Show Comments
Hide Comments
For first time since 2005-06, Edmonton is headed for a Stanley Cup run

With loss to Hurricanes, Detroit eliminated from postseason contention for first time since...

Flames-Capitals would pit underdogs vs. title favorites, while Pens-Oilers would showcase elite...
The Ducks are outshining their Pacific competition, while the Habs and Predators offer lots...

Big losses by the Sharks and Blackhawks have Washington back on top

On day he signs entry-level deal with Canucks, Boeser scores Vancouver's third goal in 4-2...