NHL Playoffs: Grades for Night 6
NHL Playoffs grades for Night 6 of the postseason. The Penguins win, but struggle.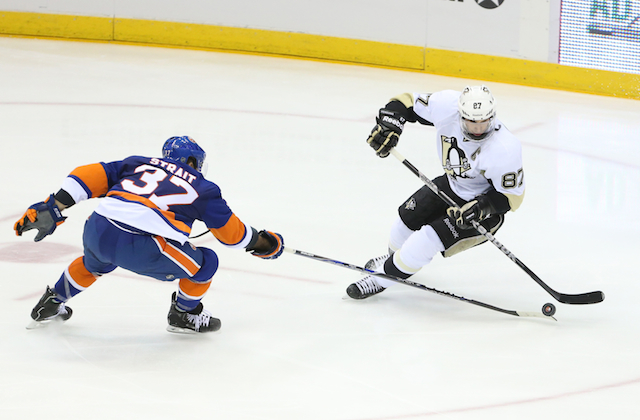 More NHL Playoffs: Scores | TV Schedule | Expert Picks | Odds | Mock Draft | Rumors
Team
Grade
Analysis
 C-
The Penguins won to take a 2-1 series lead, but don't for a second think they looked good doing it. For the second straight game the Penguins were badly outplayed 5 on 5 and continued to have a hard time dealing with the Islanders' speed up front. Their power play and penalty kill bailed them out on Sunday, but if Pittsburgh is going to do anything this postseason it has to be much better than this. It's also the fourth time in their past nine playoff games the Penguins allowed a two-goal lead to slip away. That's not good enough.
 A
There has been one noticeable exception for the Penguins these past two games: The play of captain Sidney Crosby. He picked up three more assists on Sunday afternoon and drew the penalty in overtime to set up Chris Kunitz's game-winning goal. When he's been on the ice the past two games the Penguins have played well. When he's not on the ice? It's been ugly.
 B-
The Islanders probably deserved a better fate on Sunday and continued to give the Penguins everything they can handle. Sometimes you play well and lose, and that's what happened to the Islanders on Sunday. The one weakness for New York on Sunday was the play of goalie

Evgeni Nabokov

.
 A
One player that never gets enough attention is New York Islanders forward Frans Nielsen, and he's been one of the best players in this series. Through three games the Islanders have outshot Pittsburgh 28-5 during even-strength play with Nielsen on the ice, and he's been getting most of that playing time against Pittsburgh's top lines. His line is giving Pittsburgh all sorts of problems.
 A
This was easily the best game the Wild played in this series and it was enough to give them a 3-2 overtime win thanks to a goal from rookie forward Jason Zucker. When Chicago tied it late in the third period it looked as if we were headed for a repeat of Game 1 where Minnesota hung around but ended up falling short in overtime, but Zucker's game-winner put Minnesota in the win column for the series.
 D+
Probably one of the worst games the Blackhawks played this season as they were badly outshot and outchanced for the game. The Blackhawks were lucky this game made it to overtime and that they even had a chance to get a win.
A
This was the most dominating win any team has had in the 2013 playoffs so far. The Senators blew out Montreal on the scoreboard and then managed to get the Canadiens' off their game in the third period.
 F
It takes a lot to earn an F in this, but the Montreal Canadiens did it tonight. Just an awful performance in every phasae of the game. Carey Price looks lost, the team in front of him looked just as bad, and then they completely lost their cool in the closing minutes.
A
The Sharks continue to look like one of the most impressive teams in the opening round of the playoffs and rolled to a 5-2 win over Vancouver. Remember back at the trade deadline when the Sharks were "sellers?" Seems like an eternity ago. This team is for real.
D-
Everything was awful in Vancouver, and if nothing else we've established that it wasn't Roberto Luongo's fault (not that any rational thinking hockey fan should have ever thought that it was). Cory Schneider returned to the starting lineup and was pulled after giving up five goals, including two in a nine-second stretch. The Canucks couldn't afford to go in a 3-0 hole and needed this game. They not only didn't get it, they came out flat and completely laid an egg.
Show Comments
Hide Comments
Series schedules, results and updates from the second round of the Stanley Cup race

New Jersey claims No. 1 draft pick after having an 8.5 percent chance of earning the top s...

Ottawa takes a 2-0 lead over New York, and Pittsburgh does the same against Washington
St. Louis connected on one of five power plays to tie the series while Anaheim loses again...

Ottawa's defense came up big in Game 1 to beat New York, and the Penguins beat the Capitals...

Subban had three points in Nashville's 4-3 win over St. Louis in Game 1, while Edmonton dropped...