NHL rumors: Brad Richards hasn't 'been told anything' about buyout
Brad Richards remains a prime candidate for a buyout this summer, but he says he hasn't been told anything yet by the Rangers.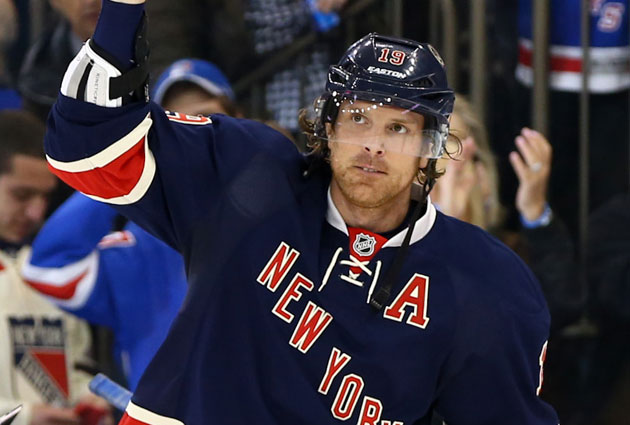 More NHL Playoffs: Scores | TV Schedule | Expert Picks | Odds | Mock Draft | Rumors
The big question in New York now that Alain Vigneault has been named the new head coach of the Rangers centers around Brad Richards. Specifically, whether the high-priced forward will be bought out by the team when the amnesty buyout period begins 48 hours after the Stanley Cup Final ends.
GM Glen Sather has apparently made a decision on the matter, but he's not revealing it. Not even to Richards himself, as he told Larry Brooks of the New York Post.
"I would love to be back but I haven't been told anything," Richards, who faces the possibility of becoming an amnesty buyout, told The Post in an email Monday. "That's the truth."

There had been a report on Twitter that the 33-year-old center told his caddie during a Sunday round of golf with Mark Messier that he knew he would be back in New York next season.

"I probably said I would love to be back, but I have no clue," Richards said. "Mark and I never talked about it."
The guess here is that Richards will be staying with the Rangers for at least next season. He still has seven years left on his contract that carries a $6.67 million cap hit with it, but there's a reason why he received that much money from the Rangers two summers ago. He can be worth it. With Vigneault behind the bench, the Rangers will probably take a flyer on seeing if he can help Richards find his game again.
If it doesn't work out, the Rangers could always use their second and final amnesty buyout (they used one already on Wade Redden) next summer to get out of the rest of the big contract.
As it stands now, the Rangers could probably get by with keeping Richards on the books for next season. They still have $14 million in cap space left, but they do have some players to re-sign -- among them, restricted free agents Carl Hagelin, Derek Stepan and Ryan McDonagh.
Richards became a focal point of frustration this season as his offensive production took a major dive. Coach John Tortorella demoted him to the fourth line in the playoffs and then ended up making him a healthy scratch. Richards finished the season with 11 goals and 23 assists for 34 points in 46 games, but it certainly didn't feel like it, not with the negativity thrown in his direction after the big expectations that came with his massive deal.
Show Comments
Hide Comments
Pittsburgh has the talent and experience, but the Predators' fiery blue line should help them...

The Predators are riding an opportunistic defense and superb goalie, while the Pens boast elite...

Washington and Toronto set to face off March 3 in Annapolis
"Let's go, Preds!" chants take on a whole new meaning in the hype piece

Both Stanley Cup Final contenders cracked the list of top 10 teams searched in 2016-17

The Preds will need more from their blue-line depth, and Pittsburgh has to capitalize in s...