NHL rumors: Canucks have 'potential deal in place' for Roberto Luongo
The Roberto Luongo trade watch keeps on. Canucks GM Mike Gillis says a potential deal is in place but they have to wait a little longer.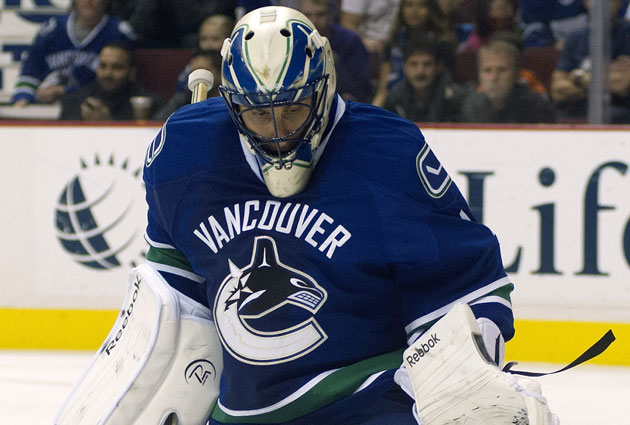 Luongo relieved Schneider in Game 1 this season and started Game 2 for the Canucks. (Getty Images)
More NHL: Scores | Standings | Odds | Fight-O-Meter | League Leaders | Rumors
With the way the season has started in Vancouver -- with a regulation loss during which Cory Schneider was pulled and then a shootout loss, both at home -- it has done nothing but to increase the attention paid to the future of Roberto Luongo.
It seemed things had actually quieted down a bit because the season was getting under way and it just might not be such a bad thing to have two excellent goalies for one shortened season. Some were speculating he wouldn't be moved at all.
That was until Canucks GM Mike Gillis spoke to Cam Cole of the Vancouver Sun.
"We have a potential deal in place with one team that has to do something with another player that they have -- and it's not who anybody thinks it is -- and so we have to wait. [But] we've been offered packages that don't fit what our plan is, what we need," said Gillis.

Like, how?

"Excess salary coming back with a [throw-in] player who can't play in our lineup. They say, 'OK, we'll do this, but you've got to take this.' Well, we're not taking it. We've had lots of proposals like that with good pieces that can help us but the other part doesn't help us, and oftentimes they have term attached to them, so we'd just be turning around and buying out a guy.

"I'd rather keep the guy we know, who's a good person."
I'm not sure what the most interesting part of all is in there. The fact that Gillis says he thinks he has a deal in place at the moment or the "it's not who anybody thinks it is" part? Does that mean not a team anybody thinks it is or not a player in return? It seems like it would be referencing a mystery team.
What's somewhat interesting is that one of the presumed favorites all along to get Luongo, the Maple Leafs, don't seem to be the team a deal is set with.
If it's not a team we're thinking of then it would also likely rule out the Florida Panthers, leaving a plethora of other teams he could be covertly referring to.
I've thought all along that the two teams that really make sense in addition to the Leafs are the Blackhawks (but that's a long shot) and the Lightning. The Bolts brought in Anders Lindback and while two games is hardly enough to pass judgment, he hasn't shown a ton yet to inspire confidence. I'm just thinking out loud here.
No matter, it seems as though Gillis hasn't stopped working on this but he's doing what any GM in his position should; waiting to get the right deal. You don't just trade away a player like Luongo simply because he kindly asked, it still has to be worth your while and right now the Canucks could use some valuable players in return given their injuries at the moment.
Will Luongo stay or will he go is the biggest question at the start of this season. The Magic 8-Ball seems to think "Signs point to yes."
For more hockey news, rumors and analysis, follow @EyeOnHockey and @StubitsCBS on Twitter, subscribe to our YouTube account and like us on Facebook.
Show Comments
Hide Comments
Washington and Toronto set to face off March 3 in Annapolis

"Let's go, Preds!" chants take on a whole new meaning in the hype piece

Both Stanley Cup Final contenders cracked the list of top 10 teams searched in 2016-17
The Preds will need more from their blue-line depth, and Pittsburgh has to capitalize in s...

Vince Gill, Carrie Underwood, Lady Antebellum and Luke Bryan have apparently upstaged a hometown...

The 14-year NHL veteran joins the team with which he played three seasons from 2013-16