NHL Rumors: Canucks shopping goalie Cory Schneider
The Vancouver Canucks are rumored to have put goalie Cory Schneider in play, perhaps as a backup plan in case they can't trade Roberto Luongo.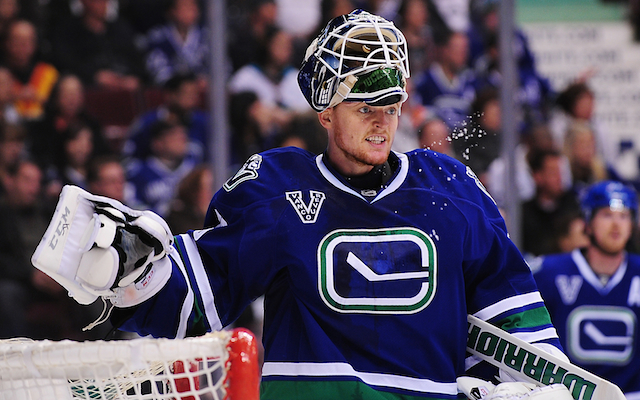 More NHL offseason: Rumors | Top 50 Free Agents | Top 50 Prospects | Mock Draft
Well, this is certainly an interesting way to kick off draft weekend.
TSN's Darren Dreger reports he's heard Vancouver Canucks goalie Cory Schneider is "in play" with a first-round draft pick and a prospect as part of the asking price. Dreger adds that it could simply be a backup plan if the Canucks are unable to deal Roberto Luongo.
It's getting interesting. 2 sources say Corey Schneider is in play. 1st and a prospect part of asking price. Suspect Oilers in on talks.

— Darren Dreger (@DarrenDreger) June 29, 2013
Schneider, a former first-round pick of the Canucks, took over the starting job last season and has played well in pretty much every opportunity he's had since reaching the NHL. Given that he's the younger of the two goalies, has the smallest cap hit, and is pretty darn good himself (and the fact he's the guy they gave the No. 1 job to last season) it just always seemed natural that Luongo and his massive contract would be the one to eventually go.
But trading Luongo has proven to be a major challenge for the Canucks front office due to the years and dollars (nine years and more than $5.5 million per year) still remaining on his deal. Luongo himself even admitted during the season that his contract "sucks" and that it's the only reason he hasn't been traded yet.
A compliance buyout is an option for the Canucks, but even though that would erase his salary cap hit ownership would still be on the hook to pay a goalie a pretty large sum of money over the next decade to not play for their team. That's a tough pill to swallow.
Schneider would definitely be the easier of the two players to trade.
Both goalies are high-level players and more than capable of starting in the NHL. Being "stuck" with Luongo and trading Schneider (if it comes to that) wouldn't be the worst thing in the world.
On Friday the old Luongo-for-Rick DiPietro swap was brought up again and according to Arthur Staple of Newsday the Islanders would be open to such a swap. And why wouldn't the Islanders be interested? Luongo would give them a clear starting goalie and a massive upgrade over what they had a season ago. Putting a goalie like Luongo on that team would certainly be interesting. With that type of player in net last season the Islanders probably get out of the first round of the playoffs.
The only thing the Canucks would gain in such a swap is the ability to save a few million dollars in a buyout.
Dreger mentioned the Edmonton Oilers as a team possibly in on Schneider, but you have to imagine the Philadelphia Flyers might also throw their name into the hat if he's really available given their need at the position and interest in seemingly every other goalie in the NHL right now.
Either way, the Canucks are definitely one of the teams to watch as we head into draft weekend.
Show Comments
Hide Comments
Our Latest Stories
Big losses by the Sharks and Blackhawks have Washington back on top

On day he signs entry-level deal with Canucks, Boeser scores Vancouver's third goal in 4-2...

The Penguins' leader in highlight reels has been extra feisty on some cringe-worthy cheap shots...
2017 SAHP NHL Global Series will pit Ottawa and Colorado against each other in Stockholm

Finland has churned out some winners in a league filled to the brim with diverse players

From the Caps' goaltender to the star-studded headlining duo of Chicago's offense, these guys...