NHL rumors: Could Avalanche lure coach Dave Tippett from Coyotes?
The Avalanche need a new coach and Coyotes bench boss Dave Tippett needs a new contract. Could it be a match made in hockey heaven?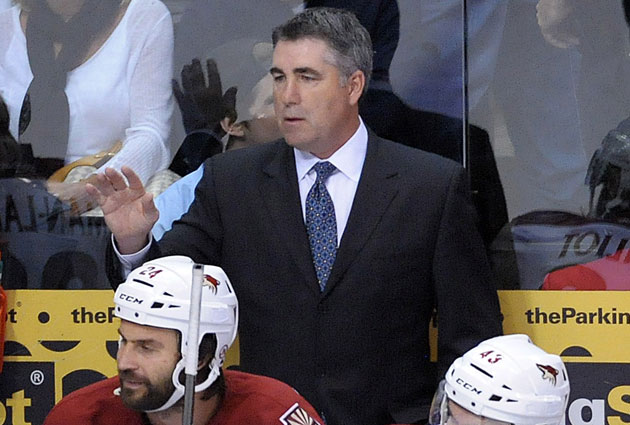 More NHL Playoffs: Scores | TV Schedule | Expert Picks | Odds | Mock Draft | Rumors
The Colorado Avalanche need a new coach. Dave Tippett needs a new contract. Could the two come together this offseason?
That's a question posed by Mike Chambers of the Denver Post. Why? Because, as Chambers puts it, Tippett would be a home-run hire for the Avs should they be able to get him. This was confirmed by others he talked to. I will also confirm, it would be a home-run hire. Tippett would be a home-run hire for just about every team in the league; he's that well-regarded as a coach seeing what he has done with the Coyotes in recent years.
So it's easy to see why the Avalanche would covet Tippett. It's a whole other matter to see if the Avs could actually lure Tippet. Here's Chambers' reasoning for why the Avs could be a potential landing spot.
The Avalanche has got to be an option, particularly when Canadian centers Matt Duchene and Ryan O'Reilly of the Avs serve as constant reminders that Colorado has a solid young team and is in need of a coach.
The Canada connection is normally pointless but he brings it up here because Tippett is with Team Canada at the Worlds right now with Duchene and O'Reilly.
But first things first: Tippett has to be available to be had. If that even comes to fruition, it won't happen until June 30 when his contract expires with the Coyotes, or if the Avs are granted permission to talk with Tippett.
The latest ownership group to step to the fore in the ongoing saga to sell the Coyotes franchise reportedly has re-signing Tippett and GM Don Maloney -- who is in the same situation -- as agenda item No. 2 behind actually purchasing the team. Things would have to progress in a hurry for that to happen but if Tippett feels good enough like Shane Doan did, he could take a new deal even without a sale.
Point is, he's not a "free agent" yet and the Coyotes would like to be able to re-sign him, they just need time. They don't seem to me like they'd be in a situation to grant the Avs permission to talk to him.
If he does come free, there will probably be a few more jobs open, maybe a position in Vancouver where Alain Vigneault is on the hot seat after another flameout. That could be more enticing than what is a youth movement in Colorado still.
However if Tippett wants to coach next season, you have to think he will. Whether that's in Arizona, Colorado or somewhere else, we can't know yet, but any team looking would love to have him.
The question for the Avs is would they be willing to risk waiting so long to see if Tippett even becomes available? Maybe, but reports suggest it will be a decision for Joe Sakic and others to make.
Told Joe Sakic will be taking over the hockey side of the Avalanche.per @realkyper earlier report, filling Elway type roll. announce soon.

— Daren Millard (@darenmillard) May 8, 2013
Getting Tippett would be a big splash for Sakic early if he indeed does take on a bigger role, but the risk of a belly flop and not getting Tippett if they go that route would sting.
Show Comments
Hide Comments
Series schedules, results and updates from the second round of the Stanley Cup race

Here's how to stay on top of all of the NHL's second-round playoff series, which begin Wed...

Series schedules, results and updates from the first round of the Stanley Cup race
Ottawa took a 3-2 decision to send Boston home, and Washington outlasted Toronto, 2-1

Stevens was L.A.'s interim coach for four games in the 2011-12 season

St. Louis, New York and Edmonton eked out victories that eliminated Minnesota, Montreal and...