NHL rumors: Flyers interested in Flames' Curtis Glencross
The Flyers never sleep. Not only did they fire coach Peter Laviolette on Monday but Curtis Glencross has reportedly piqued their interest.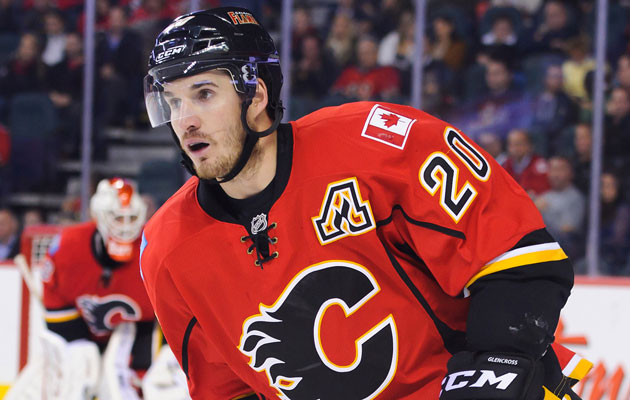 NHL previews: Atlantic Division | Metropolitan Division | Central Division | Pacific Division
As Flyers general manager Paul Holmgren proved once again on Monday morning, he's not a patient GM. Nor is he averse to making big moves.
So it shouldn't come as a surprise that three games into the season, the Flyers are reportedly already sniffing around the trade market to see what they can find. Frank Seravalli of the Philadelphia Daily News says the Flyers did find a target to pique their interest; Flames forward Curtin Glencross.
One name the Flyers have been kicking around is winger Curtis Glencross, who has been playing on Calgary's first line. Glencross, 30, netted 26 points in 40 games last season. He has 24- and 26-goal seasons on his resume, he's consistent, and he's one of the few players on Calgary's roster to play a gritty game.

The Flames are desperate for a defenseman to play with Mark Giordano and the Flyers have a glut of high-priced blue-liners. Even without trading a defenseman, the Flyers could fit a player like Glencross' $2.55 million salary-cap hit on the books -- if he were willing to move his no-trade clause.

Last week, the Flyers sent assistant general manager Ron Hextall and director of scouting Chris Pryor to Washington for Calgary's first game of the season. Head pro scout Dave Brown traveled to Columbus for Calgary's matchup the following night.
You have to admit, it would be rich to see the Flyers trade away defense to get Glencross considering how their defense has fared for years now. But right now the offense isn't doing any better with just one even-strength goal in three games.
Seravalli notes that this doesn't mean something is imminent, just that the Flyers have been looking into Glencross and perhaps there have been some very preliminary discussions. Calgary is likely open to just about anything with the rebuild being upon them. Perhaps the shakeup that Holmgren was looking for was achieved witht he dismissal of Laviolette and that will be that. Then again this is Holmgren we're talking about here, no move is ever off the table.
Show Comments
Hide Comments
Series schedules, results and updates from the second round of the Stanley Cup race

St. Louis connected on one of five power plays to tie the series while Anaheim loses again...

Ottawa's defense came up big in Game 1 to beat New York, and the Penguins beat the Capitals...
Subban had three points in Nashville's 4-3 win over St. Louis in Game 1, while Edmonton dropped...

Washington and Pittsburgh figure to go neck and neck, as do Anaheim and Edmonton

Cassidy went 18-8-1 after replacing Claude Julien in 2016-17