NHL rumors: Ilya Bryzgalov has interest ... from KHL Vladivostock
Ilya Bryzgalov has been waiting for job offers but perhaps not this one: Admiral Vladivostock has interest in the goalie but not for much.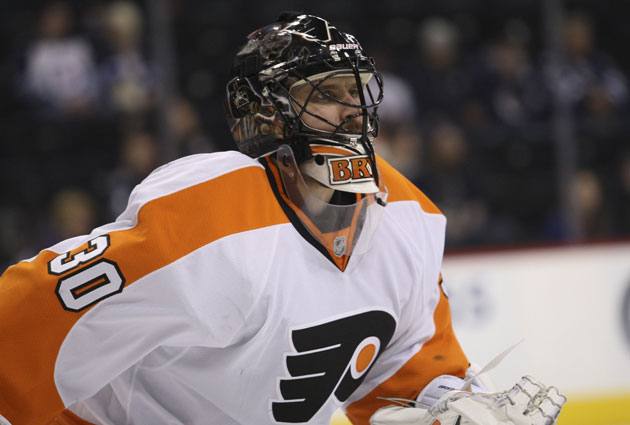 More NHL offseason: Rumors | Top 50 Free Agents | Buyout Tracker | Trades | Transactions
The good news: Ilya Bryzgalov has an interested team! The bad news: It comes from a startup team in the KHL that's a 100-hour drive from Moscow.
The former Flyers goalie who has been a free agent for a month now with little to no interest being shown his way, now has apparent interest back in Russia. Yes, Vladivostock is still Russia even if it's located on the Pacific Ocean and is a couple hours from the North Korean border. Now they have a team in the KHL, or they will soon, led by former NHLer Alexander Mogilny.
If he has his way, he would be interested in bringing in Bryzgalov to be his new team's goalie as he told Sport-Express (via Google Translation). As always, the translation is not perfect but you get the message.
Q: Olympic list Zinetula Bilyaletdinov saw? It does not have goalie Bryzgalov ...

List seen. And about Bryzgalov can only say good words. A great goalkeeper. You do not have to hang on him all the dogs for the defeat at the World Cup.

Q: But in "Philadelphia," his case was abysmal ...

Who told you that? You know how many games last season, he won and how many lost? Saying that his contract bought out -- so it's financial policy of the American team. Bryzgalov is now without a club, and I am pleased to have invited him to "Admiral". However, we are not a rich club, so I do not know whether he will accept our terms and conditions.
It sounds like a deal is on the table but not exactly according to Dmitry Chesnokov of Yahoo (Google Translate strikes again!). Still, there does seem to be some level of interest -- more clearly, Mogilny said it would be nice to have Bryzgalov -- but as Mogilny notes money is an ostacle as in his team doesn't have much.
Another obstacle is how much does Bryzgalov want to play in the KHL? He did spend time there during the lockout but that didn't go so swimmingly either with CSKA Moscow. However his options are limited so maybe an offer, even if it's from Vladivostock, would be something to consider?
Keep in mind, it's a nine-hour flight to Moscow from there and is a few hours from the nearest opponent. That would be quite the shock from the comfy travel schedule in Philadelphia, that's for sure.
S/t to Philly.com
Show Comments
Hide Comments
Ottawa's defense came up big in Game 1 to beat New York, and the Penguins beat the Capitals...

Series schedules, results and updates from the second round of the Stanley Cup race

Subban had three points in Nashville's 4-3 win over St. Louis in Game 1, while Edmonton dropped...
Washington and Pittsburgh figure to go neck and neck, as do Anaheim and Edmonton

Cassidy went 18-8-1 after replacing Claude Julien in 2016-17

With the playoff field cut in half, the stakes keep getting raised