NHL rumors: Jaromir Jagr is on the trading block after all
With Dallas falling to 12th in the West and no extension signed yet, Jaromir Jagr could be on the trade block.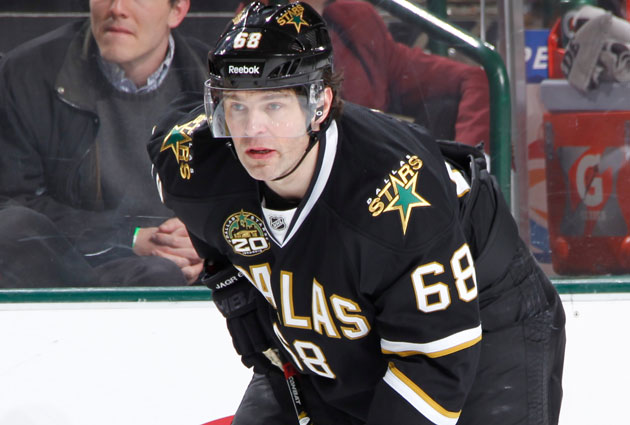 More NHL: Scores | Standings | Odds | Fight-O-Meter | League Leaders | Rumors
One of the questions as the trade deadline approaches has been if Jaromir Jagr would be available in Dallas. He's hardly the same Jags of yesteryear, but that hardly means there wouldn't be interest.
A couple of losses by the Stars combined with not having a contract extension might have Jagr on the block. That's what Jimmy Murphy of ESPN Boston first reported.
Told by an NHL source that Jaromir Jagr is now on trade market. Would be good acquisition for the Bruins.

— Jimmy Murphy (@MurphysLaw74) April 2, 2013
That was then echoed later in the morning by a few reporters, including Renaud Lavoie of RDS who put it in pretty certain terms.
Stars told Jaromir Jagr that he will be traded before 3 PM Eastern Wednesday. #transactions2013#RDS

— Renaud Lavoie (@RenLavoieRDS) April 2, 2013
Dallas didn't want to move Jagr -- GM Joe Nieuwendyk wanted a new deal with Jagr -- but this might be the most prudent course of action if a good deal presents itself.
Being a Boston reporter, Murphy obviously points to the Bruins first, but it's hardly hometown bias. The Bruins would figure to be right at the top of the interested parties after they failed to land Jarome Iginla from Calgary. Jagr has that veteran experience, is still tough on the puck and could be a help to a power play that has sagged for years.
The thing about Jagr is you never know which player you're going to get. He sometimes is a bit grumpy out there, and it shows. Other times, he beams like a rookie getting his first shot at the pros. Not that it changes how much he puts into each game -- I'm not equating him to Randy Moss -- it's more of a personality/locker room fit. He marches to the beat of his own drum.
That's partly why the Stars haven't been able to re-sign him. From all indications, he liked it in Philadelphia last season but didn't re-sign there. However, even though they are not in playoff position, that's another team that could show interest; the Flyers. The combination of Jagr and Claude Giroux worked very well for the Flyers captain, so some in Philly hope they could be reunited and rekindle that magic.
I've downplayed Jagr's game a little bit by saying he's not the same player he used to be, but that hardly means he's not still a good player. In fact, he's the leading scorer for Dallas with 14 goals and 26 points in 34 games. Not bad for a 41-year-old.
It wouldn't be the worst thing if Dallas was able to turn its one-year investment in Jagr around to some future assets, be it draft picks and/or prospects. They have sunk to 12th in the West, having to look through more and more teams to see the last playoff spot.
If Jagr is really on the market, the trade deadline just got a little more interesting.
Pittsburgh sits atop them all as the repeat champs, while Nashville rises up after its big...

Islanders could also be loading up for scoring talent, and Vegas has plenty of D-men to se...

Fired by Dallas this offseason, Ruff is expected to replace Jeff Beukeboom
Even without a can't-miss prospect, the first round features a handful of solid center pic...

Casey Mittelstadt goes off the board in the top 10 picks of the 2017 NHL Entry Draft

New Jersey makes the Halifax Mooseheads star the first overall selection in this year's dr...