NHL rumors: Kris Letang being seen as 'must-move player' by Pens
Re-signing Kris Letang and staying under the cap will be tough, so it's little surprise Pens GM Ray Shero sees him as a 'must-move player.'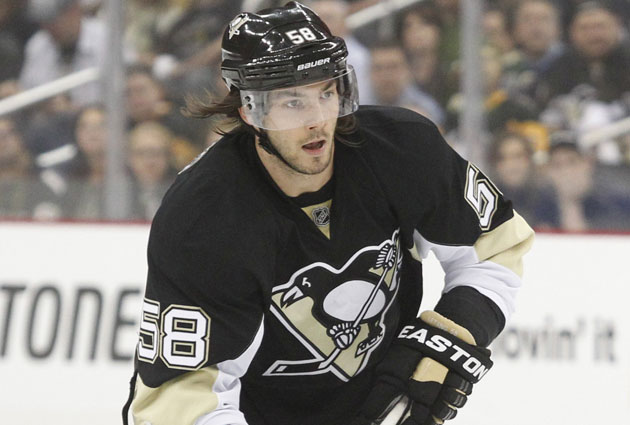 More NHL Playoffs: Scores | TV Schedule | Expert Picks | Odds | Mock Draft | Rumors
When the Pittsburgh Penguins recently re-signed Evgeni Malkin to a big new deal, it made it even more clear that the Penguins were going to have a very hard time getting the whole gang back together, looking primarily at defenseman Kris Letang and the big raise he's about to receive.
The numbers are hard to work out from the outside and apparently Penguins GM Ray Shero is already coming to the same conclusion. According to Penguins writer Rob Rossi of the Pittsburgh Tribune-Review, Shero is nearing the point of trading Letang.
More proof came last week in the form of contract extensions for coach Dan Bylsma and his staff and the eight-year deal for Malkin. Shero wanted those issues off the table before he turned toward other matters -- specifically, trying to keep winger Pascal Dupuis from becoming a free agent on July 5 and Letang's future.

Discussion with Dupuis' agent, Allan Walsh, started this week.

Letang's agent, Kent Hughes, had yet to hear from Shero as of Tuesday.

That is no accident.

Shero is fairly confident Letang has become a must-move player.
Not that it comes as much of a surprise as this point, it has felt like the destiny for this whole saga for a while now. Though one adendum to the original Rossi report, Hughes and Shero did meet on Wednesday in Boston.
Shero met with Letang agent this AM. No numbers exchanged. Plan is to meet again, but not today. #pens #TribHKY

— Rob Rossi (@RobRossi_Trib) June 19, 2013
Despite the fact that Letang isn't a free agent for another year, it's very possible that Shero could move him this summer, he did the same a year ago with Jordan Staal, a year before his free agency hit. Shero likes to get out front of such situations instead of waiting.
A look at the salary cap for the Penguins does show it's tough to fit Letang in under the salary cap but is it the right approach? There would be other ways to make the numbers work such as the possibility of using an amnesty buyout on Marc-Andre Fleury, something the Penguins have said they aren't going to do. But to me it seems to make sense to keep an elite defenseman over an average goaltender making $5 million per season.
If Letang is indeed traded, the first order of business will be signing a new deal with the new team and it will be costly. Letang was the only defenseman to average at least a point-per-game this season and while he did not have a great postseason in terms of his defense, he is good enough in his zone to command a very high salary. Considering Mark Streit will get $5.25 million and Sergei Gonchar $5 million, it's expected Letang will be somehwere up around the $7 million range.
Show Comments
Hide Comments
Vince Gill, Carrie Underwood, Lady Antebellum and Luke Bryan have apparently upstaged a hometown...

The 14-year NHL veteran joins the team with which he played three seasons from 2013-16

Series schedule, results and updates from the title showdown between Nashville and Pittsbu...
Here's how to stay on top of the Pittsburgh Penguins' bid for a repeat against the Nashville...

Ottawa takes it into a fifth period of action but falls on a late goal from Chris Kunitz

Series schedules, results and updates from the Eastern and Western conference finals