NHL rumors: Martin Brodeur would consider waiving no-trade clause
Martin Brodeur playing for any team but the Devils? Well believe it or not, it could happen. The legend said he would consider waiving his no-trade clause.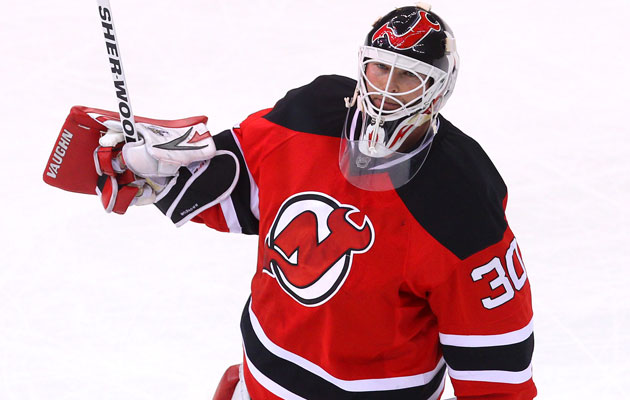 More NHL: Scores | Standings | League Leaders | Odds | Injuries | Power Rankings
The idea of Martin Brodeur playing for any team other than the New Jersey Devils is almost sacrilege. He's spent more than 20 years and 1,227 games in the NHL, all with the Devils where he has turned in maybe the best career of any goaltender to ever play the game.
While the idea might seem sacriligous, it might happen.
Brodeur, who is splitting time with Cory Schneider in net, said Tuesday that if the Devils continue to struggle and it would be in the team's best interest, he would consider waiving his no-trade clause. Really.
From Rich Chere of the Star-Ledger:
"I hope it will never happen , but if there is a situation that could be really fun for me and really good for the Devils, why not? It's not like I'm going to play 25 more years here," Brodeur said Tuesday.

"I'm not looking for that. I want to get back into the playoffs with this team and try to do something with this team. I would say 99 percent I'd say no right now. But for a little bit of time [in the spring]? Nobody is going to remember it, really. It wouldn't be that big of a deal."
I might beg to differ on that last point; it would be a pretty big deal. Just look at what happened when Daniel Alfredsson left Ottawa this summer. Players who spend their entire careers in one city becoming icons don't move on at the end of their career without it being a big deal.
Now in the grand scheme of things, you can see where he's coming from. In a few years perhaps people would forget that he wore another sweater to finish out his days, but that wouldn't make it any less weird this season if it happens.
It's not as if Brodeur was asking for a trade or anything like that. He makes it clear that his preference would be to remain with the Devils and for them to make it back to the playoffs, but if that doesn't happen he wants GM Lou Lamoriello to know he'd at least be open to a deal. Thing is, goalies aren't usually coveted prior to the trade deadline because the good teams usually have good goaltenders, and that is absolutely not a coincidence.
Further, Brodeur, who is a free agent after this season, didn't rule out signing another deal with the Devils after this season. He's already 41 years old but he stil hasn't committed to retiring after this season or any time yet.
Brodeur by the way has a .888 save percentage and 2.68 goals against average in seven games this season for the Devils.
Another 40-year-old on the team, Jaromir Jagr, could also be a trade chip down the line, and like Brodeur, he wouldn't be against it. Unlike Brodeur, Jagr doesn't have a no-trade clause.
"I don't have a no-trade clause so [Lamoriello] can do anything he wants," Jagr said. "I'm just a soldier. They can trade me any time they want."
Jagr would have no problem finding suitors if that time does come for the Devils this season. Jagr did it last season, being traded to Boston. He's used to it and at this point he really is like a mercenary. Brodeur though? Not as much, but I guess there's a first time for everything.
Show Comments
Hide Comments
With the playoff field cut in half, the stakes keep getting raised

Green has led Vancouver's AHL affiliate since 2013

Series schedules, results and updates from the second round of the Stanley Cup race
Here's how to stay on top of all of the NHL's second-round playoff series, which begin Wed...

Series schedules, results and updates from the first round of the Stanley Cup race

Ottawa took a 3-2 decision to send Boston home, and Washington outlasted Toronto, 2-1