NHL rumors: Mikhail Grabvoski down to three teams, Jets are out
Free agent center Mikhail Grabovski still has three teams 'very interested' in him, but the Winnipeg Jets apparently aren't one of them.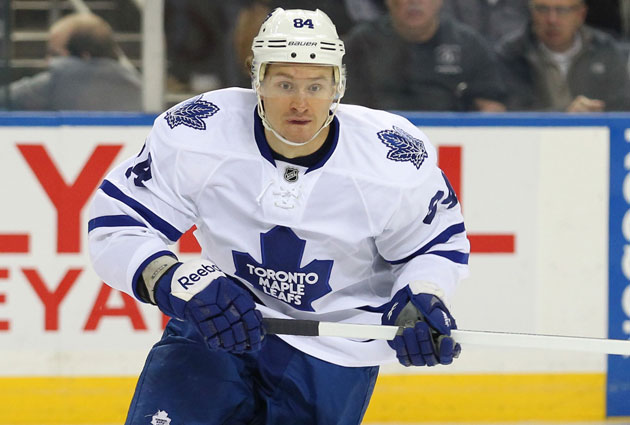 More NHL offseason: Rumors | Top 50 Free Agents | Buyout Tracker | Trades | Transactions
When the Toronto Maple Leafs bought out the contract of Mikhail Grabovski right before free agency opened, it was assumed that the centerman was going to be a wanted man and would be scooped up quickly. His numbers were down last season but that was largely due to a diminished role playing in the bottom six.
Yet here we are almost in August and Grabovski remains unsigned. What's the deal, is it a lack of interest? No, not as Craig Custance suggested earlier this week.
Spoke w/Gary Greenstin, agent for Mikhail Grabovski. Said three teams "very interested" in UFA center. Not expecting decision until August.

— Craig Custance (@CraigCustance) July 22, 2013
Further to that, Aaron Ward also says there are three teams interested, but the Winnipeg Jets aren't among them.
It's not much of a surprise the Jets are out. After they re-signed Bryan Little they have almost $9 million invested in two centermen already in him and Olli Jokinen. Add in the fact that the Jets don't spend to the cap and they are on the outs.
What everybody wants to know, then, is what teams are interested? Well you can pretty much eliminate half the league already just based on cap space. Teams with less than $4 million -- there are 14 of those -- probably couldn't afford Grabovski, so they're likely out. Add in the Jets and you literally have the field cut in half.
If you then try to pick out three teams that are interested, the Calgary Flames have to be on the radar, right? Even though they are undertaking a rebuild, they have a big hole at center and Grabovski isn't so old -- 29 -- that you couldn't imagine him as part of the team for many years going forward. That makes sense for them and they have some cash to spend this time around. We know money burns Jay Feaster's pockets almost without fail.
Another team that would make sense in the needs department is the Florida Panthers, who could very well start out with No. 2 overall draft pick Aleksander Barkov as their No. 1 center on opening night. However the Panthers don't seem interested in spending any more money so I wouldn't expect them to be an interested party, even with a need at center.
Whatever the teams, looks like we should learn of at least one of them very soon. August is just a week away (already!).
Show Comments
Hide Comments
Here's how to stay on top of the Pittsburgh Penguins' bid for a repeat against the Nashville...

Ottawa takes it into a fifth period of action but falls on a late goal from Chris Kunitz

Series schedules, results and updates from the Eastern and Western conference finals
Preds captain has three more days to recover from a hit to the head before final begins next...

Replicating its Game 6 dominance -- everywhere but the scoreboard -- might not be easy for...

Ottawa recovers from a 7-0 loss in Game 5 to quiet Pittsburgh's offense