NHL rumors: Nail Yakupov's agent to meet with Oilers management
Nail Yakupov's agent Igor Larionov isn't pleased with his client's role and is going to visit the Oilers brass while saying if they're unhappy, Yakupov is willing to move.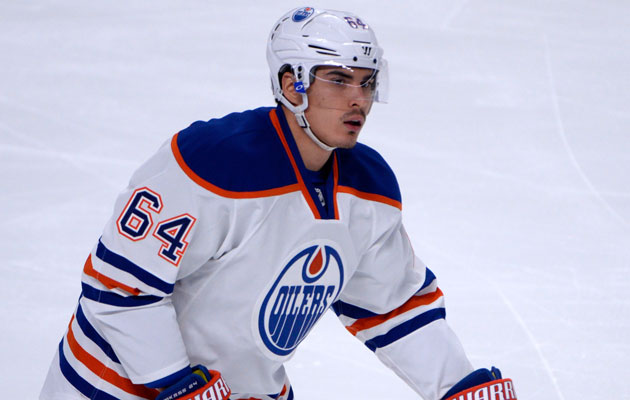 More NHL: Scores | Standings | League Leaders | Odds | Injuries | Power Rankings
Despite a strong insistence from Oilers coach Dallas Eakins last week that Nail Yakupov is in no danger of being traded but is just working through some growing pains, the Yakupov soap opera won't die.
Yakupov's agent Igor Larionov was on hand for the Hockey Hall of Fame festivities in Toronto on Monday night and ESPN's Craig Custance caught up with the former great to discuss Yakupov. Things could be getting a lot more interesting.
Igor Larionov says he's got a trip planned to Edmonton to discuss how Nail Yakupov is being used. Pretty unhappy.

— Craig Custance (@CraigCustance) November 11, 2013
Welp, that doesn't sound too good. Sometimes things can be hashed out and understandings can be reached but any time an agent feels the need to essentially vent to a team about his client's role and is said to be unhappy, it's not a positive sign.
Larionov didn't stop there, though.
If EDM unhappy with him, Larionov said Yak open to trade: "We're willing to make a move. Any team. That happens and that's part of life."

— Craig Custance (@CraigCustance) November 12, 2013
With that the ears of 29 general managers across the league perked up to pay attention.
Already some are getting worked up but I'd preach caution here. The important part of that tweet is where it says if Edmonton is unhappy. Eakins didn't sound like a guy who was unhappy with Yakupov and his career trajectory. However if Larionov says he and Yakupov are already at the point of considering it, it doesn't bode well.
Yakupov gave a reminder on Sunday night why it would probably be very unwise to trade Yakupov away with a bullet of a one-timer on the power play for an Oilers goal. However those have been too infrequent this season as it was just the second goal and fourth point in 17 games.
For the time being, the book remains open on the Yakupov buzz; it doesn't help that the Oilers continue to struggle as well.
Show Comments
Hide Comments
Vince Gill, Carrie Underwood, Lady Antebellum and Luke Bryan have apparently upstaged a hometown...

The 14-year NHL veteran joins the team with which he played three seasons from 2013-16

Series schedule, results and updates from the title showdown between Nashville and Pittsbu...
Here's how to stay on top of the Pittsburgh Penguins' bid for a repeat against the Nashville...

Ottawa takes it into a fifth period of action but falls on a late goal from Chris Kunitz

Series schedules, results and updates from the Eastern and Western conference finals