NHL rumors: P.K. Subban will seek $8 million-plus on new Habs deal
The Montreal Canadiens elected to sign P.K. Subban to a bridge deal instead of a long-term contract and now they will pay as Subban is looking for north of $8 million.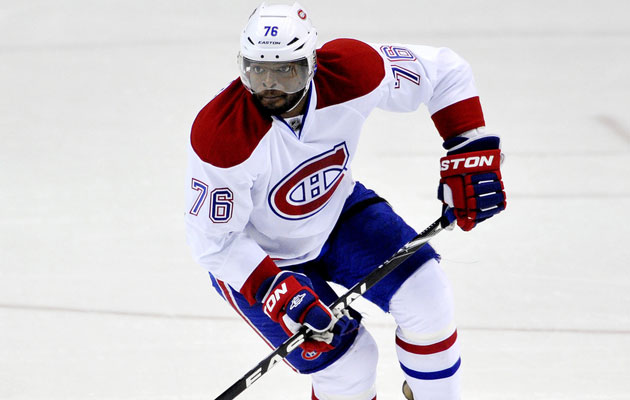 More NHL: Scores | Standings | League Leaders | Odds | Injuries | Power Rankings
Two years ago the Montreal Canadiens were facing a decision with defenseman P.K. Subban: they could offer the restricted free agent a bridge contract and then see what kind of money he'll be due in a couple seasons or they could choose to lock him in to a big extension for more than the bridge deal.
The Canadiens chose the former option and they're going to pay for it. Quite literally. Subban will be a free agent after this season -- still restricted -- and considering he just won a Norris Trophy as the league's top defenseman and hasn't seen his game fall off much this season, he's going to be due a lot of money.
How much is still yet to be seen but there seems to be a ballpark figure as TSN's Bob McKenzie noted on Wednesday.
Negotiations are ongoing, there is no real hard news to report there other than we know Dion Phaneuf signed a long-term deal with the Maple Leafs worth $7 million a year. P.K. Subban's asking price will be somewhere from $8 million to $9 million a year. I am sure the Canadiens will not be thrilled about that and I suspect it's going to be tough sledding for some time to get this deal done.
That's a whole lot of money but it's not a dollar figure that's crazy considering other deals we're seeing around the league. Subban is one of the very best defensemen in the league and he's going to be compensated as such, that's completely fair and in this new CBA salaries are climbing fast.
What's interesting is that if the Habs had decided two years ago to give Subban a long-term deal, they could have had him for a lot less money per year. That was the risk they took but it backfired. Granted, it didn't completely backfire because it means that Subban has been performing very well for their team but it's still a steep price.
Now if the Habs have a tough time dealing with that money it's always possible Paul Holmgren or some other daring GM would throw a big offer sheet his way. Or Subban could opt for arbitration, get a massive reward anyway and get one year closer to unrestricted free agency.
Even if the price is tough to swallow, it's hard to see that the Habs won't give in and end up giving a deal that's a lot closer to what Subban is asking than what they want to pay him because he's a franchise defenseman for a long time as it stands now. They'd rather have a future with him on the roster than elsewhere.
Subban won the Norris Trophy in 2012-13 after posting 11 goals and 27 assists in 42 games while playing a plus-possession game. This season he has seven goals and 26 assists in 44 games while his average time on ice has picked up to 25:17. He was also named to the Canadian Olympic team this week. That's a nice set of credentials he's picked up since that bridge contract was signed before last season.
Show Comments
Hide Comments
Series schedules, results and updates from the second round of the Stanley Cup race

Here's how to stay on top of all of the NHL's second-round playoff series, which begin Wed...

Series schedules, results and updates from the first round of the Stanley Cup race
Ottawa took a 3-2 decision to send Boston home, and Washington outlasted Toronto, 2-1

Stevens was L.A.'s interim coach for four games in the 2011-12 season

St. Louis, New York and Edmonton eked out victories that eliminated Minnesota, Montreal and...