NHL rumors: Red Wings GM Ken Holland to 'explore a trade or two'
The Detroit Red Wings figure to be one of the many teams busy in the coming weeks with GM Ken Holland saying he'll explore a trade or two.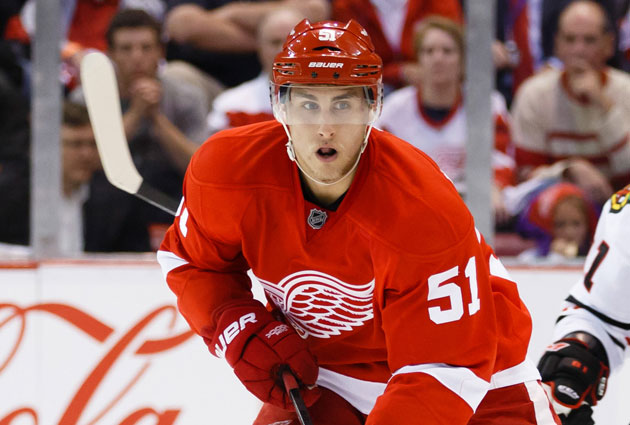 More NHL offseason: Rumors | Top 50 Free Agents | Top 50 Prospects | Mock Draft   
The next week or two in the NHL is going to be very busy with teams scrambling to get under next season's salary cap and make themselves better. One team that you can count on to be active is the Detroit Red Wings.
The Red Wings did turn it on in the postseason to take the Cup champion Blackhawks to a tough seven games. But before that, it was a bit of a disappointing season for the Wings, barely finishing seventh in the conference. Before the season, GM Ken Holland wondered if this was going to be the year that their incredible playoff streak ended. It didn't, but clearly he didn't love the roster that he had at the moment.
So when we say look for the Red Wings to be active, that's coming from what Holland said via the Detroit Free Press, not just speculation.
"I'm going to explore a trade or two," Holland said Monday. "Maybe a two-for-one deal, maybe a three-for-one, or three-for-two."

Holland has had talks with the camps for all three of the unrestricted free-agent forwards -- Valtteri Filppula, Daniel Cleary and Damien Brunner -- but they're all part of the puzzle that'll fall into place over the coming week, vis-a-vis who fits where. It's almost certain the Wings will end up trading Filppula's rights, then set out to find a replacement second-line center.
You can add that to the possibility that the Red Wings will look at buying out the contracts of Carlo Colaiacovo and Mikael Samuelsson and, well, Holland is going to be busy in the coming weeks. Just like every other general manager out there.
What's interesting to me about the Red Wings looking to trade is that it's more about the hockey moves and less about salary management. They have plenty of room under the cap, and they have sent qualifying offers to the few RFAs they have. So, again, it's about improving the team, not getting under the cap.
If Holland wants a second-line center, that's not going to be easy. It seems teams always want second-line centers, but there might be a few options on the free-agent market such as Florida's Stephen Weiss, a player who has been mentioned with the Wings.
The league shoots down a report that NHL players could still be permitted to go to the Oly...

The 45-year-old forward remains unsigned but has shown little desire to hang up the skates

Pittsburgh also has been linked to Matt Duchene and could be in the mix for Tyler Bozak
Nashville extends its 24-year-old restricted free agent with what could be bargain numbers

Calgary forward is all for playing for the Flames, but he also likes the idea of going to...

Plans for renovating KeyArena are now also being overseen by NHL-to-Seattle hopefuls