NHL Rumors: RFAs Derek Stepan, Cody Franson unlikely for openers
The two remaining RFAs, the Rangers' Derek Stepan and Toronto's Cody Franson, could be out a while longer as they're 'unlikely' for openers.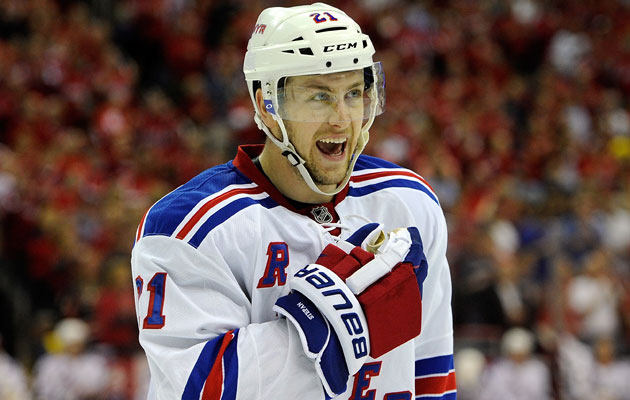 More NHL offseason: Rumors | Top 50 Free Agents | Buyout Tracker | Trades | Transactions
Once training camps opened across the NHL, the contracts started rolling in for restricted free agents. However two still remain without deals; Derek Stepan of the Rangers and Maple Leafs defenseman Cody Franson.
Thus far the pressure of missing the start of the season hasn't spurred on a deal and from the sounds of it, it might not. TSN's Darren Dreger doesn't see either player signing in time for the regular season and in the case of Franson, he could miss a lot longer than that.
Toronto seems just as happy to start the season without Cody Franson and unless their hand is forced by an offer sheet, the team could let Franson sit for an extended period -- as in weeks or months.
That goes to show you how much power teams have over restricted free agents that the Leafs could play that hard to get Franson in on the type of deal they want (which Dreger says is two years and around $2.4 million per). The Leafs have some depth at defense right now with the addition of Paul Ranger this summer that they could probably get by without Franson, though it wouldn't be ideal.
In the case of Stepan, he too isn't near a deal.
Given the state of discussions, Stepan -- New York's top centre last season -- is unlikely to be on the Rangers' roster when they open Oct. 3 in Phoenix.
That would be a little tougher for the Rangers to swallow than the Leafs with Franson. Stepan emerged as the Rangers' top center last season and while they do have other guys on the roster that could fill out the lineup down the middle, it would hurt. Especially if it were to drag on much longer than that.
According to Dreger the difference isn't much between the sides right now (Stepan wants $3.5 million per season, the Rangers want to give him $3 million per over two years) but because the Rangers are up against the cap, it is a meaningful gap. It's tougher than just splitting the difference.
Given both of these teams' situations against the cap, these two players would be ripe for offer-sheet picking but it's unlikely to happen, even if they're both good players teams would love to have. At this point though that might be what it would take to get a deal done.
Show Comments
Hide Comments
Our Latest Stories
On day he signs entry-level deal with Canucks, Boeser scores Vancouver's third goal in 4-2...

The Penguins' leader in highlight reels has been extra feisty on some cringe-worthy cheap shots...

2017 SAHP NHL Global Series will pit Ottawa and Colorado against each other in Stockholm
Finland has churned out some winners in a league filled to the brim with diverse players

From the Caps' goaltender to the star-studded headlining duo of Chicago's offense, these guys...

Scoring his 41st goal of the year in a 3-1 win over the Buffalo Sabres, the Pittsburgh Penguins...