NHL rumors: Ryan Callahan, Dan Girardi both seeking big deals
Speculation is mounting around Rangers Ryan Callahan and Dan Girardi because neither has a contract for next season. They are both reportedly looking for long-term, big contracts.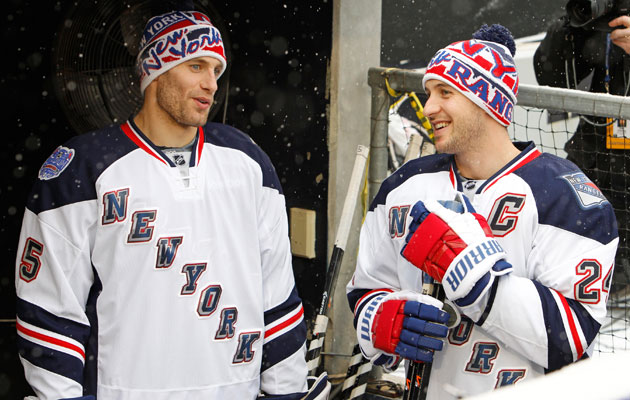 More NHL: Scores | Standings | League Leaders | Odds | Injuries | Power Rankings
On Tuesday the name of Ryan Callahan was added to the rumor mill, joining his New York Rangers teammate Dan Girardi in the world of speculation. Why would these two top players for a team like the Rangers be in that discussion?
The answer is pretty straight forward: they are each unrestricted free agents after this season and neither seems to be close to an extension with the club. They are big players for the Rangers but with deals not in place, GM Glen Sather has to explore the options before he can proceed.
Why they haven't been able to reach a deal yet is probably because, as the New York Post's Larry Brooks reports, the two are asking for a lot of money from the Rangers.
Negotiations regarding an extension are at a standstill, if not an impasse, with Callahan believed seeking a deal in the neighborhood of seven years at $42 million that is not in the same ballpark as general manager Glen Sather is willing to pay; not even a ballpark as expansive as Yankee Stadium, where the Rangers and Islanders will meet on Wednesday.
As for Girardi, Brooks makes it sound like things are better on that front, even if a deal hasn't been reached yet.
Negotiations with first-pair right defenseman Dan Girardi, also a pending unrestricted free agent, also are ongoing. Girardi, who likely would yield a bigger bounty on the rental market than Callahan, is believed to be seeking a six-year deal in the neighborhood of $5.5 million per season, which represents fair market value. The Rangers have countered with two offers, one for six years at more than $5 million per and one for five years at more than $5.5 million per.
This season Callahan has a salary cap hit of $4.275 million according to Cap Geek while Girardi is at $3.325 million. Each is looking for a healthy raise and that's understandable, certainly their right as pending free agents.
Between the two players you're talking about $12.5 million per season against the salary cap if they got what they are seeking. For a team that has a lot of money committed to only a handful of players for next season, it gets tricky trying to forecast the payroll situation, and that's even with the cap expected to skyrocket. The Rangers have a lot of players to re-sign for next season, Sather has to make sure there's enough room to be able to do it all.
It's probably not the best season for Callahan to be seeking this big of a deal, though. His minutes have decreased by nearly three and a half minutes per game from last season to this as he's averaging just 17:54 per game. His offensive numbers have waned some with it as the 28-year-old has nine goals and 11 assists in 37 games while dealing with some injuries. It's not the best season he's had.
Having said that, he's still the captain of the Rangers and brings the intangibles that come along with that. He's still on the young side for UFA-eligible players and is a good two-way forward who is willing to sacrifice his body at a moment's notice. But $7 million per season is asking a lot for a guy whose career high was 54 points in 2011-12.
Girardi's minutes have dropped about as much as Callahan's this season but that just means he's playing a lot instead of a ton. In 54 games he has three goals and 12 assists, pretty much on his normal pace, while playing 22:39 per game. As Brooks noted, the contract he's seeking is pretty close to what his free-agent value would be.
Even with the negotiations where they are at, it's tough to imagine either player will be on the move at the trade deadline but until deals are done, it definitely will remain a possibility.
Show Comments
Hide Comments
Series schedules, results and updates from the first round of the Stanley Cup race

St. Louis, New York and Edmonton eked out victories that eliminated Minnesota, Montreal and...

Fresh off the Predators' sweep of the Blackhawks, Gnash is fired up for his team
A tougher opponent awaits either Toronto or Washington, and the Bruins hung on to beat Ott...

Linesman Don Henderson is reportedly seeking $10.25 million in damages from a January 2016...

Two of the NHL's top four teams of 2016-17 are out of the playoffs