NHL rumors: Ryan Miller deal matter of 'if, moreso than when'
Ryan Miller a lock to be traded? Not necessarily. Sabres GM Tim Murray said Thursday that a deal has to be right as is a matter of if, not when.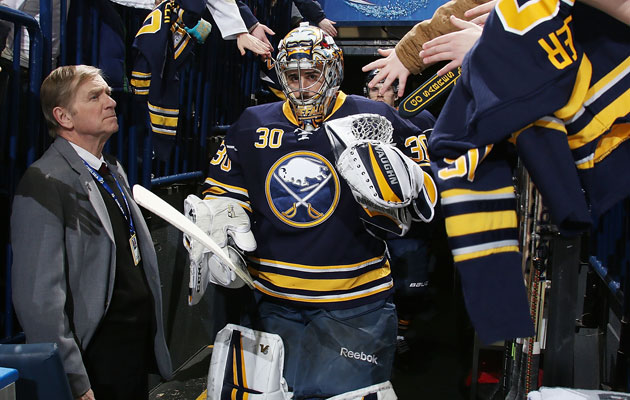 More NHL: Scores | Standings | League Leaders | Odds | Injuries | Power Rankings
The assumption from most in hockey is that Ryan Miller will not be with the Buffalo Sabres at the end of the season. Some were asking if Wednesday night was his final game at home in Buffalo.
The goaltender who will represent the U.S. in Sochi, is a free agent at the end of the season and staying with the team through their rebuild doesn't seem the ideal move for either side. Instead of letting him walk into free agency for nothing, the Sabres would like to get something in return.
Just don't expect GM Tim Murray to deal Miller for a bag of pucks if that's the best he can get.
"I don't know if the right deal is going to come along," Murray said on Thursday in Ottawa, where the Sabres are set to play. "It's not when it's if, moreso than when. I just think there has to be certain types of players and prospects involved in deals like that. I just need a team that things the same way."
Maybe Murray's standards on what constitutes the right deal will fluctuate some as the deadline of March 5 approaches and if Miller is still on his team because in the end something, even if it's small, is still better than nothing.
But Murray is a rookie GM and his first deal is important. He talked with the media about other GMs possibly testing him right now as the new guy on the block and so he'll be weary of making a deal with a painfully small return. It can be a tough balance.
The good news for Murray is that he's been in contact with a lot of GMs, guys who have been calling him about a few of his players. Though he has found dealing with his uncle and former boss Bryan Murray in Ottawa. He said he'd love to do a deal with his uncle but lamented the Senators GM won't give him what he wants.
Show Comments
Hide Comments
Islanders could also be loading up for scoring talent, and Vegas has plenty of D-men to se...

Fired by Dallas this offseason, Ruff is expected to replace Jeff Beukeboom

Even without a can't-miss prospect, the first round features a handful of solid center pic...
Casey Mittelstadt goes off the board in the top 10 picks of the 2017 NHL Entry Draft

New Jersey makes the Halifax Mooseheads star the first overall selection in this year's dr...

Washington saves a key piece from hitting free agency but probably hurts itself in the long...