NHL rumors: Sabres 'open to everything;' would they move Vanek?
The Sabres are listening to just about anything in terms of trade chatter. Would they really consider moving a guy like Thomas Vanek?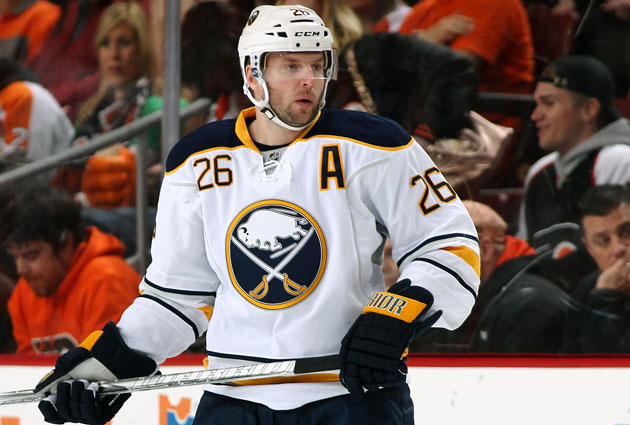 More NHL: Scores | Standings | Odds | Fight-O-Meter | League Leaders | Rumors
The "For Sale" sign is officially planted in the Buffalo Sabres' front lawn.
GM Darcy Regier got it started by dealing defenseman Jordan Leopold to the St. Louis Blues over the weekend and that is likely just the start with the trade deadline now some 48 hours away on Wednesday. The question now that they have been identified as sellers is how much more will they do and who could be on the move next?
There are names like Robyn Regehr and Drew Stafford who seem like safe bets to go, that's if Regier can find a taker for Stafford and his contract. But what about a few others, the one that could really reap the rewards? That would be Thomas Vanek along with Jason Pominville and Ryan Miller.
Miller has been mentioned as a definite possibility, though it seems more likely that any deal with him would come in the summer after the season when the goalie market opens up a bit more. But Vanek? It's been pretty quiet.
The Sabres' star said he would like to stay in Buffalo but knows that even he could be on the move. He is a free agent after next season. From Buffalo Hockey Beat:
"You never like to [be traded]," he said. "I think I've raised my family here. I enjoy where I'm at. But I understand the situation here. I'm not sure I've talked to anyone what their plan is. Again, it's something you can't control. Again, it could happen."

Vanek "definitely" wants to stay.

"I'm comfortable where I'm at," he said. "But I would like to know what the direction is."
If nothing else, Vanek said he wouldn't be surprised to see a few more players be traded, which makes sense given how this team is supposed to be a Cup contender now with new owner Terry Pegula. Instead, the Sabres are near the bottom of the Eastern Conference with a fat payroll.
But would the Sabres really consider trading a top player like Vanek? He seems like a guy who would be a good one to keep around. Even retooling/bad teams have to have a leading scorer/star. But Regier is doing his job and listening to anything and everything.
"We have to be open to everything, and we have to be open to that as well," Regier said. "You're looking to get a group of top players that are going to play together, not on a one-year basis, but, going forward, (a) multiyear basis. And so that's our focus, and it could involve any players, and I think the players are aware of that."
Personally I would be surprised if the Sabres moved either Vanek or Pominville, who is also a free agent after next season. You have to have some player to build around and keep the fans coming. That said, either player could get a pretty handsome return, something that could speed up any rebuilding in Buffalo.
Regier figures to be busy in the next couple of days while the Sabres get a new, younger look, we'll just have to see how busy.
Show Comments
Hide Comments
Series schedules, results and updates from the second round of the Stanley Cup race

New Jersey claims No. 1 draft pick after having an 8.5 percent chance of earning the top s...

Ottawa takes a 2-0 lead over New York, and Pittsburgh does the same against Washington
St. Louis connected on one of five power plays to tie the series while Anaheim loses again...

Ottawa's defense came up big in Game 1 to beat New York, and the Penguins beat the Capitals...

Subban had three points in Nashville's 4-3 win over St. Louis in Game 1, while Edmonton dropped...