NHL rumors: Sabres willing to keep salary in any Thomas Vanek deal
If the Sabres are going to trade Thomas Vanek, they are willing to keep some of his salary to help according to a report.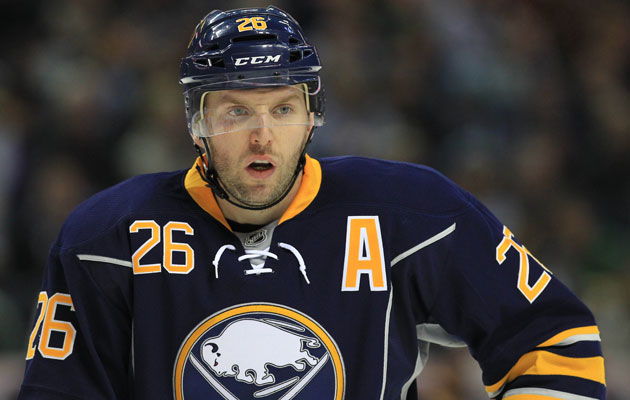 More NHL offseason: Rumors | Top 50 Free Agents | Buyout Tracker | Trades | Transactions
Thomas Vanek was on the trade block for much of last season but ended up staying put in Buffalo. He's said he's not sure whether he wants to be part of a long rebuild or not but that he's keeping his options over.
Apparently, so are the Sabres. Elliotte Friedman of the CBC reports that the Sabres considering eating some of Vanek's salary if they can find a trade partner.
Hearing BUF has told teams it is willing keep some of Thomas Vanek's salary -- providing Sabres get a deal they like.

— Elliotte Friedman (@FriedgeHNIC) September 11, 2013
Friedman notes that Sabres GM Darcy Regier has also indicated that the window for a trade on Vanek is closed at the moment so there seems to be some conflicting messages here.
Vanek is a talent that any team would love to have but he is expensive. Vanek has a cap hit of $7.142 million so it makes sense the Sabres would be willing to hold some of that contract, especially since this is the final season of Vanek's deal. Besides, it's not like it would hamper the Sabres who have a lot of room under the cap in the start of their rebuild.
This will be something that the Sabres are going to try and feel out most likely as the season goes along. If the trade deadline approaches and Vanek is still around, they could really look to trade him away instead of risking him becoming a free agent and the Sabres getting nothing in return. That's under the assumption that the Sabres are having a rough season, of course.
Now, who wants a premier goal scorer at a discounted rate?
Show Comments
Hide Comments
Pittsburgh has the talent and experience, but the Predators' fiery blue line should help them...

The Predators are riding an opportunistic defense and superb goalie, while the Pens boast elite...

Washington and Toronto set to face off March 3 in Annapolis
"Let's go, Preds!" chants take on a whole new meaning in the hype piece

Both Stanley Cup Final contenders cracked the list of top 10 teams searched in 2016-17

The Preds will need more from their blue-line depth, and Pittsburgh has to capitalize in s...