NHL rumors: Thomas Vanek turns down Isles offer, likely to be traded
Thomas Vanek is likely going to be traded for the second time this season after turning down a 'substantial' contract offer from the Islanders.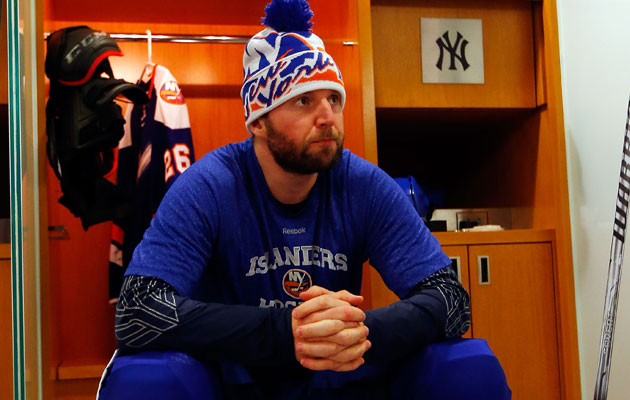 More NHL: Scores | Standings | League Leaders | Odds | Injuries | Power Rankings
GMs, start your engines. It appears Thomas Vanek is officially available.
The Islanders acquired Vanek early this season in a trade with the Sabres that sent Matt Moulson, a first-rounder and a second-rounder to Buffalo. It had an inherent risk with Vanek a free agent after this season but the Islanders thought that if Vanek saw Long Island, he'd like it. They were interested in getting him to re-sign.
Vanek had expressed some interest as well in that but when push came to shove, either he didn't like the idea or he just isn't ready to commit yet because according to Arthur Staple of Newsday, Vanek said no to the Islanders' latest.
NHL sources told Newsday that Vanek, acquired from the Sabres on Oct. 27, turned down a substantial contract offer from the Isles and that general manager Garth Snow is fielding offers for the 30-year-old wing.

The offer is believed to be in the same range as Vanek's current seven-year, $50 million deal. That contract expires on June 30.
With that, the trade market just got a headliner.
You can't really blame the Islanders for what they did here -- unless you wanted to say they should have focused on getting a goalie -- they took a chance and it doesn't seem like it's going to pay off. However it won't be a complete wash at all.
There should be plenty of teams interested in Vanek's services, top-line wingers don't come along on the trade block all that often. GM Garth Snow should be able to fetch a similarly strong return if/when he flips Vanek before the March 5 trade deadline. If they do, then there isn't much harm or foul.
While there will be interested teams, the question remains to be seen how interested. Surely somebody will take Vanek but the concern of getting him for just the stretch run and playoffs only to see him leave in free agency could become a real issue. Plus there is also the salary cap considerations that must be made. Vanek is about to become a free agent but his cap hit still has to fit onto the spreadsheet. The Islanders might have to take money back -- or retain some of his contract in a trade -- to make a deal work.
After that it's up to GMs to weigh the risk/reward because if he's on the top of his game as he has been of late on Long Island, Vanek can help a team do some damage. You think the Kings wouldn't love to add his offense? Or how about the Wild, a team many think Vanek will want to sign with in free agency anyway? Knowing that might allow the Wild to be a little more aggressive and willing to make an offer.
In this case Snow took a gamble and it seems like he lost but that remains dependent on what he can get for Vanek in a trade. That fallback option was always there. At least with the Islanders losing five in a row, it takes the temptation away from Snow to give it a shot with Vanek down the stretch. They have moved into the seller category after being in the land of ambiguity for a bit.
Now, who wants a guy with 19 goals and 28 assists in 54 games this season?
Show Comments
Hide Comments
Our Latest Stories
On day he signs entry-level deal with Canucks, Boeser scores Vancouver's third goal in 4-2...

The Penguins' leader in highlight reels has been extra feisty on some cringe-worthy cheap shots...

2017 SAHP NHL Global Series will pit Ottawa and Colorado against each other in Stockholm
Finland has churned out some winners in a league filled to the brim with diverse players

From the Caps' goaltender to the star-studded headlining duo of Chicago's offense, these guys...

Scoring his 41st goal of the year in a 3-1 win over the Buffalo Sabres, the Pittsburgh Penguins...