NHL rumors: Will Mikhail Grabovski, Nikolai Kulemin be package deal?
Both Mikhail Grabovski and Nikolai Kulemin could hit free agency this summer and if they do, the former Toronto teammates might try to be a package deal.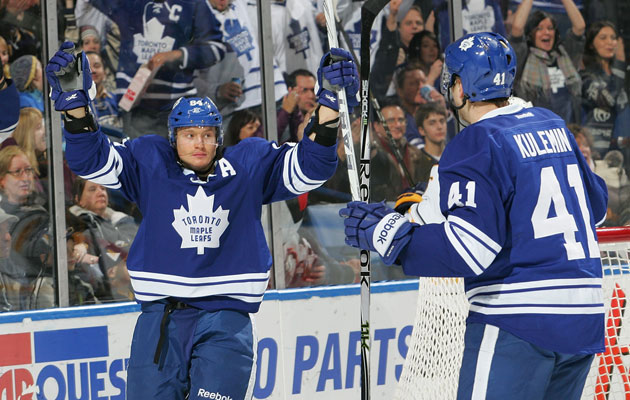 More Playoffs: Schedule, TV listings | Expert Picks | Bracket | Scores | Odds
The package deal is not something you see very much of in hockey, or any pro sport really. It's not all that uncommon in the world of college recruiting but in pro sports where players cost a lot of money and things like salary cap space fit into the equation? It's rare.
But this summer might have such a package deal on the market. Former Toronto teammates Mikhail Grabovski (last season with the Capitals) and Nikolai Kulemin (still with the Maple Leafs) could be joined at the free-agent hip.
Grabovski and Kulemin are both facing somewhat uncertain futures with their current team. Grabovski has said he would like to see who is the coach in Washington before deciding if he'll return as Adam Oates' fate is still twisting in the wind. Kulemin, meanwhile, wants a bigger role than he has had under Randy Carlyle.
The idea of reuniting on one NHL team, then, is something they talk about as their agent -- of course it's the same agent -- Gary Greenstein told Michael Traikos of the National Post.
"They're always talking about, 'Wouldn't it be great to play on the same team together,'" Greenstin, who was in Detroit to watch his other client, Pavel Datsyuk, said prior to Game 4 of the Stanley Cup playoffs on Thursday. "They're best friends. They play great together. We'll see what happens."
There are many reasons why you don't see package deals often but one of the biggest is it's tough to make it happen. You figure there aren't all that many teams that will even have the roster or cap space to accomodate both players. Then it gets down to if a team wants both of them.
Grabovski had 35 points this season in 58 games this season but is still a capable top-six center, something that's always of interest in the summer. Kulemin, meanwhile, had nine goals and 11 assists in 70 games but in 2010-11 he had 30 goals and 27 assists. That's starting to be a long time ago at this point but he's still on the right side of 30 for a few more years. He isn't happy with his role in Toronto, which would seem to pave his way out of town.
There's still a lot that could happen between now and July 1 when free agency begins but it is intriguing to think about a two-for-one situation. The question is if the two would be willing to take a little less salary to make it happen.
Show Comments
Hide Comments
Series schedules, results and updates from the second round of the Stanley Cup race

Subban had three points in Nashville's 4-3 win over St. Louis in Game 1, while Edmonton dropped...

Washington and Pittsburgh figure to go neck and neck, as do Anaheim and Edmonton
Cassidy went 18-8-1 after replacing Claude Julien in 2016-17

With the playoff field cut in half, the stakes keep getting raised

Green has led Vancouver's AHL affiliate since 2013