NHL rumors: Wings, Stars reportedly out of Vinny Lecavalier bidding
Vinny Lecavalier is narrowing his list for his next team, and now it appears both the Red Wings and Stars are out.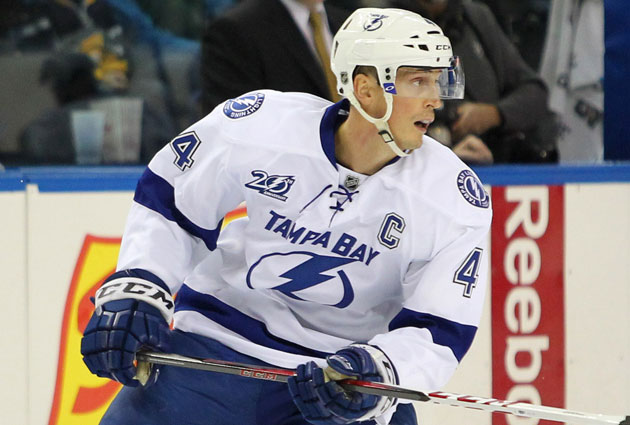 More NHL offseason: Rumors | Top 50 Free Agents 
All eyes in free agency are focused on former Lightning captain Vincent Lecavalier and where he'll decide to continue to play after his contract was bought out.
It might not take long to find out.
Free agency doesn't technically open until Friday. That's when players are able to sign contracts with new teams. However, Lecavalier has been able to talk with teams since he was freed of his contract with Tampa Bay with the intention of narrowing down his list to hopefully make a decision by Wednesday.
He might already have that decision made. The Red Wings were one team that figured to be in the mix, but Ansar Khan of MLive.com says the Wings are out and likely just one team is still in.
The Red Wings are out of the bidding for Vincent Lecavalier, who is seeking a five-year deal for $5 million per season, which is a longer term and more money than Detroit is willing to offer. Lecavalier's agent told teams he has identified a club he wants to play for. It's believed to be Dallas.
Perhaps Lecavalier has narrowed the list down, but it sounds like the Stars are on the list after all. They quickly became the favorites of this race with multiple people saying they believed the Stars would be the landing spot, but TSN's Aaron Ward and Darren Dreger say otherwise.
Sources saying Dallas Stars no longer believe they are in contention for Lecavalier. #TSN

— Aaron Ward (@aaronward_nhl) July 2, 2013
Well, OK then. The market is still open.
With Detroit and Dallas out of the picture, it seems to hold true with something that Predators GM David Poile said on Tuesday. Poile said they reached out to Lecavalier but were told he wanted to remain on the East Coast.
Now you're left with some options in the East like Washington, possibly Boston or Philadelphia if they could squeeze him in. Basically, it still seems pretty open. We just now can say it looks like it won't be either Detroit or Dallas after it looked like it could be.
Where's Montreal, you ask? Well, it just might be out of the running as well. The favorites are dropping like flies.
Free agency is fun!
Show Comments
Hide Comments
Our Latest Stories
Pittsburgh gets the help it desperately needs, while Carolina keeps stockpiling future tal...

Aramark, Heinz Field's food provider, is featuring a face-off of city-inspired dishes for Saturday's...

Once the most favored potential Stanley Cup winner, Chicago has fallen behind Washington,...
In the first big move before the NHL's March 1 trade deadline, both teams benefit from Stone...

Avalanche center tops the pool of big names dropped in trade rumors this season

Here's how to catch this year's Battle of Pennsylvania featuring the Flyers and Penguins