NHLPA will look at grandfathering in mandatory visors
With the NHL general managers meeting in Toronto, the visor debate came up again. Now NHLPA rep Mathieu Schneider says the union will look at grandfathering them in.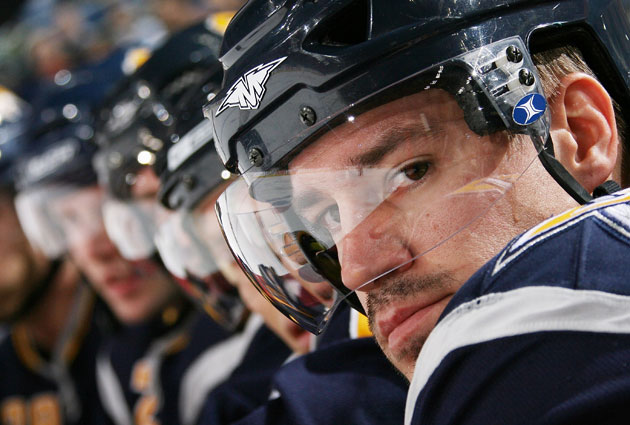 More NHL: Scores | Standings | Odds | Fight-O-Meter | League Leaders | Rumors
The NHL general managers had their one and only meeting of the shortened season Wednesday in Toronto, joined by a couple of representatives from the NHLPA, including Mathieu Schneider.
For the most part it doesn't seem like a ton came out that's earth-shattering. But there was one thing from Schneider when he spoke to the media in the afternoon. The NHLPA is going to take a big step in the mandatory-visor debate that has been raging in the NHL for a few years.
NHLPA's Mathieu Schneider says Union will look to grandfather in the use of visors, making them mandatory for all guys coming into the NHL.

— Dan Rosen (@drosennhl) March 20, 2013
Here we go again.
For a few years now this has seemed like such a logical step it was borderline crazy the NHLPA wasn't doing it already. You don't force the players currently in the game not using a visor -- roughly 30 percent -- to put one on. It just makes everybody who comes into the NHL from here on out put one on.
It's not like that should be much of an issue, either. Players coming into the NHL today have worn a visor or even a cage before. They have to wear them in the CHL, they are required in the AHL, and full cages are required in the NCAA. So it's nothing new for players being called up.
Considering it's exactly how helmets were brought into the game, in a short time nobody will even think twice about it. Guys didn't want to put on helmets before, they were grandfathered in and now I don't think anybody would consider playing without one. The same would hold true for visors.
The visor issue has been big in recent weeks after Marc Staal took a slap shot to the eye. It has rekindled the debate that has been going on over the years every time somebody takes a stick or puck to the eye like Staal and like Chris Pronger did.
This is no guarantee that the NHLPA will grandfather in visors, just that it's going to look at the prospect. Players will be polled this summer to see where they stand. In fact, the NHLPA took a poll just four years ago, and then 72 percent of the players voted against grandfathering them in.
Considering more players than ever are wearing visors, you would think there would be a good shot it would pass, but you never know. Players can be comfortable with the old ways often -- and awfully stubborn.
For more hockey news, rumors and analysis, follow @EyeOnHockey and @StubitsCBS on Twitter, subscribe to our YouTube account and like us on Facebook.
Show Comments
Hide Comments
Even without a can't-miss prospect, the first round features a handful of solid center pic...

Casey Mittelstadt goes off the board in the top 10 picks of the 2017 NHL Entry Draft

New Jersey makes the Halifax Mooseheads star the first overall selection in this year's dr...
Washington saves a key piece from hitting free agency but probably hurts itself in the long...

Pens open season on Oct. 4, while the Golden Knights begin play Oct. 6 on the road

With the NHL trade market heating up, the Blackhawks shed one scorer for another