Niklas Hjalmarsson inks five-year extension with Blackhawks
First Corey Crawford and now Niklas Hjalmarsson. The Swedish defenseman signed a five-year extension with the Blackhawks on Wednesday.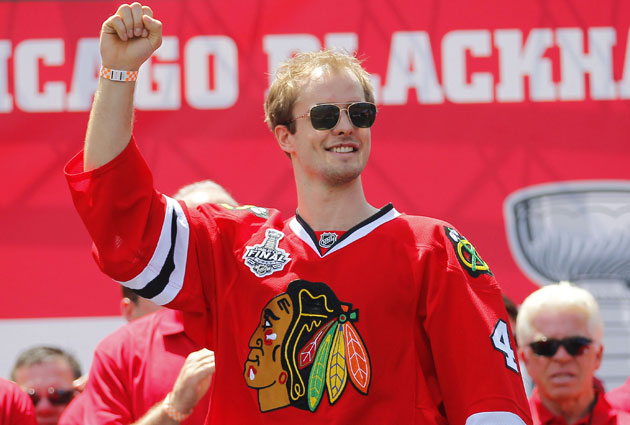 More NHL offseason: Rumors | Top 50 Free Agents | Buyout Tracker | Trades | Transactions
Just two days after re-signing goaltender Corey Crawford to a six-year extension, the Chicago Blackhawks made another move in keeping the Stanley Cup team together for a long time to come by re-upping Niklas Hjalmarsson.
On Wednesday the team announced that the defenseman has signed a five-year extension that will keep him in Chicago through the 2018-19 season. He has been part of both recent Stanley Cup wins for the Blackhawks, averaging a career-high 20:54 of ice time per game this past season.
Now with the extension he'll be sticking around in Chicago as his role continues to grow.
What's going to be interesting is to see how much his salary is going to grow. Hjalmarsson was already making $3.5 million per season on his most recent deal, which was an offer sheet he signed from the Sharks that the Blackhawks matched. It's hard to justify his salary going down.
UPDATE: Pierre LeBrun reported the value on Hjalmarsson's contract at $20.5 million overall.
Hjalmarsson deal with Hawks worth $4.1 M per year on average

— Pierre LeBrun (@Real_ESPNLeBrun) September 4, 2013
That would mean the Blackhawks now have close to $60 million tied up in just 14 players for next season. Granted, the salary cap will rise somewhat substantially by most estimates, but that's still not a lot of space under the cap with plenty of spots to fill. GM Stan Bowman might have to get creative down the line.
But it's certainly a far cry from what happened in Chicago after the 2010 Cup. That's when the Blackhawks had to tear apart some of the team because of the salary cap situation. This time Bowman is doing all he can to keep the band together.
Show Comments
Hide Comments
Our Latest Stories
From the Caps' goaltender to the star-studded headlining duo of Chicago's offense, these guys...

Scoring his 41st goal of the year in a 3-1 win over the Buffalo Sabres, the Pittsburgh Penguins...

A nightmare comes to life with Gary Bettman downplaying the idea of sending NHL stars to South...
The resurgent Lightning are primed to sneak into contention, while the once-hot Islanders are...

Capitals are first team to earn a playoff berth, but the Blackhawks are the hottest of the...

Earning their 100th point of the year in a big win over Tampa Bay, the Caps set the stage for...