Nikolai Kulemin inks two-year extension with Leafs for reported $5.6 million
Nikolai Kulemin has himself a new contract with the Toronto Maple Leafs, inking a new two-year deal with the team on Friday.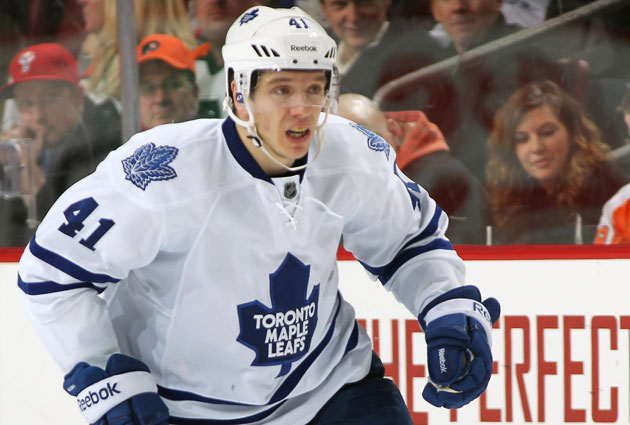 Nikolai Kulemin had just seven goals last season after 30 two seasons ago. (Getty Images)
Nikolai Kulemin has himself a new contract with the Toronto Maple Leafs, inking a new two-year deal with the team on Friday. He was set to go to arbitration but obviously that's no longer necessary.
The contract is for $5.6 million over the two seasons per Darren Dreger, $2.6 million in the first season, $3 million the second. For the non-math majors that's a salary cap hit of $2.8 million.
Kulemin is coming off a very underwhelming season with the Leafs. He had people in Toronto drooling at the possibilities after he tallied 30 goals with 27 assists in 2010-11 at the age of 24. But last season in 70 games he had just seven goals with 21 assists, a massive dip in production. Consider that the seven goals. That probably led to a pretty big drop in what he was going to earn with the Leafs.
However Kulemin has proven to be a pretty reliable player even if he's not scoring goals for the Leafs. Consider that in his four seasons in Toronto he's yet to have a minus season. That's pretty impressive when you consider the troubles the Leafs have had recently, particularly in goal. Or if you don't like the plus-minus stat and its flaws you can look at his Corsi Relative this season of 4.6. Not great, but again we're talking about Toronto and that 4.6 was the fourth among players who had at least 25 games last season.
The new contract means that when it's up Kulemin will be available for unrestricted free agency ... well, that's if the rules don't change in the upcoming CBA. But under the current agreement that would be the case.
Similar to the deal that Sam Gagner just signed with the Oilers it is a bit of a "prove-it" contract for Kulemin with the Leafs hoping to see a return to that goal-scoring form of two seasons ago.
For more hockey news, rumors and analysis, follow @EyeOnHockey and @BrianStubitsNHL on Twitter and like us on Facebook.
Show Comments
Hide Comments
Series schedules, results and updates from the second round of the Stanley Cup race

Nashville had big-name fans in the house for another win over St. Louis, and Anaheim scored...

New Jersey claims No. 1 draft pick after having an 8.5 percent chance of earning the top s...
Ottawa takes a 2-0 lead over New York, and Pittsburgh does the same against Washington

St. Louis connected on one of five power plays to tie the series while Anaheim loses again...

Ottawa's defense came up big in Game 1 to beat New York, and the Penguins beat the Capitals...