NWHL's Denna Laing suffered spinal cord injury at Women's Winter Classic
Denna Laing, a player for the Boston Pride of the National Women's Hockey League, sustained a severe spinal cord injury during the first ever Women's Winter Classic at Gillette Stadium.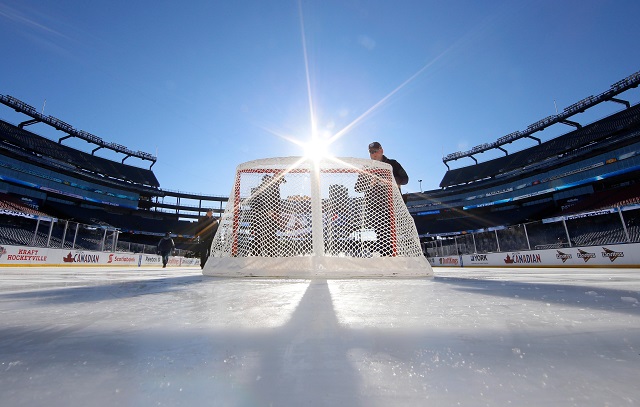 Denna Laing, a forward for the Boston Pride of the fledgling National Women's Hockey League, sustained a severe spinal cord injury, during the first-ever Women's Winter Classic last week. The event was held on Dec. 31 at Gillette Stadium as part of the festivities surrounding the NHL's Winter Classic. Laing's condition had been kept private until Friday at the request of her family.
According to reports, Laing was injured after stepping on a stick and falling head-first into the boards during the first period of the exhibition contest which was meant to be a celebration of women's hockey. She was taken off the ice on a stretcher and was rushed to a local hospital by ambulance.
The Laing family released a joint statement with the NWHL and other entities Friday night to update the public on Denna's status. Jerilyn and Dennis Laing confirmed that their daughter's injury has left her with limited movement of her arms and no feeling in her legs. Doctors continue to evaluate her status.
Here is there full statement from the Laings:
"Denna was thrilled to be taking part in the inaugural season of the National Women's Hockey League and was absolutely delighted to be one of the pioneers in a breakthrough moment for her sport – the Outdoor Women's Classic. Tragically, Denna suffered a severe spinal cord injury playing the sport she loves. As of today, Denna has limited movement of her arms and no feeling in her legs. Our prayer going forward is that Denna can be moved from the Intensive Care Unit to a Rehabilitation Center and continue to fight everyday with her trademark grit and resolve. With respect to her long term prognosis, right now there are more questions than answers. We have received an incredible outpouring of love and support from countless friends and family members while we try to navigate this overwhelming situation. We are eternally grateful to everyone who continues to offer support as we take on this challenge together."
An update on the status of @TheBostonPride forward Denna Laing https://t.co/fXe6b8eH9m pic.twitter.com/oeEMJKZ80b

— NWHL (@NWHL_) January 8, 2016
"The players, teams, coaches, management and staff of the National Women's Hockey League are united in their support of Denna Laing and her family," NWHL commissioner Dani Rylan said in a statement. "To reflect our admiration for her as a player and our appreciation for her contribution to the NWHL's first season, we are working with the Laings, our business partners and others to respond compassionately and appropriately to her injury. We will announce further details as soon as plans are formalized."
Rylan also said NWHL teams will wear a helmet decal with Laing's jersey number, 24.
NHL commissioner Gary Bettman also issued a statement, offering condolences and support to Laing's family:
"Everyone at the National Hockey League, including the Boston Bruins and Montreal Canadiens, joins Denna Laing's coaches, teammates, friends and fans in wishing Denna the very best as she confronts the challenges ahead. While we are certain Denna will be served well by the tenaciousness that is her trademark, we also will work with the Laing family to rally the support of the hockey family during Denna's rehabilitation.

"We have withheld comment to this point out of respect for the wishes of the Laing family and will continue to honor those wishes going forward."
Both the Boston Bruins and Montreal Canadiens, the two NHL teams that played in the Winter Classic this year, issued statements of support from Bruins president Cam Neely and Habs owner Geoff Molson. The Kraft family, owners of the New England Patriots which hosted the event at Gillette Stadium, also issued a statement to offer thoughts and prayers to Laing and her family.
The Women's Winter Classic was not originally part of the league's plans for pre-Winter Classic festivities. A little later in the planning stages, the NHL decided it wanted to include teams from the top women's hockey leagues in North America. It was seen as a chance to celebrate the women's game and promote the two leagues that have given an outlet to the top women's players in the world.
The game featured the Pride from the NWHL, which launched this year as the first paid professional hockey league for women, and Les Canadiennes of the Canadian Women's Hockey League, which operates more as a semi-pro league featuring many of Canada's best women's hockey players. 
Laing, who played four years in the NCAA at Princeton University, had appeared in seven games with the Pride this season prior to her participation in the Women's Winter Classic.
There has been a massive outpouring of support from those in the hockey community, as mentioned by Laing's parents. Before the announcement Friday, dozens of women's teams across college hockey showed their support for Laing by lining up on the ice to make a No. 14, Laing's number at Princeton.
Here's a sampling of some:
Colgate supports you Denna! #14Strong pic.twitter.com/bMmyGT4mEX

— Bailey Larson (@BaileyLarson61) January 8, 2016
The #BCEagles send thoughts and prayers for Denna and her family #14strong pic.twitter.com/l1YQdUHRol

— BC Women's Hockey (@BC_WHockey) January 8, 2016
Awesome idea from @SLUsaints we're passing it on! We support you @dlaing14 ! #14Strong! @ECACHOCKEYMWD1 who's next? pic.twitter.com/ENMSjRaGZ0

— Princeton WHockey (@PWIH) January 7, 2016
A website has been set up to allow the public to extend their well wishes and for the family to provide updates of Denna Laing's progress. Donations are also being accepted at the site, which can be found at dennalaing.org.
Show Comments
Hide Comments
Our Latest Stories
Senior Tony Bruns set a state and national record on a day his team wishes to forget

Crosby won't have to pass the torch for a while, but McDavid is proving to be a worthy hei...

The new contract won't end the Trouba trade rumors, though
Plus, four other teams whose hot starts make them tougher to project

After his emotional performances this week, Anderson has taken an indefinite leave of abse...

The Penguins goalie situation is back to normal with Murray's return from a broken hand