Oilers' Mike Brown up for Mustached American of the Year Award
Oilers forward Mike Brown is finally getting the recognition he deserves for his excellenece in facial hair.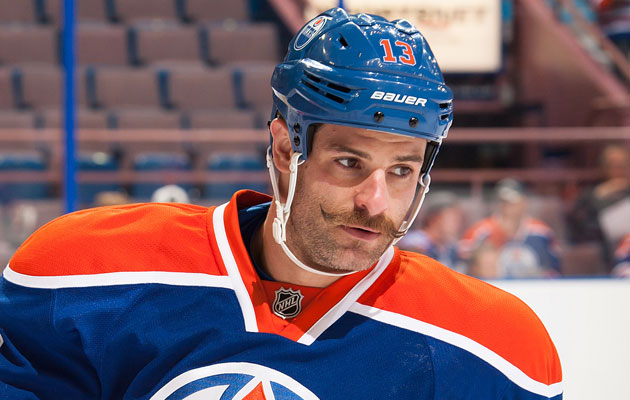 NHL previews: Atlantic Division | Metropolitan Division | Central Division | Pacific Division
Mike Brown may play in Canada, but he's all-American. He's also rocking one of, if not the finest mustache in the league this season. Brown is now getting some due credit for being both American and mustached (though I prefer mustachioed, myself). 
The American Mustache Institute, which apparently is a thing that is real, has nominated Brown for its Robert Goulet Memorial Mustached American Award. The Oilers forward is one of 10 finalists chosen from among 900 nominees, which was "combed through" by the Certified Mustacheology Analysis Unit, which apparently is a thing that is also real.
Among his competition? Fox News' Geraldo Rivera, fictitious Anchorman characters Ron Burgundy (naturally) and Brian Fantana, as well as Bryan Harper, the older brother of Nationals phenom Bryce Harper whose mustache came to prominence during the MLB All-Star Game's Home Run Derby this year.
Here's what the American Mustache Institute, whose mission is "Protecting the rights of, and fighting discrimination against mustached Americans, by promoting the growth, care, and culture of the mustache," had to say about Brown's candidacy.
A Chicago-area native and forward for the Edmonton Oilers, Mike Brown's commitment to the sexually dynamic Mustached American lifestyle has continued the deep connectivity between sports excellence and facial hair. One of the few Jewish players in the National Hockey League, Mr. Brown continues to exhibit the undeniable performance enhancing powers of the mustache as his career continues to thrive on the ice.
Needless to say, this may be the highlight of Brown's career, should he take home top honors for the Robert Goulet (GOULET!) Memorial Mustached American Award. Aside from his follicular excellence, Brown primarily makes his living with his fists. He has 589 penalty minutes to go along with 26 points in 284 NHL games.
You really should check out the American Mustache Institute's site which, much like naming an award for American mustached folks after a Canadian, is hilarious.
(h/t Puck Daddy)
Show Comments
Hide Comments
Series schedules, results and updates from the second round of the Stanley Cup race

Here's how to stay on top of all of the NHL's second-round playoff series, which begin Wed...

Series schedules, results and updates from the first round of the Stanley Cup race
Ottawa took a 3-2 decision to send Boston home, and Washington outlasted Toronto, 2-1

Stevens was L.A.'s interim coach for four games in the 2011-12 season

St. Louis, New York and Edmonton eked out victories that eliminated Minnesota, Montreal and...