Olympic hockey qualification round live blog
Come back to follow our live blog of the qualification round games on Tuesday in Sochi, Russia.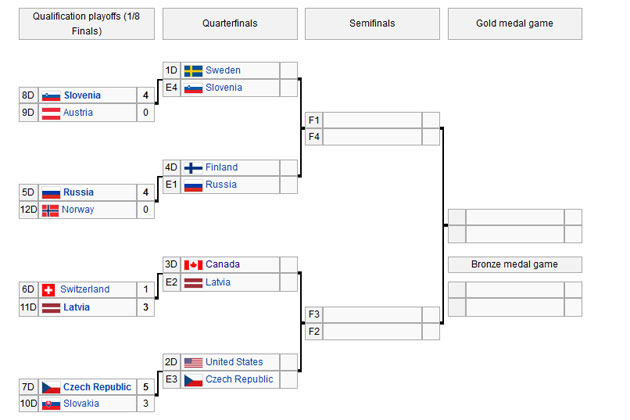 CZE 5, SVK 3 -- FINAL
A slow start out of the Slovakians put them in a 3-0 hole after the first period and by the time they recovered it was too late. The Czech Republic held off their cross-border rivals with a 5-3 win to advance to the quarterfinals against the U.S.
Ales Hemsky got things started with a power-play goal early and 29 seconds later Roman Cervenka gave the Czechs a 2-0 lead. Another power-play marker off the stick of David Krejci made it 3-0 and put Slovakia on its heels.
The second period was more evenly matched, but Cervenka scored a beautiful goal to make it 4-0 late in the second. Though Slovakia answered shortly with a Marian Hossa goal, that fourth Czech goal would prove to be the difference-maker.
Slovakia did put a scare into their neighbors with two big goals in the third, but Tomas Plekanec's empty-netter sealed it for the Czechs.
It was closer than it needed to be, but the Czech scoring showed up when it needed to. They'll meet Team USA at noon ET on NBC Sports Network Wednesday.
0:38, 3rd Period (SVK-CZE) -- GOAL CZECH REPUBLIC
Tomas Plekanec deposits a puck into the empty net, giving the Czechs a 5-3 lead and pretty much sealing this one. Krejci with the assist. 
LAT 3, SUI 1 -- Final

Latvia scored two first-period goals and then held on to upset the sixth-seeded Swiss 3-1 to advance to the quarterfinals at the Olympics on Tuesday.

At 8:38 of the first period, Oskars Bartulis scored for Latvia, becoming the first player in three games to score a goal against Swiss goalie Jonas Hiller. That goal seemed to give Latvia a boost and they would score a second goal less than three minutes later on the power play when Lauris Darzins made it 2-0.

Switzerland, which leaves the Olympics having scored just three goals in four games, put the pressure on but had very little success against Latvian goalie Edgars Masalskis. The Swiss didn't have a plethora of chances but they did have their fair share and some of them were glorious but only one, a shot from Martin Pluss in the low slot, beat Masalskis in the second period.

It stayed a one-goal game through the the third period until the Swiss pulled Hiller with a little more than a minute to play, which was when Darzins added the empty-netter to seal the big win for Latvia, one of the biggest in the nation's history -- if not the biggest.

Latvia went 0-3-0 in the opening round of the tournament, a stretch that included a nailbiting 1-0 loss to Switzerland in their first game. But in every contest they were tenacious and in every game, getting over the hump vs. Switzerland.

Next up is a much larger challenge for their next opponent won't have the same problems of scoring that Switzerland has had in this tournament. That team? Canada. -- Brian Stubits


1:00, 3rd Period (SUI-LAT) -- GOAL, LATVIA
Switzerland pulls Jonas Hiller for the extra attacker and it doesn't take long for Lauris Darzins to get free and fire home the puck into the empty net for his second goal of the night to likely seal the upset for Latvia. -- Brian Stubits
11:09, 3rd Period (SVK-CZE) -- GOAL SLOVAKIA
Tomas Surovy drills a one-time shot past Ondrej Pavelec and the comeback is alive and well. Slovakia now trails just 4-3 and are looking more in control than they've been in any game so far in this Olympics. They still have to find that equalizer, though.
9:22, 3rd Period (SUI-LAT) -- Switzerland is running out of time here to at least level this game and avoid elimination. They are certainly the team applying the most pressure right now but they're having a really tough time beating Masalskis. -- Brian Stubits
12:40, 3rd Period (SVK-CZE) -- GOAL SLOVAKIA
Marian Hossa notches his second of the game after drilling a loose puck off a long rebound from Ondrej Pavelec. Now Slovakia trails by a more manageable two goals in a period in which they've been the better team. This one's not over yet. 4-2 CZE.
14:54, 3rd Period (SVK-CZE) -- Slovakia is buzzing more offensively, but unable to break through yet. Czechs still lead 4-1, but the ice is beginning to tilt decisively in Slovakia's favor.
CZE 4, SVK 1 -- 2nd Intermission
Slovakia showed life in the second period, but a defensive miscue allowed the Czechs to take a 4-0 lead. Marian Hossa quickly answered for Slovakia, but those three goals are going to be tough to make up in the third. Slovakia is showing no quit, with defensemen getting aggressive in the offensive zone. It would take a monumental third for the Slovakians to come back and earn their first win at the Olympics. The Czechs are looking pretty good for a shot at the U.S. in the quarterfinals. -- Chris Peters
LAT 2, SUI 1 -- 2nd Intermission

Latvia is just 20 minutes away from their first win at the Olympics since 2002 but they're going to face an onslaught from the Swiss, one that we saw kick in about halfway through the second period. Switzerland got the breakthrough to make it 2-1 and awfully interesting for the final period. Switzerland only outshot Latvia 10-8 in the period but they were really buzzing in the latter half of the period. It should be a fun and tense third. -- Brian Stubits
1:03, 2nd Period (SVK-CZE) -- GOAL, SLOVAKIA
Chicago Blackhawks teammates connect as Michal Handzus finds Marian Hossa in the slot. A wrister over Pavelec makes it 4-1, giving Slovakia some life. Great shot by Hossa through traffic. -- Peters
4:19, 2nd Period (SVK-CZE) -- GOAL, CZECH REPUBLIC
Roman Cervenka has his second of the game after taking the puck right off Andrej Sekera's stick, making a nice move on the goalie and roofing a backhander to make it 4-0. Slovakia had some good things going, but that goal may stick a fork in their Olympics. -- Peters
4:59, 2nd Period (SUI-LAT) -- GOAL, SWITZERLAND
Finally the Swiss get a breakthrough from the near slow as Martin Pluss gets a one-timer past Masalskis to cut the Latvian lead to 2-1 and all of a sudden we have a game again. It seemed to be a matter of time for the Swiss. Meanwhile, Jonas Hiller has been very good as the Latvians have had some great looks too.
10:30, 2nd Period (SVK-CZE) -- The Slovakians are beginning to show signs of life with multiple chances in the middle of the second period. Ondrej Pavelec has been solid so far. Still 3-0 CZE.
11:24, 2nd Period (SUI-LAT) -- The Swiss have definitely found a few more chances but Edgars Masalskis is keeping the door shut. No save was better than this. What a ridiculous glove save. Going to be tough for Switzerland to come back on this. (GIF via @MyRegularFace) -- Brian Stubits
19:10, 2nd Period (SVK-CZE) -- Back underway in Shayba Arena between the Czechs and Slovakins. Zdeno Chara tried to give his team a spark by going down the wing on a rush, but had to settle for a bad-angle shot. Slovakians need a quick start trailing 3-0.
17:30, 2nd Period (SUI-LAT) -- Some times a picture just catches somebody at the perfect moment. This is one of those times. Meanwhile in the game, the Swiss are trying to up the pressure but it hasn't yielded any real glorious chances yet.
"Sup, ladies?" pic.twitter.com/bIBzWbc5t2

— Jeanshorts (@JSBMrevolution) February 18, 2014
CZE 3, SVK 0 -- 1st Intermission
Slovakia's woes continue in this tournament as their Czech rivals exploded for three goals in the first period. The speed and skill level is clearly higher on the Czech side with all lines getting involved in the offense. The Slovakians have had some good chances, but have failed to get quality shots on net and make Ondrej Pavelec work. The Czechs hold a 13-7 shot advantage after the first and are looking very strong headining into the first intermission. -- Chris Peters
LAT 2, SUI 0 -- 1st Intermission

What an impressive first period from Ted Nolan's Latvian team. In the early going the game was being played at the pace Switzerland wanted as they had control of the game but a goal thanks to a great screen in front of Jonah Hiller really turned the tide and when Latvia added another goal just a couple of minutes later, the Swiss looked shocked. Considering they have just two goals in 10 periods at the Olympics, a two-goal deficit after 20 minutes is foreign territory and will force the Swiss to deviate from their conservative game plan. -- Brian Stubits
2:57, 1st Period (SVK-CZE) -- GOAL, CZECH REPUBLIC
David Krejci wires a one-time shot from the left faceoff circle over Laco's right shoulder and in. The Czechs take a commanding 3-0 lead and look firmly in control.
8:40, 1st Period (SUI-LAT) -- GOAL, LATVIA
Who saw this one coming? Latvia adds a second goal on the power play to take a 2-0 lead on the Swiss. Lauris Darzins puts home the sharp-angle shot. This is a major danger zone for the Swiss, who have just two goals in three-plus games so far. This is a big upset in the making.
11:19, 1st Period (SUI-LAT) -- GOAL, LATVIA

On just their second shot of the game, Latvia does what nobody else has done in the Olympics in this tournament and that's get one past Jonas Hiller. Oskars Bartulis gets the goal on a shot that found its way through traffic. That's just the second goal against Switzerland in this tournament. -- Stubits
1st Period (SVK-CZE) -- GOAL, CZECH REPUBLIC -- Roman Cervenka backhands a rebound into the net after a nice rush by Tomas Plekanec. Laco had no chance to recover. Just like that, it's 2-0 CZE.
12:07, 1st Period (SVK-CZE) -- GOAL, CZECH REPUBLIC -- Ales Hemsky snaps home a shot from the slot for a power-play goal. He collected the puck off his skate and had a lot of net to shoot at. 1-0 CZE. -- Chris Peters
14:43, 1st Period (SUI-LAT) -- Switzerland gets six shots on net in that power play -- six! -- but still can't score. They're now 0-for-10 on the man advantage in this tournament. -- Brian Stubits
16:05, 1st Period (SVK-CZE) -- Back-and-forth action to start with good chances for both sides. Goalies Jan Laco and Ondrej Pavelec getting tested early. Best chance came when Milan Michalek nearly got a stick on Jakub Voracek's rebound. Still 0-0, but a fun game to watch. -- Chris Peters
16:58, 1st Period (SUI-LAT) -- The matchup to determine who gets to face Canada in the quarters is under way and it takes just three minutes for Latvia to take a penalty and give the Swiss an early shot to take a lead. However they have just two goals so far in this tournament (and two wins). -- Brian Stubits
12:04 a.m. -- It will be Jan Laco in net for Slovakia, not Jaroslav Halak, going head-to-head with Ondrej Pavelec. We're underway in CZE-SVK.
11:53 a.m. -- A look inside the Switzerland dressing room before they take on Latvia. It looks just like you would expect a Swiss dressing room to look like.
View of the Swiss locker room before tonight's playoff game against Latvia. #Sochi2014 pic.twitter.com/pAg8PpG1Mw (via @SwissIceHockey)

— IIHF (@IIHFHockey) February 18, 2014
11:44 a.m. -- The Czech Republic will have a big hole in their lineup against Slovakia as Patrik Elias is not ready to go. That leaves even more up to Jaromir Jagr not only as the veteran but as the producer.
The bigger news, through, is that Patrik Elias is still too sick to play for the Czech Republic. He is not in the lineup against Slovakia

— Elliotte Friedman (@FriedgeHNIC) February 18, 2014
RUS 4, NOR 0, Final
Alexander Radulov had two goals and an assist as Russia defeated Norway 4-0 on Tuesday to earn a spot in the quarterfinals where the hosts will face Finland.
Russia looked a bit sluggish in the first period, leaving the first 20 minutes in a scoreless tie with Norway and ahead in shots just 7-6. It marked the fourth straight period that Russia went without a goal in these Games. They came out a lot stronger in the second.
Radulov got the scoring started with a relatively innocent-looking backhander on net after sweeping around the back of the cage. It found a hole beneath Lars Hoagen's pads to get the monkey off the back of the Russian offense. Radulov then set up the next Russian goal with a great effort to rush up the ice. He then set up a give-and-go with Pavel Datsyuk and Radulov's resulting shot hit off the post and dropped into the crease, where Ilya Kovalchuk was waiting to put it home.
The game stayed 2-0 well into the third period when Norway pulled Haugen for the extra attacker and a minute later Radulov was scoring his second goal and third point of the game. Russia added one more goal even after Haugen returned to the crease with Alexei Tereshenko's tally in the last minute to make the score look a little more lopsided than it was.
There were certainly moments of angst but Norway never put much pressure on Russia and their defense. Sergei Bobrovsky got the start and turned in the shutout, stopping all 22 Norwegian shots. It marked the second straight game that Russia held the opponent scoreless, something that shouldn't be lost in the team's offensive issues.
Next up Russia faces a Finnish team that took Canada to overtime in round-robin play and that is committed to defense. In other words, Russia might not light the nets on fire again on Wednesday when the pressure will really set in.
0:39, 3rd Period -- GOAL, RUSSIA
Lars Haugen is back in the net but Russia still scores another one for good measure. Alexei Tereshenko gets the tally that's just icing on the cake.
1:07, 3rd Period -- GOAL, RUSSIA
Of course it's Alexander Radulov who is the Russian that gets the empty-netter, his second goal of the game. In this game, he absolutely deserved the stat-padder as he has been Russia's best player but a good margin.
2:20, 3rd Period -- Down two goals, Norway waits but finally pulls Lars Haugen off the ice for the extra attacker after a timeout.
7:44, 3rd Period -- Norway is getting more aggressive and pushing, which leads to an Alex Ovechkin breakaway. He's taken down on the rush from behind and somehow not only is there no penalty shot but there's not even a penalty. Bizarre non-call there, you couldn't miss it. Surprisingly, not a lot of whistling from the Russian crowd.
12:10, 3rd Period -- The answer to the question of can Norway get any pressure going is no. Eight minutes into the period and Norway only has one shot while Russia has just two. The Russians are happy to play at that pace but obviously it does little for Norway.
20:00, 3rd Period -- The final period is underway, the big question is if Norway can come even close to putting pressure on the Russians.
2nd Intermission -- RUS 2, NOR 0
That was much more like it from the Russians. They outshot the Norwegians 14-6 in the second period and were rewarded with two goals. Radulov has clearly been Russia's best player in this game, a massive change from the past few outings. The lead is only two but it feels extremely safe considering about 75 percent of the game is being played in the Norwegian zone, or at least it feels like it. (GIF via @PeteBlackburn)
2:49, 2nd Period -- GOAL, RUSSIA
Radulov making things happen again, creates a great rush up the ice and then gets creative in the neutral zone. He then takes a give-and-go attempt and backhands it off the post. Ilya Kovalchuk is right there for the rebound and he punches it in. Apparently the message for Radulov after the USA game got through.
5:15, 2nd Period -- How can Russia only have a 1-0 lead on Norway when they have this kind of support in the stands?
One Russian flag waved in the crowd bears an inscription: "Russia, Granny Zina is With You!" #ThanksGranny

— Slava Malamud (@SlavaMalamud) February 18, 2014
6:52, 2nd Period -- Radulov is having a pretty nice game today. He just forced a turnover in the neutral zone and then managed to weave through four Norwegians to get a pretty good chance on goal that was saved by Haugen. Russia just continues putting a lot of pressure on Norway, living in the offensive zone.
11:19, 2nd Period -- Russia didn't score on the power play but that was the best the unit has looked for some time, very dangerous two minutes that Norway survived. Russia is certainly flying a big faster after that Radulov goal.
14:13, 2nd Period -- This is a dangerous moment for Norway in this game as Russia goes back on the power play. Let's see if they have any semblance of an attack plan.
15:48, 2nd Period -- GOAL, RUSSIA
Russia has had a few pretty good looks so of course they get their first when Alexander Radulov skates around the Norwegian net and fires it on a sharp-angle with his backhand. It finds its way through and past Lars Haugen in the five hole. You could hear the Russian exhale from the States.
20:00, 2nd Period -- They're back for the second period at Bolshoy. Everybody is waiting to see if the Russians are going to wake up or if that pressure will only keep mounting.
1st Intermission -- RUS 0, NOR 0
The first period has to go down as a major win for Norway, getting through unscathed. They were chasing most of the period but shots are just 7-6 in favor of Russia, which looked lost on the power play once again. For Russia that's now four straight periods without a goal in this tournament and that's been against Slovakia and Norway. On the bright side, it's also four straight periods without giving up a goal.
4:30, 1st Period -- Still scoreless about 15 minutes into the game despite Russia dominating play but now it's going to get even tougher for Norway to hold the fort with a Russian power play coming up. They haven't clicked so far in this tournament, but the Russians have a spectacular collection of talent on that power play.
10:22, 1st Period -- Ten minutes in, Russia has been the commanding team as everybody expected but there is no score and Norway is headed to the power play as Evgeni Malkin takes a minor penalty.
20:00, 1st Period -- Russia and Norway are underway. The winner advances to face Finland in the quarterfinals. Loser, of course, is done.
7:35 a.m. -- Well this much we know, the crowd is certainly ready for the Russian game.
Who has two thumbs, devil horns and cheers for Russia? This guy pic.twitter.com/Rt66kR7A4o

— Brian Stubits (@StubitsCBS) February 18, 2014
7:10 a.m. -- And here come the Russians.
Here comes Russia for its first potential elimination game in Sochi. No pressure, boys. pic.twitter.com/iuYzA5B8VU

— Greg Beacham (@gregbeacham) February 18, 2014
6:54 a.m. -- As if facing Russia wasn't a daunting enough task, Norway will have to do it without their lone NHL player, Mats Zuccarello. He was ruled out with a hand injury, a huge blow for an already overmatched team.
Norway's team doctor told media Mats @Zuccarello36 will not play today's Qualification Playoff v Russia due to hand injury. #Sochi2014

— IIHF (@IIHFHockey) February 18, 2014
6:07 a.m. -- Coming perhaps as a surprise to some, Russia has named its starting goaltender for Tuesday's game against Norway and it's Sergei Bobrovsky. Semyon Varlamov started two of the first three games and is coming off a shutout of Slovakia last game. Maybe Bobrovsky starting against Norway is to avoid back-to-backs for Varlamov and he'll be the goalie if/when Russia advances to face Finland. Or maybe it means Bobrovsky is their guy.
6:04 a.m. -- If you were wondering, yes, the win is a big deal for Slovenia.
Kopi isn't sure how the celebration back in Slovenia will compare to the party when he brought home the Stanley Cup: "It might be up there."

— Greg Beacham (@gregbeacham) February 18, 2014
Final -- SLO 4, AUT 0
Slovenia's amazing Olympic run continued on Tuesday morning when the underdogs eased past Austria 4-0 to earn a spot in the quarterfinals where they will meet top seed Sweden on Wednesday.
Coming into the Olympics, nobody gave Slovenia much of a chance. The small nation has one NHL star Anze Kopitar but not much else, or so we thought. The country in southern Europe only has a couple of ice hockey rinks in the entire nation, expectations coming into Sochi were low.
Slovenia turned some heads in the opening game when they gave Russia all they could handle and then handled Slovakia somewhat easily to earn their first win, and over a traditionally strong nation to boot. That win was good enough to earn Slovenia the eighth seed and a matchup with No. 9 Austria to open the knockout round.
From the start of the game Slovenia was clearly the stronger team and it didn't take long for them to be rewarded with their strong play when Kopitar scored on the power play. Slovenia would add goals from Jan Urbas and Sabahudin Kovacevic before Jan Mursak would put one in an empty net as a desperate Austria tried to no avail to find offense.
All the while, Slovene goalie Robert Kristan was spectacular, stopping all 30 Austrian shots that included some highlight-reel saves.
It was a dominant effort from the Slovenians who are now 2-2 in this tournament and have only been outscored by one goal against Slovakia, Russia, USA and Austria, an awfully impressive achievement. The Slovenes will have another chance to turn heads when they open the quarters against Sweden on Wednesday morning.
Even winning one game was going to be viewed as a tremendous result for Slovenia, now they are off to the quarterfinals. What a great story. And a great celebration (via @PeteBlackburn).
________
The group stage at the Sochi 2014 Ice hockey competition is done and now the real tournament starts. Four years ago, Canada played in the qualification playoffs and won four straight games to win the gold medal. Could Russia be the next host country to win four games in six days to take home the gold medal? 
Come back on Tuesday to follow along as all four games are played setting up the quarterfinals on Wednesday. 
Here's Tuesday's schedule 
2014 Olympics Hockey TV Schedule/Results
Date/Time
 
Game
TV/Recap
Qualification Round
Feb. 18
3 a.m.
 
Austria vs. Slovenia
NBCSN
Feb. 18
7:30 a.m.
 
Russia vs. Norway
NBCSN
Feb. 18
Noon
 
Czech Republic vs. Slovakia
NBCSN
Feb. 18
Noon
 
Switzerland vs. Latvia
MSNBC
Show Comments
Hide Comments
Subban had three points in Nashville's 4-3 win over St. Louis in Game 1

Series schedules, results and updates from the second round of the Stanley Cup race

Washington and Pittsburgh figure to go neck and neck, as do Anaheim and Edmonton
Cassidy went 18-8-1 after replacing Claude Julien in 2016-17

With the playoff field cut in half, the stakes keep getting raised

Green has led Vancouver's AHL affiliate since 2013