Olympic Ice Hockey Standings
Group standings for the Olympic hockey tournament in Sochi, Russia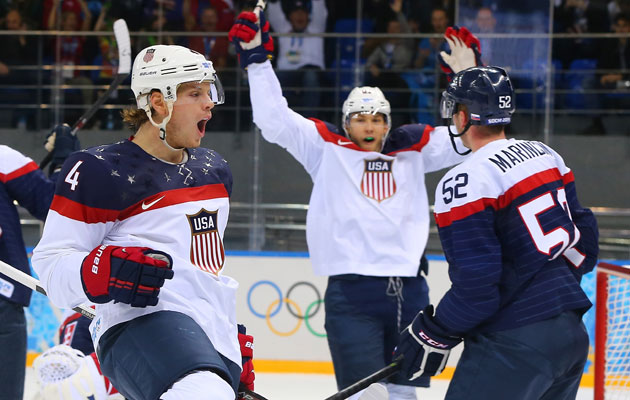 Click here to see the Olympic Hockey Bracket. 
Here are the Winter Olympics men's ice hockey standings at the 2014 Winter Olympics in Sochi, Russia. 
Each team plays every team in its pool once. The three group winners plus the second place team with the most points earn byes into the quarterfinals. The remaining eight teams play with the four winners advancing to the quarterfinals.
Group A Standings
Team
G
W
OTW
OTL
L
GD
PTS
United States*
3
2
1
0
0
+11
8
Russia
3
1
1
1
0
+3
6
Slovenia
3
1
0
0
2
-5
3
Slovakia
3
0
0
1
2
-9
1
Group B Standings 
Team
G
W
OTW
OTL
L
GD
PTS
Canada*
3
2
1
0
0
+9
8
Finland
3
2
0
1
0
+8
7
Austria
3
1
0
0
2
-8
3
Norway
3
0
0
0
3
-9
0
Group C Standings
Team
G
W
OTW
OTL
L
GD
PTS
Sweden*
3
3
0
0
0
+5
9
Switzerland
3
2
0
0
1
+1
6
Czech Republic
3
1
0
0
2
-1
3
Latvia
3
0
0
0
3
-5
0
Key
* - Won group
G - Games Played
W - Wins (Worth 3 points)
OTW - Overtime Wins (Worth 2 points)
OTL - Overtime Losses (worth 1 point)
L - Losses (Worth 0 points)
GD - Goal differential
PTS - Points
Tiebreakers
1. Points
2. Head-to-head
3. Goal differential
4. Most goals scored  
Show Comments
Hide Comments
Our Latest Stories
The new Habs forward will miss three of the team's five remaining preseason games

Maple Leafs, Coyotes have a lot of prospects to keep a close eye on as camps progress

It may sound strange, but some of the toughest guys on the ice are the linesmen
It's only the preseason, but this save by Nathan Lieuwen might not be topped this year

The World Cup hosts are one win away from reclaiming the title

It's only the preseason, but noted agitator Shaw is in mid-season form