Panthers send camp invites to Tim Thomas, Ilya Bryzgalov; await word
The Florida Panthers have sent training camp invites to both Tim Thomas and Ilya Bryzgalov and now they await word if they'll accept.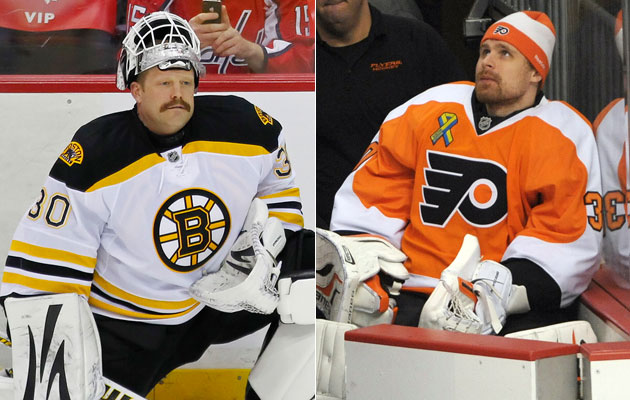 More NHL offseason: Rumors | Top 50 Free Agents | Buyout Tracker | Trades | Transactions
The Florida Panthers have been looking for a veteran goalie and have interest not only on Tim Thomas but Ilya Bryzgalov as well. At least each has received a training camp invitation from Florida, now the ball is in their court as it were.
Panthers await word from Thomas and Bryzgalov. Can't have both, but intrigued to see if either can earn a spot thru a camp invite.

— Darren Dreger (@DarrenDreger) September 11, 2013
The Panthers don't always make sense with the things they do, but this makes sense. A lot of sense, really. Sure, it's easy to poke fun at them throwing invites to these guys with their reputations tarnished for whatever the reason but it doesn't hurt to see what they have. However Thomas has continued looking for a job and has been in discussions with multiple teams. The Panthers are obviusly one of them.
At this point it looks very likely the Panthers will get one of the two of them, a decision spurred on by Scott Clemmensen's recent surgery and the fact that Jacob Markstrom still has more to prove before being considered a true No. 1.
First things first, though, they want to see what each goalie can do. That too makes a lot of sense since Thomas hasn't played in a year and a half while Bryzgalov time in Philadelphia was simply a mess. If either of them accepts this invite then they have a really good shot of making the roster.
Truth is, the Panthers have one of the worst goaltending situations coming into the season. If they could make an upgrade with a proven vet and on a pretty cheap contract, why wouldn't they? I don't think the addition of Thomas -- assuming he's still somewhere near his previous form -- would make them a playoff contender but they would get a lot more interesting both on the ice and off of it.
Of course it would be really awesome to see Bryz and Thomas both make it because that would provide endless fun but that's not going to happen. As it stands there is an opportunity to play and also to help a young goalie with a bright future in Markstrom.
Tallon did have the Panthers in the best position in net but it's not too late to remedy it and that's what he's trying to do.
Show Comments
Hide Comments
Our Latest Stories
Chicago becomes the ultimate road warrior, while the Pens look to stay healthy near the top...

Which of these wild card contenders have what it takes to get into the playoffs and cause some...

Minnesota Wild pay a big price to land Martin Hanzal, while the L.A. Kings get a big defensive...
Bovada sets the number for trades; will Kevin Shattenkirk and Gabriel Landeskog be among t...

Another pre-deadline trade goes down, and this time it's for some late-season offense

Three of the last 10 Stanley Cup winners welcomed new coaches during their championship se...